Barn find stories — those tales of long-forgotten automotive treasures discovered tucked away in original condition and obtained at bargain prices — have long excited anyone who has four-wheeled dreams. The mystique of the unknown and the thrill of discovery are an intoxicating combination. Here are five of our favorite examples.
Aston Martin DB4 Convertible

A rare Aston Martin DB4 convertible — one of only 70 produced — was unearthed in the UK and garnered £309,500 at auction, including buyer's premium. Never listed in the AMOC Register, DB4C/1104R was purchased by the seller in 1978 from its original owner, who was the Sibthorpian Professor of Rural Economy at Oxford University and director of the Agricultural Research council Unit of Experimental Agronomy there. His college parking pass was still attached to the windshield, and read, "Authority to park in the President's drive." The car was placed in dry storage in 1979 when the odometer registered only 60,000 miles. The original engine was gone, but the mill that came with the car was a factory replacement installed in the late 1970s.
How much is your car to insure? Find out in four easy steps.
Get a quote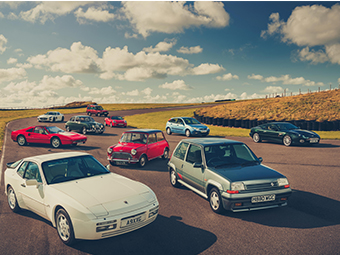 Bugatti Type 57S Atalante Coupe

Only 17 examples of the Type 57S Atalante were built by Bugatti, so it's not surprising that an Atalante barn find was sold by Bonhams for $4.4 million in 2009. Originally purchased by Earl Howe, the president of the British Racing Drivers Club, the car was finished in Howe's racing colours of blue and black, upholstered in pig skin, and equipped with twin spotlights and a split front bumper. The car changed hands several times before being bought in 1955 by Dr. Harold Carr of Newcastle, England. Carr allegedly consigned the Bugatti to his garage in the early 1960s and it was only discovered in 2007 after his death.
Portuguese Barn Find

The Portuguese Barn Find is perhaps one of the largest and most famous on record. The owner was a Portuguese collector who had amassed his collection in the 1970s after the Carnation Revolution. Many Portuguese collectors were stashing their cars in Spain, or letting them go for bargain prices. In a labor of love for old cars, Antonio Ferreira de Almeida seized every opportunity offered. Cars from every manufacturer, from every country and year made, in every condition. By the end of the 1970s, and before he was 30 years old, António owned some 100 cars, and by the mid-1980s, he had more than 300. When his buying binge ebbed around 1996, almost 400 old cars were in his possession, around a quarter of those in good or excellent condition. German journalist Wolfgang Blaube set out to learn more about the legend. He travelled to Portugal in 2009 with his camera, and met with Antonio.
Jay Leno's 1931 Duesenberg Model J

Rumors led television personality and noted car collector Jay Leno to a 1931 Duesenberg Model J, which had become something of an urban legend among car enthusiasts. The sedan — the only Model J with a town car body by F.R. Wood and Sons of New York — was built for a department store owner, who locked it away in a parking garage off Park Avenue in New York City in 1931, perhaps out of fear of appearing too ostentatious during the Great Depression. The owner's son removed it briefly in the 1950s to get it running again, then returned it to the garage, where it fell into disrepair. When Leno learned the car would be available for sale, he negotiated a fair price and turned it over to Duesenberg expert Randy Ema, who completed a comprehensive restoration.
1952 Ferrari 340 America

Of the 25 340 Americas built by Ferrari, nearly all are accounted for. Given the rarity of these cars, the chance of a barn find is nearly nonexistent, but Tom Shaughnessy, of California, beat the odds. In a 2006 eBay auction, Shaughnessy placed the winning bid of $26,912 for a car listed by an Illinois seller as a 1950s Devin Sports Spider with a fiberglass body. What other bidders failed to realize was that underneath the fiberglass was a genuine 1952 Ferrari chassis numbered 0202 A. The car was raced at the 24 Hours of Le Mans in 1952 by Maurice Trintignant and Louis Rosier, then was lent by the factory to Piero Scotti, who competed in hill climbs with it during 1953. Luigi Chinetti brought the car to the U.S, and it was owned in the late 1950s by Paul Owens, who installed a Chevy V-8 engine. The Devin Spider fiberglass body was installed after a crash. Chassis 0202 A was titled in Salt Lake City, Utah, in 1963, after which it vanished until 2006. A complete Ferrari 340 America likely is worth several million dollars, which means Shaughnessy obtained his prize at an approximately 99 percent discount.