Richard Barnett looks at some significant and intriguing cars in this year's UK classic auctions.
In years to come, how will observers of the classic auction scene look at 2018? Will they look back, misty-eyed for the great days, or will they see it as a 12-month slowdown with a general lack of excitement?
How much is your car to insure? Find out in four easy steps.
Get a quote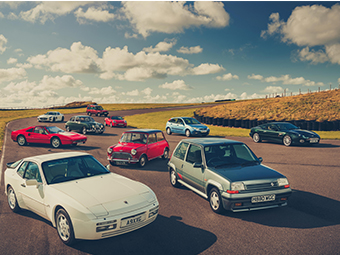 This year was good enough, particularly in terms of cars offered, and it proved high-value classics will still command, well, high values. Lower down the value pecking order there was plenty of activity: very good cars still making appropriate sums, while the so-so and downright bodged-up often failed to sell. Overall, the trend was for buyers to become more choosy.
But which cars were the best? From the view by the bar, these are the cars that really stood out at this year's UK classic auctions.
1990 Lada Niva Cossack: £4982 (ACA, January 2018)
While much of the market still likes Land Rovers (but is perhaps not prepared to pay what it would just a couple of years ago) those punters wanting a four-wheel drive and prepared to look outside the box could end up with something rarer, equally usable and like as not, cheaper too. Here was a good case in point – ACA's January sale offering this very tidy Cossack that had service history for its first two years, and latterly an MoT test print-out. The bodywork and paint were very good, as was the interior, while the engine bay was equally good. Easy to knock, the punter not obsessed with following the crowd came out of this deal well.
1953 Daimler Empress Hooper two-door: £34,500 (Brightwells, March 2018)
More than a viable substitute for an R-type or Silver Dawn, Brightwells offered this one-of-two Hooper-bodied Empress models at a cold early spring sale that managed to shrug off the Beast from the East's general nastiness. Astute punters, or those at least who knew their post-war upmarket British cars, would have been aware that Daimlers were the choice of Britain's old money – and indeed the Royal family – until the antics of 'Naughty' Norah Docker, wife of BSA (Daimler's parent company) chairman Sir Bernard Docker queered the pitch. Politics and social make-up aside, this was a superb offering, having enjoyed a serious, high-quality restoration that really didn't disappoint. The bodywork was lovely, the massive doors hung well and lined-up correctly, and the lavish interior was every bit as good as you'd find in a Crewe product.
1957 BMW 507: £3.809m (Bonhams, July 2018)
Not just any BMW 507 (if there ever could be such a thing) but a one-owner from new example, and just to make it even more interesting that sole keeper was John Surtees, whose name added to the kudos of an already highly-desirable car. Famous owner aside, this was a stunner of a car, being in that wonderfully mellowed, original order that made it so much more appealing than any super-shiny restoration number. With unique specification and maintained meticulously by someone who properly understood motors, here was a car where the rightfully famous owner (as opposed to someone from the ranks of showbusiness) added to the value. This was a car that warranted being bought by an enthusiast and not an investor, such was its history, and bidding was unsurprisingly super-strong from the start.
1961 Aston Martin DB4GT Zagato '2 VEV': £10.081m (Bonhams, July 2018)
The 'VEV' pair of Essex Racing Stable's Aston Martin DB4GT Zagatos are the stuff of legend, in the same way some racehorses pass into the equine history and data books for all the right – i.e., successful – reasons. 2 VEV was a first-rate coup for Bonhams and, along with the Surtees BMW 507, gave the Festival of Speed an atmosphere that almost crackled with buyer keenness. And rightfully so, because '2' had a good history at circuits across Europe and had been piloted by several highly-regarded drivers including Jim Clark and Innes Ireland. Much-publicised in the sale run-up, Bonhams enlightened the uninitiated with the story of the 'VEV' twins and team owner John Ogier, who gained a Military Cross for his actions during the Second World War. A highly desirable car with an impeccable, documented past, this was an opportunity the best-heeled Aston Martin enthusiasts really could not pass by, and rightly so.
1961 Abarth 2200 Coupe: No Sale (RM Sotheby's, September 2018)
It's easy to say the classic market is a fickle one, but there is no greater proof of that than this special-order 1961 Abarth 2200 Coupe by Allemano. Special, because it was built (along with a convertible) to the order of Tony 'Mr Bristol' Crook, who at the time was the UK Abarth importer. Later restored and still in great order, this elegant, low-key coupe had much in its favour, but the type of classic buyer who seeks out the pleasingly different classic that (while not from the best-known car maker still had excellent pedigree) was clearly not there on the night, and that was a tragedy.
1958 Bentley S1 with H.J. Mulliner coachwork: £37,800 (SWVA, October 2018)
All too often when it comes to a Silver Cloud or its Bentley 'S' sibling, the classic press will counsel with the line 'buy the best you can.' But what if not's a run-of-the-mill standard steel saloon, but something considerably rarer, as this Mulliner-bodied Cloud was? At first glance this was very much like a 'Flying Spur', but as with so many body designs of this period, on closer inspection it wasn't quite what it seemed, being (whisper it) slightly more dumpy. Johnnie Green's late-1960s work '50 Years of the Marque' states three were believed to have been built. Although that remains debatable, what the buyer trailered home was a complete, solid rarity that, yes, would be expensive to restore, but would be extremely rewarding.
What was your favourite UK auction car of 2018? Tell us below!