The Avenger Sunbeam Owners Club was formed in 1989 by Sunbeam Lotus enthusiast Malcolm Wood. The first meeting was at the Hesketh Arms in Preston where we inaugurated the first car club for a Sunbeam Lotus. We then went on to form a committee and our initial meeting at the Priory Club in Preston was where we changed from a club just for the Sunbeam Lotus to a club with a much wider appeal – Avenger Sunbeam Owners Club. Our first National Day was at Gawsworth Hall in Macclesfield in 1990 and was one of the club's greatest achievements- from inception to a field full of Avengers and Sunbeams in less than a year. Our 20th and 25th National Days have also been held at this venue and we will be there again for the 30th. Gawsworth Hall has a long motoring heritage stretching back to 1902 when the Manchester Automobile Club held its first rally there.
Since then the ASOC has grown with today over 550 members and a host of honorary members from Chrysler Talbot days. The ASOC News magazine- once two A4 dot-matrix printed sheets- is now a 48-page full colour quarterly magazine that is sent worldwide. We now cater for the Hillman Avenger, Chrysler Avenger, Talbot Avenger, Dodge Avenger, Hillman Arrow, Plymouth Cricket, Dodge 1800, Dodge Polara, Dodge 1500, VW 1500, Sunbeam 1250/1300/1500/1600, Simca Sunbeam, Chrysler Sunbeam, Talbot Sunbeam, Simca Sunbeam Lotus, Chrysler Sunbeam Lotus, Talbot Sunbeam Lotus, Simca Sunbeam Lotus and Avon Sunbeam Lotus and all derivatives thereof. Quite a list of cars- we couldn't possibly list all the models too!
How much is your car to insure? Find out in four easy steps.
Get a quote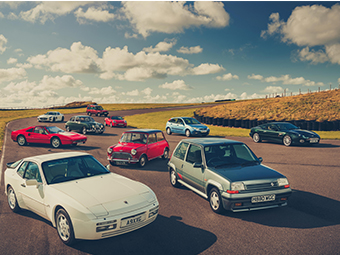 Last year was the anniversary of the famous Lombard RAC win by Henri Toivonen and the ASOC planned events including its National Weekend to celebrate this fact. A tour of Cheshire on the Saturday afternoon taking in all the old Motoring News roads was organised with a talk on the Saturday evening by our President Wynne Mitchell and three guests he chose to speak along with him namely Neil Wilson, Phil Davison and John Harris. It was a fantastic night with some great stories finished off with a buffet. The Sunday was also a success with a good turn-out of members' cars. This built up to the main attraction of the year- we secured Toivonen's Lombard RAC winning Sunbeam Lotus KKV 444V for the ASOC stand at the Classic Motor Show at the NEC. The car is owned by ASOC member Stephen Rimmer and was brought to the show by another ASOC member Ian Gwynne who looks after the car. A fact that often gets overlooked is that the Sunbeam Lotus won the RAC in Group 2 specification finishing 1st, 3rd and 4th overall against Group 4 Escorts. Quite an achievement.
Below is an extract from ASOC News 126 from one our Honorary members Dean Hetherington who was part of the Works team and wrote his memories for the anniversary December edition of the ASOC News magazine:
"I was re-building KKV 444V for the RAC Rally along with the late great Stan Chalmers from Lucas when Des O'Dell came over to us and said "we can do well on this rally given half a chance, we have a good strong reliable car and as long as the boys don't do anything silly we could pull it off." Stan and me had a little giggle and I said "wow that would be something to even dream of winning let alone actually doing it." I had Stan tormented on that car during the rebuild, changing terminals, renewing plugs, plus all the other little intricate electrical mods that had to be done. I had made up a special dashboard for Paul (White) who was chosen to sit alongside Henri on the event with little added mods on it to make life easier for him like Potti plugs, his own stop watches and Pea lights so he could see the switches. I had Stan wire up a direct wiper switch so that if the stock switch broke the wipers could be activated and in the middle of the night in Kielder forest in the driving rain or blowing snow that little switch could come in handy! It was that type of an event that you had to cover every eventuality!
The workshop was alive with so many people running round maintaining the service vans, sub assembly was flat out building suspension units, steering racks, springs, sorting all the service kits for the vans, Avenger Lotus estate cars (Fire Engines) as they were known as, building up the spare spotlamps, each driver had different lens choices etc. Brian Wileman had all the new axles built and the spares plus the ZF gearboxes, Phil Davison had re-built all the engines and all that was needed was to drive the cars for two hundred miles or so to run them in, no dyno for the Lotus engines in those days. I used to drive Henri's car off up the M6 and back to run the engines in, boring and noisy but it was part of our preparation for each event. Berard Unett would normally give the cars the final run and sign them off, sometimes Colin Malkin would do it and then it was onto the trailers and off to Bath for scrutiny and the event itself. I always hated scrutiny and all the fa-vin about before the start, I just wanted to get on with the rally. We always had great team members who would look after the tyre fitting and logistics and it was down to the service crews to fill the jerry cans with fuel and buy the van food for the mechanics and crews. We carried big flasks and boiled the kettles and always had tea and coffee on tap, Mr Todt needed tea at every opportunity, we lovingly called him "Teabag"!!
The first day of the rally was the stately homes and race circuit stages. Someone always fell fowl of the odd mistake on these stages where they would take a trip into a lions' enclosure or break a wheel against a kerb or wallop a large oak with their quarter panel. We had escaped that first day of dramas and headed north into the first of the forest stages where the action would really begin. The road miles involved on the RAC rally were enormous in those days and staying awake was a task in itself, four to five days with two all-night stints to contend with was hard work and then you had the service points themselves where you could meet up with the rally cars and change axles, gearboxes, suspensions, steering racks, everything bar the engine really. You could have fifteen minutes if you were lucky with the prospect of a forty five-minute service at the end of a day!
All three cars were running like clockwork by the time we reached the overnight halt at Windemere with Andres Kullang leading in the Works Ascona 400 from SS5 right through to SS38 until three punctures dropped him out of contention. Waldegard took the lead for one stage when his oil filter came loose and his engine blew up. Henri was the new leader after SS40 and I could not get Des's comment out of my head that we could actually win this event, but there were another thirty special stages to go until the end and he had Hannu Mikkola snapping at his heals, it was going to be tough but possible. That last night through Wales Henri drove like a master and pulled out over four minutes from Hannu, which was unbelievable, I had chewed all my nails off just thinking of that finish in Bath until at last it became a reality that we had won the RAC Rally. I was so happy as was the whole entire team, delighted for Des O'Dell, who knew we could do it. Henri was the youngest ever winner and guided by the best co-driver in the business none other that Paul (Chalkie) White. Talbot took First, third with Guy and fourth with Russell."
Those moments will stay with me forever – Dean Hetherington November 2015.
Moving into this year we are currently planning all the shows and will be firstly attending Race Retro as KKV 444V will be on display. After that it's the Restoration Show at the NEC in March, ASOC National Weekend in August, Manchester Classic Car Show in September and Classic Motor Show at the NEC in November. We are also running the ASOC Challenge for 2016 with this year a new sponsor and even more registered competitors than the two previous years. The Challenge has become very popular with over 80 members signing up and is unique in that it is a results in class based club competition for members.
For more information about the ASOC contact Tim Jarvis the Membership Secretary http://asoc.co.uk/contact or to join us http://asoc.co.uk/join membership is currently £26 for UK members and £28 for overseas with no joining fee. Entry to the ASOC Challenge is free to ASOC members.
The club also has a Facebook page:
https://www.facebook.com/Avenger-Sunbeam-Owners-Club-438334052891541/
and two Twitter pages:
https://twitter.com/avengerSunbeam
https://twitter.com/TheSunbeamLotus
Hagerty are proud to offer classic Sunbeam insurance for all of the cars mentioned in this article.