The 1970s were a very different era in motorsport to today: drivers were gentlemen, not athletes, sponsors merely financiers rather than the point of it all, and those involved had fun, getting up to all sorts of shenanigans alongside the flagship races.
One particular bout of tomfoolery took place in the margins of the 1971 'World Championship Victory Race' at Brands Hatch – basically an F1 GP from which points would not count towards the World Championship. Team bosses and previously famed drivers were each given a randomly-selected Mark 1 Ford Escort Mexico, one of 15 with sequential number plates that had been prepared by Ford's AVO in Essex, and told to go and race. The flag was dropped, and the 15 competitors had ten laps to decide who the fastest driver was.
How much is your car to insure? Find out in four easy steps.
Get a quote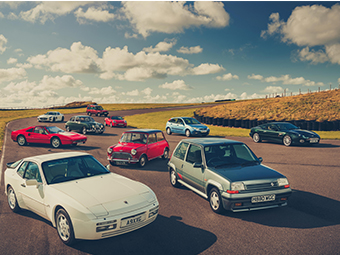 The race is great fun to watch (see it online here). It's got everything you want from an early 70's petrol-powered hootenanny, from the unrelenting drone of the 1600cc four-pots to the ecstatic, slightly politically incorrect (let's be honest) 'punditry' from Graham Hill. The cherry on the cake comes in the form of a glimpse of a proper 'tash proudly sitting upon the grin-laden face of Colin Chapman as he finally manages to barge his way past Jack Brabham on the first corner of the last lap. It's a race full of paint trading and a general scramble for the finish line with Frank Williams and John Surtees also desperate for a podium, but it is Brabham who comes through to win on the final straight.
Alas, I can't help but feel sorry for these little Escorts. They were immediately taken by the scruff of their collars and driven to within inches of their very existence, then, for the most part, they disappeared. Arguably an iconic race, certainly an iconic car, they all just faded away. Chapman's car was last taxed in 1977 and is presumed lost. One is fabled to have been used by Ford in various regional and national rallies. And Brabham's winning car? Now that's another story.
47 years on, Brabham's race-winning Mexico is slowly waking up after a long hibernation, and Hagerty have been given exclusive access to experience it. Bought by the current owner, Michael, in 2008, the car has undergone a very sympathetic restoration and a few small tweeks: he's strapped on a pair of twin-barrel Webers and the car now pushes out an eager 95 bhp. It's a charming and necessary upgrade from the factory set-up, and perfect for chucking this happy little machine around the bends on a chilly winter morning.
We all know and love the feeling of a well-sorted classic, and this Mexico now sits proudly on the road with a beautiful deep gloss on the paint. The engine bay is spotless, and we can't wait for the moment the engine first catches and the anticipation that comes with it. Inside, there's even the original race programme and a copy of Autosport from 1971 featuring the car. For all intents and purposes this Mexico has shrugged off the dust covers it's been wearing since the early '80s and exploded back to life.
Being in this car felt much the same as our outing in Hagerty's Escort RS1600 which frequents various competitions across the country. To be honest, it's such a refreshing experience: a small, lightweight, nippy little car eager to gobble up the road ahead. Once things had warmed up, Michael was keen to put it through its paces; few things are better than a peppy four-cylinder growling along, snatching quick changes through a slick four-speed gearbox. The low weight of these cars means that extracting performance is almost a care-free joy, rather than a challenging slog. They turn well and have enough 'go' to let you blast out of tight turns.
Whilst very usable and drivable this car certainly has an air of impatience about it when you show it a 30 limit and a small village; it longs for twisty B-roads. It looks best gruffly poised outside a pub or at a petrol station on a weekend drive's pitstop, mud-spattered and ticking with joy.
This car does the world a double service – reminding us of the race, that the past was a different time and most importantly, it serves to remind us all what proper fun is. I know harking back to 'yesteryear' is ground so well-trodden at this point it's pretty much the M25 of motoring journalism – but this car is an actual piece of history that speaks to the cause. You wouldn't believe me if I told you in the 2017 F1 calendar the drivers all hung off the pit wall holding out pit boards whilst the bosses hurtled around, smashing up a bunch of Ford Focus STs. You wouldn't believe me because we both know F1 is far too prim and proper to let its hair down. Well, in the 70's it did – and everyone loved it.
If you're fantasising about a Ford Escort Mexico, I venture to claim that this is the car you have in mind. Completely stripped out – there are no extras in this thing, just a roll cage and a bit of extra power – it's a cool tin box with an engine. This is the car that will answer your dream of hurtling to Goodwood early on a Sunday morning so that you can perch at the pit-wall and watch some petrol-fuelled shenanigans, and still have a drive home to look forward to.
Hagerty would like to thank Michael Culhane at Pitt Lane Restorations, Winchester for the wonderful access he gave to this very special car. More about Pitt Lane can be found at www.pittlane.co.uk