So we all know that if you buy a McLaren P1, a LaFerrari or a Porsche 918 Spyder it will be a collectable classic in a few years. But with the Frankfurt Motor Show drawing to a close, we thought we would look at the 'normal' cars on sale today that may become future classics.
Citroen C4 Cactus
How much is your car to insure? Find out in four easy steps.
Get a quote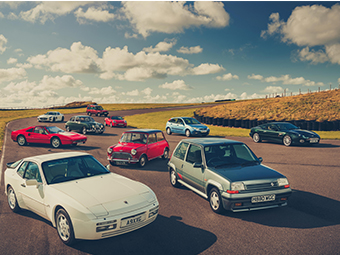 Citroen has always been famous for designing avant garde cars, and the Cactus follows this tradition perfectly. With huge panels called 'Airbumps' on the doors, the car looks like a space ship but is actually very practical- the pads are there to stop car park door dents. The inside is pretty basic but has lots of space.
Why will it be a classic? Bonkers styling will only appeal to a select bunch so sales won't be massive. The same striking design will stand out of the crowd in a few years.
Alfa Romeo Giulietta
This five-door hatchback is all Alfa- it looks amazing, drives round corners beautifully and the interior has been designed by someone who had the occupants' requirements last on his list. Does it live up to its namesake? Probably not- the 750/101 Series Giulietta Coupes were sublime- but it will certainly still turn heads in 25 years' time.
Why will it be a classic? Alfa enthusiasts LOVE their cars. Some of these will be properly looked after, and rolled out for many years to come. Expect classic Alfa parts companies to be making bits for them in 2030-ish.
Abarth 500
This car definitely looks the part, and with the Esse-esse upgrade producing a stonking 160bhp, this car goes like a rocket. Does it match the original? Not quite- although if you drive around with the boot open it helps.
Why will it be a classic? It has an Abarth scorpion badge on the front, and tonnes of power. Lots of these will be thrashed, so good ones will be rare in the future.
Ford Focus ST
This car simply carries on the fine tradition of 'normal' performance cars that Ford started back in the 1960s with their Cortinas and Escorts. Its body design perfectly captures the understated strength of those early cars- very little distinguishes it from other more lowly Focus models, but under the skin it is a car packed with power and poise.
Why will it be a classic? Subtle styling will not appeal to all, but underneath it has a lot to offer. Expect real interest in these cars when the teenagers of today grow up.
The Ford Mustang
They are big, brash, American, and (by the autumn) right hand drive. With a 2.3 litre turbo as well as the 5 litre V8 to choose from, this Mustang is pitched towards markets outside of the 'States. They are hefty but powerful and on long journeys will probably turn more heads than a Bentley Continental.
Why will it be a classic? This is a bold choice for a new car, as tax is be high and fuel economy poor. Owners also have to want something that is as American as apple pie. That means these cars will be rare, but expect one to turn heads at any future car show.
Mercedes CLS Shooting Brake
If you see an Aston Martin DB5 Radford Shooting Brake at a classic show, half the people will be thinking "wow!" and the other half "what a shame!" They make an undeniable design statement though, and the CLS Shooting Brake is no exception. And, being Mercedes, they have done it well- the sloping rear quarterlights give this car the look of a stretched coupe. Although not the typical 2-door estate pattern that you would expect from a Shooting Brake, there is no denying this is a stunning car.
Why will it be a classic? In a field of practical but dull estates, this stands out as something special- it is beautiful from every angle. Superbly engineered, these will be very affordable in a few years' time, when old money will buy them and use them for ever. It is one of the few modern non-supercars that I can imagine winning a future concours.
Nissan 370Z
The 370Z has a 3.7 litre V6 under the bonnet, generating a huge 326bhp which does 0-60 in 5.3 seconds. It even has a 'synchro rev' that blips the throttle when you downshift, making you sound like Lewis Hamilton. It looks awesome and costs well under £30,000 new. What is not to like?
Why will it be a classic? Interest in the original Nissan 240/ 260 and 280Z cars has grown massively over the last couple of years. This car has all of the grunt and no-nonsense design that characterised them, plus loads more. If I had the money and the space, I'd buy one right now and keep it forever.
BMW I3
This small car has loads of room, handles like any other BMW, and even has their preferred even weight distribution. And it is run by electricity. In typical BMW fashion, they have thought of everything, even offering a 'range extender' package that uses a 650cc bike engine to re-charge the main cell as you drive.
Why will it be a classic? BMW are committed to leading the world in electric vehicle design, and it is quite possible that they will achieve their ambition in the years to come. This car will be seen as the first of a new era of cars- quite simply, a ground-breaking vehicle.
Range Rover Evoque
Ok, so every posh school-run mummy drives one of these now, but the old 2-door Range Rover wasn't so different back in the day. Whatever you think of the people that drive them, this car has totally transformed the Range Rover brand.
Why will it be a classic? Because, for all the yummy mummy connotations, this is still a Range Rover and it does its job very well. With early Land Rovers, two- door Rangies and pre-production Velars now making serious money, in the future these 'Series I' Evoques will be the ones to buy.
Maserati Ghibli
The Ghibli almost falls into the 'obvious classic' category, but it has been included here because you can buy a new one for under £50,000 and because so many classic Maseratis have failed to live up to their expectations in terms of collectability. This is by no means in the same class as its namesake, but it is a beautiful car both inside and out, and has a range of V6 engines that live up to their iconic name.
Why will it be a classic? It looks great, has a Trident on the front, and will depreciate hugely. That means few will stick to the costly servicing regime after a few years and lots will end up scrapped. The few that will left will be rare and exotic- think 3500 GT rather than Biturbo.