We are just in the process of updating the UK Hagerty Price Guide, which will be published online in early October 2017. As well as some new additions, increasing the Guide's coverage to nearly 2,000 models, there have been some interesting movements in values both up and down.
We'll publish a full analysis of the new Hagerty Price Guide next month but in the meantime, it is interesting to see many of the trends we're seeing reflected across the flurry of auctions this month that are now commonly grouped as 'Super September'.
How much is your car to insure? Find out in four easy steps.
Get a quote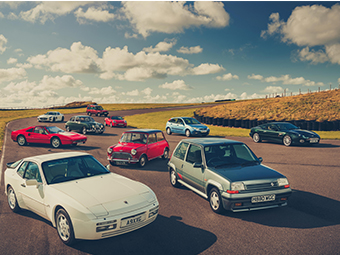 Porsche Pain
Results from the Monterey auctions in August raised some concerns over Porsche values, with both early (pre-1969 short wheelbase) and 930 (Turbo) 911s failing to reach market prices. This trend widened at RM Sotheby's London Sale, where out of a total of sixteen Porsches consigned, only four sold on the night. 12 months on from their astonishing sale of a 1995 911 (993) GT2 for £1.84m, a 1996 GT2 sold this September for £775,625 with commission, although this probably says more about the 2016 sale as an anomaly than it does about a value drop this year. It is also a reminder to those who base their values solely on auction results; Hagerty do not.
Enthusiast Energy
The lower-end enthusiast market seems to be faring well. Buyers are still attracted to fun, stylish classics that can be easily maintained, and few marques fit into this description better than Alfa Romeo. Values of classic Alfa models, from 1950s and '60s Giulias all the way through to 1980s Suds and Alfettas, are all increasing in value thanks to a superb supply of spare parts and a thriving owner community. Nowhere was this better illustrated than at the Bonhams Beaulieu sale, where a newly-restored Alfa Romeo Duetto Spider was the centre of much attention. It wasn't one for the purists: the original engine and wheels had been replaced by later 1750 alternatives, and even the steering wheel was incorrect, but this didn't put off the punters: it sold for £46,575 including commission against a top estimate of £30,000.
Jaguar Jeopardy
We've seen many Jaguar values correct recently, especially early E-Types which had risen faster than the market could bear. This trend was illustrated at Bonhams Goodwood Revival when a Series 1 'flat floor' FHC sold at low estimate for £74,300, a full £100,000 less than the previous top Hagerty Price Guide figure (which has been reduced for this update). Another 'flat floor' E-Type, this time a roadster, sold well under estimate at the same sale for £203,100 including commission, and a very early 'outside bonnet latch' example made £309,500, again well under low estimate and half of the previous top Hagerty value.
Provenance Power
Cars with excellent provenance, whether race history, celebrity ownership, or something else that marks them out from the norm, are still performing very well. If that provenance provides an entry ticket into one of the top-flight historic racing events such as the Goodwood Revival, Le Mans Classic or Monaco Grand Prix Historique, then prices can really fly. A great example was the Bonhams Revival cover star- an ex Jack Sears Ford Galaxie with British and South African period racing history, and the nice addition of four Goodwood Festival of Speed entry stickers on its side window. With a top estimate of £220,000 it sold for £471,900 with commission. At the other end of the market, RM Sotheby's sold a LaFerrari Aperta for £7.6m (top estimate £3m). This car was something special though; of the 209-car production run, this was car 210, created especially for Ferrari's 70th anniversary where it was unveiled. Truly, a very special car.
So, in summary the market continues to correct with certain areas doing well and others less so, and we expect these trends to deepen towards the end of 2017 but do not expect a 'crash' in prices. It is true that the classic car market is now proving to be a more difficult place to make money than it has been for a few years, but that is not necessarily a bad thing for enthusiasts. Let us know what you think in the comments.