It was lights out and away we go for another season in the motoring calendar on 5th January when the team from Bicester Heritage kicked off 2020 proceedings with its stalwart event, the Sunday Scramble.
An early and chilly start to the new decade saw Scramblers hauling their classics from hibernation and heading to the ever-developing Oxfordshire motoring mecca where surprises lurked around every corner. With its usual relaxed, welcoming atmosphere it's the perfect Sunday stroll, and with tea and bacon butty in hand your senses are served a breakfast of rare sights, memories of bygone eras and unique builds to suit all tastes.
How much is your car to insure? Find out in four easy steps.
Get a quote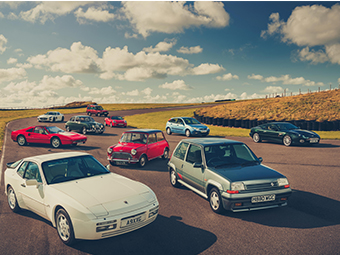 The laidback format for which these events are famed remained largely unchanged with returning favourites including an open and free-flowing technical site, accommodating crowds in excess of 6,000 enthusiasts. The resident motoring businesses once again threw open their doors to the public and the tree-lined streets were dotted with a mix of machines from pre-war to 1990s modern classics.
Whether your penchant for pistons is German, French, Italian, British, American, Japanese or shed-built, there is something for all, among displays of curated content, club stands or reveller's roll-ups.
Over at the MT Yard, hosted by Porsche specialist Sports Purpose, visitors were treated to the inspirational words of the W Series champion, Jamie Chadwick. Blazing a trail to change the face of motorsport, the winner of 2019's inaugural female-only series spoke of her career to date and promoting the role of women in motorsport. She also confirmed her continuing position as development driver for Formula 1's Williams team, under the support of Deputy Principal Claire Williams; definitely one to watch.
The centre of the historic site once again played exhibition to some of Stuttgart's finest, including most incarnations of the iconic 911, a showcase of model variety from the marque's transaxle period and a flawless example of a 1980's technology tour-de-force, the Porsche 959. Main Drive was alive with pop-up retail stands offering period-correct parts, tempting timepieces and a fine sample of print titles.
Those wandering the surrounding airfield, couldn't have failed see the strength in number on display at the Porsche Club GB stand, with owners showing how passion and imagination can produce such distinction on a similar theme. Further owner's clubs offered punters an insight to assorted marques, models and modifications. Prominent entries included Cold War Classics, Lotus 7s, a dominant gathering from the Pistonheads forum (still going strong since 1999) and some seriously enviable bahnstormers brought by some very dedicated BMW owners.
Talking with other Scramblers on the day, the popularity and appeal of particular classics confirmed investments in these models are still well placed, despite a recent levelling in the market. Going by the Sunday Scramble footfall and some of the finest machines on show, you'll be well looked after by a classic Mini Cooper, a Fiat 500, the rarity of a Peugeot 205 T16 (yes, there was one of the 200 homologation specials there) or any variation of Land Rover's classic Defender/Series. If pockets are deeper, you'd be hard pushed to drive through the gates of Bicester heritage in an air-cooled 911 without seeing respectful nods and immediate chatter, safe in the knowledge your funds are better placed and far more interesting than bitcoin or commodities.
A couple of marked memories from this particular Scramble have to include the utterly mesmerising flame show from a slammed and chopped Austin-Healey Sprite, with its front-end directed exhaust spitting fire and pops for an enthusiastic and encouraging crowd. There was also a great collection of cars at the Hagerty Valuation Arena, staffed as ever by the Hagerty team kitted out with the PriceGuide iPads.
Another unique Scramble moment was the customised hot-rod Little Tikes car. If you have any budding petrolheads of your own, as a parent you'll be familiar with the classic little yellow and red toy coupe, which has entertained many would-be drivers for decades. One dedicated Dad had clearly taken things to an entirely new level of old school cool. The front had been stripped and lengthened to make way for a mock V8 engine, flared pipes, radiator and lights, while the rear wheels had been given a considerable offset upgrade!
The eclectic mix of cars, bikes and sights is what commands the attention, for this chilled out gathering. While temperature may be low, the atmosphere is still cosy and the calibre of machinery is certainly high.
Enjoyed this article? Subscribe to our Newsletter for more unique motoring stories and videos today by visiting https://hagerty.co.uk/newsletter/.