A Cobra for the rest of us.
Fifty years ago, America's Sunbeam dealers wanted a more powerful version of the smartly styled Alpine roadster, a car that had achieved some onscreen fame as James Bond's ride in the first film of the franchise, 'Dr. No,' in 1962.
How much is your car to insure? Find out in four easy steps.
Get a quote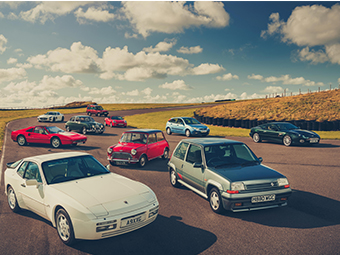 But even Bond's image couldn't make up for the Alpine's lack of performance. The Alpine could barely muster zero-to-60 mph in under 14 seconds. Triumph kept making its TR series sports cars quicker, and a turbocharged Corvair was faster, too. The Corvette was of course in a different league.
A clandestine effort within the American arm of the Rootes Group, Sunbeam's parent company, got the ball rolling to inject some mechanical testosterone into the little roadster. Who better than Carroll Shelby to turn up the heat under the Alpine's bonnet? If it worked for the AC Ace, the Alpine seemed a natural, too.
Shelby's operation concocted a prototype using a Ford 260 cubic-inch small block V-8, just as it had done to make the Cobra. The Ford V-8 was a tight fit in the Alpine's engine compartment, but the transplant was a success. The car was duly shipped to Britain for blessings from the Rootes board. Head honcho Lord William Rootes was reportedly all smiles after a test drive.
A deal was made with Ford to supply the 260 V-8 and 4-speed transmission. Shelby, however, lost out on the final assembly deal to Britain's Jensen, which had just ended its contract building the P1800 sports coupe for Volvo. Shelby, ever the dealmaker, received a royalty for each car sold.
But what to call the speedy new bullet? Sunbeam wanted 'Thunderbolt,' but Ford had just applied it to a limited run of Fairlane drag race cars. So Sunbeam reached into its own past and came up with 'Tiger.' That certainly fit the roaring sports car, too.
The first Tiger, the Series I, used the Ford 260 with a 2-barrel carburettor and dual exhausts, getting a 164-hp rating. The transplant chopped down the zero-to-60 time to eight seconds, with the quarter-mile in about 16. That was within the range of a base-engine Corvette.
Many Americans got their first glimpse of the Tiger as Maxwell Smart's wheels in the popular 'Get Smart' TV series. Take that, 007.
Braking and handling could have been better, but with the U.S. as the Tiger's prime market, customers were more focused on squeezing more juice from the easily and inexpensively modified Ford V-8. In stock form, the Ford 260 was rated at 258 lb.-ft. of torque, easily triple that of the Alpine's four-banger.
Turning up the wick probably wasn't the best thing for the chassis, but that didn't stop Sunbeam dealers from eventually offering customers a whole catalog of speed parts, including an Edelbrock 4-barrel carburettor 'Super Induction Kit,' a solid-lifter cam kit, headers, 2-inch dual exhausts, traction bars and more. These were known as the LAT options, for 'Los Angeles Tiger.' Few Tigers stayed stock for long.
Even more power was on the way. In 1967, Sunbeam offered the Mk. II Tiger with a 200-hp Ford 289. Rear track bars, an oil cooler and larger clutch came with the bigger-cube engine. And so did something totally weird — a Chrysler pentastar badge!
Chrysler, in one of its numerous failed international dalliances, had by 1967 acquired a controlling interest in Rootes Group. The company had no interest in buying engines from Ford. 'Powered by Ford' badges were replaced by 'Sunbeam V-8.' Chrysler Corporation's fine 273-cube V-8 wouldn't fit in the Ford's place, so that was the end of the Tiger.
And what did the Chrysler-Rootes hookup give America? If you remember the 1971-1973 Plymouth Cricket, try to forget it.
Just under 7,100 Tigers were built over four years, with 633 of those Mk. II models. Recently, values have been shooting upward, a fine 50th anniversary present for lucky owners.
Ask the Man Who Owns One
Many in the auto industry know Bob Austin for his years leading Volvo Communications. Today, he's executive director for the Rolls-Royce Owners Club based in Pennsylvania and with 7,500 members in 50 countries. And he has a Tiger.
"My first personal experience with a Tiger came in 1967 when a beautiful British Racing Green example turned up on campus in January in Milton, Wis.," said Austin. "It looked hot, it had a hardtop and for 90 percent of that winter, it was going sideways!"
Austin admired the way its owner, an art major, kept the car mostly parallel to the road's center line in Wisconsin's snow. "Not only did this look like great fun, but it sounded fantastic. I had to have one."
It took 30 years, but Austin bought a California Tiger from automotive journalist and radio show host Len Frank, who passed away in 1996. "He was a wonderful friend and mentor," said Austin.
The car was 100 percent dismantled and on the opposite coast.
"That was more than 15 years ago, and I still do not have it done," said Austin. "But, when I do, I hope I can demonstrate some of those skills at making forward progress while going sideways that makes driving a Tiger so special."