Ask anyone to name British racing drivers, and after the modern F1 stars have been mentioned, one name will usually follow: Stirling Moss. A new book by EVRO publishing, Stirling Moss- My Racing Life, does a grand job of explaining why this man- who retired over half a century ago- remains so popular.
The book, with over 300 pages, is a very personal and candid record of Moss's life, making it more of a pictorial autobiography than a simple list of races and cars. Co-written by Simon Taylor, Moss's voice remains strong throughout recounting, as Taylor says, "countless stories of his racing life. Not as I'd recall them in the magazines, but as they really happened, from his own point of view."
How much is your car to insure? Find out in four easy steps.
Get a quote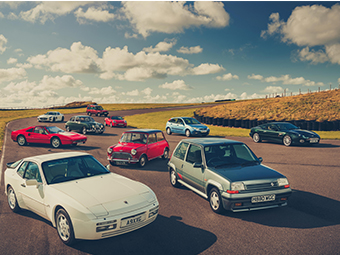 The book progresses chronologically, starting with Moss's childhood and briefly covering the exploits of his father Alfred, a dentist with a love of racing who drove in the 1924 Indianapolis 500, and his mother Aileen who competed successfully in rallies and trials.
Then, with the help of hundreds of superb photographs, many taken from Moss's own collection, the story of his racing life is told in wonderful detail. It is all here- his early Formula 3 experience driving Kiefts and Coopers, Formula 2 racing with HWM, Jaguar and Mercedes-Benz, then on to Formula 1 and beyond.
This is no dry retelling of racing stories either- Stirling's character and strong sense of humour is evident throughout. From his caption on a photograph of an ex-girlfriend ("My life-long interest in crumpet had already begun") to the story of his father fitting him with a set of false front teeth after a shunt in the 1950 Formula 2 Naples Grand Prix, the book describes as much of the human element of Moss's life as it does his professional career.
There are also fascinating insights into Moss's relationships with other legendary racing figures. When in 1959 Lofty England refused to give Moss a drive in their new XK120, implying he would probably crash, Moss managed to arrange a private XK120 drive in the RAC Tourist Trophy at Dundrod in Northern Ireland. By the end of the race, he was over three miles ahead of the Works XK120s. That evening England and Sir Willian Lyons offered Moss a contract to lead the Works team for 1951.
The pace of Moss's racing life is exposed- at its zenith he was taking part in 80 races each year- from famous competitions like the Mille Miglia and Le Mans 24 Hours through to saloon car racing and land speed record attempts. He even drove in some of the support races prior to Grands Prix; Moss describes piloting a Maserati 150S to second place at the Nürburgring as "a fun way to spend an hour and a quarter before the serious 3 hours 40 minutes of the [German] Grand Prix that afternoon."
Underlying all of these stories is the clear sense of just how different- and how dangerous- racing was in those days. I'll leave it to the man himself to explain.
"We raced on real roads, with real trees, buildings, walls, hills and steep drops… it was much more dangerous then, or course, and I lost far too many good friends. I raced the cars because it was a challenge and in the challenge, like it or not, was the danger."
Stirling Moss- My Racing Life by Sir Stirling Moss with Simon Taylor with foreword by Lewis Hamilton is published by www.evropublishing.com, ISBN 978-1-910505-06-9.