Celebrity connections help Rolls-Royces in the U.S. but "Aunt Emilys" are a tough sell. The best Astons, Jaguars and Austin-Healeys stayed strong at Scottsdale, as records were set and overall sales jumped £15 million

The Arizona auctions provided their usual three-ring circus of entertainment in January 2012, and while there were fewer big-ticket cars this year (most having been grabbed for Monterey last summer), the total for the 2,000 cars, sold by six auction houses, still topped £116 million. That's £15M more than 2011.
Barrett-Jackson led the way with 270,000 visitors and £58M from 13,222 cars, Gooding & Co registered £25M from 116 cars, RM netted £16M from 126 cars, Russo & Steele did £11.5M, newcomer Bonhams £4.3M, and Silver Auctions £1.85M, 20 miles away at Fort McDowell.
How much is your car to insure? Find out in four easy steps.
Get a quote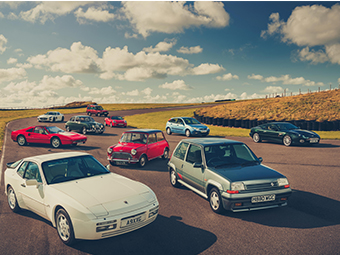 High sale was the alloy-bodied 1955 Gullwing Mercedes Benz at Gooding for £2.9M. Gooding also got £2.45M for a Ferrari 250GT LWB California Spyder, £1.66M for a 1930 Duesenberg Model J Disappearing Top convertible and £1.34M for a 1929 Bentley 4 ½-litre tourer. Over at Barrett-Jackson, one of 51 Tuckers more than doubled the previous high at £1.82M, while a 1947 Franay-bodied Bentley sold for £1.73M, and a twice-repainted steel 1954 Mercedes-Benz steel Gullwing, with a reported 4,314 miles, hammered down for £1.38M.
If you're thinking of buying a muscle car, only the very best documented examples command prices anywhere near three or four years ago. Non-matching- number examples and phony "tributes" to high-horsepower cars are a dubious investment, no matter how much money was spent on them. However, they offer a lot of "bang for the buck," if you can ignore all the tear stains on the upholstery.
So how did English cars do at Scottsdale this year? It's hard to count the Franay Bentley, as it looks like a Delahaye with a Bentley grille grafted onto it, but it sold for more than £650,000 over its last appearance a couple of years ago. Gooding also doubled the going rate for a standard 4 ½-litre Bentley.
Bonhams had the most impressive English car there, but it was just a teaser for the Goodwood sale this summer. That was George Daniels' ex-Tim Birkin single-seater, 4 ½-litre blower Bentley, one of five factory cars, still in its original dark red and possessor of a 137mph Brooklands Outer Circuit medal. Simon Kidston, who has his own direct family connection to the Bentley boys, was busy taking photographs and observed that with a two-seater body it might have brought as high as £6M, but he wasn't sure how much the single seat would hurt it. Nonetheless it's bound to be seen in competition very soon, once it gets some tires actually made during the reign of Queen Elizabeth II.
Most of the English cars for sale in Arizona gathered at the Bonhams, RM and Gooding tents and some patterns emerged. An obvious one is the strength of Series 1 E-Type Jaguar roadsters, a number of which sold for upwards of £65,000.
Aston Martin DB4s went as high as £229,000, and though there were no DB5s apparent, the DB6s seem to have finally hit their stride with the ex-Bing Crosby '66 Vantage Coupe selling for £188,000 at Bonhams and a finer red '68 Vantage coupe with air conditioning netting a surprising £308,000 at Gooding.
RM realized £102,375 for a very nice 1955 Austin Healey Factory 100M Le Mans, and Bonhams £72,135 for a 1956 BN2 Le Mans, though a similar Gooding car did not sell. One of the best buys of the week went to a patient bidder who waited until the end of the day Friday, as RM was coming down in pajamas carrying empty milk bottles, and with the cat under one arm, when he picked up a decent 1966 Austin Healey 3000 BJ8 for only £24,255.
The very best Jaguar XK120 OTS and coupes can still bring £100,000, but lesser examples may go for half that and drop head coupes have never been popular in a country where summers are more reliable than in the UK. XK150s also seem soft and few were on offer this year.
The best Rolls-Royces can bring good money, especially with celebrity connections — like Gooding's ex-Sammy Davis Jr. 1963 Silver Cloud III DHC at £270,000, or Marlene Dietrich's 1930 P1 Phaeton at £330,000 over at Bonhams. But a tired 1966 MPW Silver Cloud drophead coupe at Gooding only made it to £118,125 in black with a tan top, and the new owner has some work to do.
Old PI and PII's seem like quite a bargain, at between £150K-£190K, considering the size and quality car you get, but the designs are often very conservative "Aunt Emilys." Painting them in bright colors with chrome wire wheels is as garish as seeing your grandmother in a tutu. Nevertheless, some very sound examples exist in the U.S. and a well-informed buyer can prosper, if he doesn't mind undoing some work.
Oddities included Gooding's 1967 V-8 Trident Clipper at £24,948, and a 1957 Triumph TR3, which combined a very faded original interior with an ancient repaint, for an astonishing £37,422. The 1963 TR3B at RM seemed like a much happier deal at £19,050. Meanwhile, a 1930 Austin Seven special configured like an Ulster sold for £19,400, and no harm done at that. The most egregious Jaguar was a Mk V sedan, reconfigured as a landaulet, with rather distressing results. Nevertheless, it brought £36,380, but seems unlikely to be heading back to the UK, the scene of the crime.