Portland's spring British swap meet connects enthusiasts with sellers who are less so, and have had enough of their project
Every spring the British car community in Portland, Ore., gathers at the end of April, mostly to see who survived the winter, and who REALLY wants to get rid of that project they tried to shop at the last Labor Day Field meet, in September.
It's a comfortably vintage event now, with no new traditional British sports cars sold in the U.S. since 1981, just a scattering of automatic Jaguar cruisers since then.
How much is your car to insure? Find out in four easy steps.
Get a quote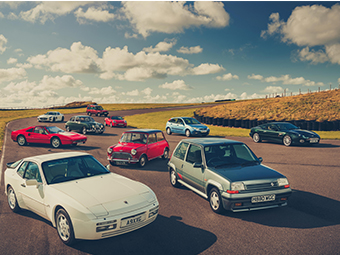 This year's offerings ranged from a nicely restored 1959 XK150 FHC for $55,000 (albeit in resale red) to a clean 1978 Rolls-Royce Silver Shadow, looking like a heavily made-up girl in the wrong part of town. Offered as a barn find last year for $6,500, it was reportedly sold this year for $5,100, in the take-the-money-and-run category. "Should I take a check from this guy?" the seller asked a colleague. "Sure, just make sure he signs it."
I was reminded of my English restorer friend Peter Price's observation: "The wrong Rolls-Royce is a bad deal free" and Rolls-Royce mechanic Keith Reichlein looking up from the engine compartment of a '70s Shadow and saying "If you buy one of these, don't you DARE bring it here."
A much more interesting project was an apparently sound and complete 1970 Lotus Elan S 2+2, driven into a dry barn 20 years ago and absolutely complete and original. Asking price was $8,500, which seemed fair (check out the pictures), allowing for the fact that it will have to be completely disassembled before being used. The Webasto roof was a nice touch and the 88,000 miles was likely correct.
Another interesting project was a 62,000-mile 1963 MG 1100 4-speed 2-door that seemed sound, and came with several engines and other parts cars for $1,700. Very few of these survive, but there's not much of a market for them, either.
Rubber bumper MGBs were in evidence, with asking prices from $2k for a ratty driver, to $4,000 for one converted to chrome bumpers, and $8,900 for a home-made MG V-8, which appeared well done (it had better be), and was based on one of the last black-and-silver limited editions. An extremely nice, relatively original 65,000-mile 1972 MGB GT in Teal Blue was offered for $9,000, with an older repaint and an unusual a black interior instead of the usual pretty autumn leaf.
A white Healey 3000 was optimistically offered for $52,000, and a red-and-white one on the other side of the parking garage had no price on it, suggesting that the first liar never has a chance, and you could have bought either one for less than the other.
A solid '67 Triumph TR4A (non IRS, thank God) was an Oklahoma barn find that had been rebuilt to running condition and was an original black car that had been repainted red, then back to black. I can't figure it out either. $11,250 was a tad ambitious, but the owner seemed inclined to sell, so there's a sweet spot somewhere. A dark green 1974 Triumph Spitfire looked sound for $4,500, if you can get comfortable driving one.
Parts ranged from a complete Mini roof with window posts so it could be a coffee table, sets of MG wire wheels and mags, an MGC hood, merely noted as "expensive", and complete dual SU setups. There were enough trim pieces, switches and lenses to refit about 25 complete 1960s-70s MGs and Triumphs and even a complete '70 TR6 motor, surrounded by some very rusty panels, which raised questions about its internal health.
A very interesting triple Holley carburetor setup for a Jaguar XK120 was bought by a seller who also had an extraordinary XK120 hardtop for sale. On his trailer was a $2,000 complete but dis-assembled, non-rusty '61 Austin-Healey bugeye Sprite. It looked like an ideal project, if you just got divorced and need something to do, or alternatively you want to begin a project that will lead to that circumstance.
As always there were lots of vintage motorbooks, toys and new parts, mostly British Leyland pieces, including NOS MGB grilles, multiple spotlights, mirrors and steering wheels. I was looking for a pair of Lucas PL700 headlights, but could only find one. However I did get two new complete Hella H4s for $50, just as the seller was getting them out of the box, which is a very satisfying way to buy anything.