If you want a prime cut of 1960s sports saloon you'll need to be prepared to pay for it in today's market.
Cars like the Alfa Romeo Giulia Super, Ford Escort Mexico and BMW 2002 made sports-car performance accessible to families in the 60s, but so desirable are these cars today for their looks and surprising drivability that you'll pay a pretty penny to get behind the wheel.
How much is your car to insure? Find out in four easy steps.
Get a quote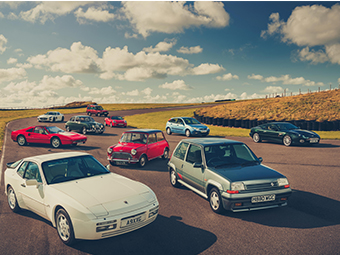 How much? Ten grand for a late 60s Giulia Super in good condition. Nearly £14k for a BMW 2002 regardless of year too, and don't even think of clicking on the Hagerty Price Guide and looking up what a reasonably sporty Escort goes for these days. (Okay, we'll save you the bother. At least £30,000 for a nice one.)
All is not lost though, because there are other options. Admittedly, few quite as entertaining or potent as the best from Alfa, BMW or Ford, but still attractively styled, tidily-trimmed, and equipped with an engine in the right place (the front) and drive to the right wheels (the rear).
One such car that has unavoidably caught our eye is this 1966 Singer Gazelle currently for sale on eBay. It's been there a little while, which could be a turn-off for some but might simply suggest a market largely oblivious to its presence. The benefit of this is a price that doesn't look half bad at £6495 – many thousands less than some of its contemporaries. Given it's listed at £5995 further down the ad, there's probably wiggle room in that too.
It doesn't half look the part, white with a red flash along the side and a cabin of similar hue, offset by the traditional wooden dash and a stubby gearlever sprouting from the central tunnel.
With an overhead-valve 1725cc 'four making in the region of 60 horses you could say the styling is writing cheques the drivetrain can't cash, but then with little over a metric ton to push along there's the potential for pep and as we all know, engines are for straight lines but light weight is valuable everywhere. Doubtless there's a specialist out there who can massage more from the motor, or perhaps even turn it into a screeching Goodwood-capable racer.
The seller notes a few bodywork imperfections, reflected in the price, but the Gazelle does have an MOT until September 2021 (despite being old enough not to require one) and the previous history isn't too scary.
It's unlikely to attract quite as many envious glances at car shows, and Alfas, 2002s, Dollys and Mexicos will show it a clean pair of heels in a straight line, but those in the know will, well, know. Provided you cast your net a little wider, a sporty 1960s saloon needn't be out of reach.