This year we have seen changes in the activity of two types of classic car buyer and this has reflected the evolving classic car market. We have seen a marked increase in the number of "investors" – as opposed to the real enthusiast. Although drawing a distinction between the two may seem supercilious and unrealistic, it is necessary. The principal difference between these two types of buyer is that if you take time to ask them, the enthusiast will typically know exactly what type of vehicle they are going to purchase. The investor on the other hand will want to know which vehicles will grow in value and it is this firm motivation to make profit of that has to some degree been responsible for soaring classic car prices over the last couple of years.
Classic car prices have become a bit of a "thing" recently with market indexes popping up all over the place but have you stopped to ask yourself why? It makes perfect sense for an organisation like Hagerty – a specialist classic car insurer – to invest in the knowledge required to understand values across the whole market but what other reasons are there? From a financial perspective our organisation needs to protect the interests of both our borrowers and our lenders by ensuring the right car is bought at the right price and in some respects this has been a challenge in 2015.
How much is your car to insure? Find out in four easy steps.
Get a quote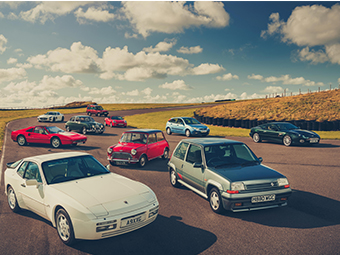 With speculators focusing their attention on the headline grabbing auction results that represent only a small proportion of classic car sales, price perception in some sectors has become distorted with interested parties forgetting that Price and Value aren't the same thing. Ironically, sellers with over-ambitious expectations have distorted market perceptions even further by demanding high reserves and estimates at auction for cars which often sell for strong market values but below estimate – a trend that out-of-touch pundits have cottoned on to and served as evidence of impending market doom.
When formulating an opinion on classic car values one needs to look at the overall market not just the auction results – although these are of course a contributing factor. Time spent talking to customers, dealers, auctioneers and sharing information with partner organisations is critical in forming a rounded view but there is in fact a simple and highly effective method of gauging the market – looking at a big pile of recent sales invoices for classic cars. Unfortunately not many people get that privilege, but some do and they tell a story.
The line the classic car media are beginning to take since the Monterey and UK 'super September' auctions is that the heat is coming out of the classic car market and that values are in for a "soft landing" rather than the free-fall created by a burst bubble. In our opinion growth in some sectors of the market has been slowing for almost 12 months now and values haven't really changed that much – but there is no doubt in our minds that many speculators have been paying too much for cars…..
The Ferrari Testarossa is a great example. Since January 2015 the number of cars available on the open market in the UK has tripled as has the average price, confounding the basic law of supply and demand. Prices in January ranged from £50,000 – £130,000 and by September this range has risen to £70,000 – £350,000. The bulk of these are currently priced somewhere between Excellent and Concours in the Hagerty Valuation Tool – but are they all really of a condition to warrant those values? It seems that many speculators think so, and in some cases mistakenly.
We have seen some very nice cars sell for realistic prices through noted marque specialists recently and these prices are still strong – but not necessarily the headline-makers so beloved by the media. Finance enquiries from speculators and investors are beginning to thin out and in the last eight weeks we have seen a marked increase in buying activity from real car enthusiasts who clearly think that now is the right time to start buying again after a brief hiatus – and many of these are now looking at affordable classics and iconic British sports cars.
In our opinion (and it is just an opinion, but an informed one) the market remains buoyant but we believe we will see price corrections on some of 2015's hottest "investment" cars over the coming months although values will remain largely unchanged. The best, correctly priced cars will continue to sell well and it looks like those who have paid or asked too much for cars that aren't in that category will just need to enjoy them for that little bit longer – and if they are real car enthusiasts they will no doubt be delighted!
Rob Johnson is Director of Classic and Sports Finance, the UK's leading classic car finance specialist and official partner of Hagerty International.