The dark red Siata 208S sounded more like a Cobra than a Fiat as it rumbled into Lime Rock Park in Connecticut, USA, for the Vintage Fall Festival concours. A good-looking young guy hopped out and began prepping the car.
I've never forgotten the Ford-powered Siata that took best of show that day in September 1986. When I heard that our friend Colin Comer had a Ford-powered Siata, I recounted my story, only to discover that his was the car of my memories.
How much is your car to insure? Find out in four easy steps.
Get a quote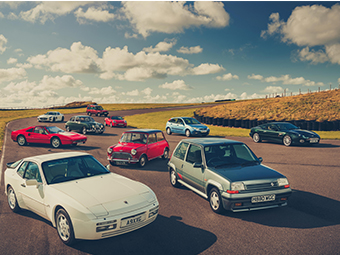 The Heart of the Matter
This Siata, 208S Spyder BS509, was one of 35 built between 1953 and 1955. Los Angeles racer, dealer and mechanic Ernie McAfee sold it new to Bill Doheny, McAfee's backer and the grandson of infamous oilman Edward Doheny. Bill Doheny retained it until cinematographer Kent Wakeford acquired it in 1962.
Wakeford had aerospace technician and car builder Alan Johnston remove the Siata's fragile 120-horsepower Fiat V-8 and replace it with a 260-cid Competition Cobra engine supplied by Wakeford's friend Carroll Shelby. The new engine was shifted five inches rearward to preserve the perfect weight distribution and mated to an aluminum T-10 close-ratio four-speed. Meanwhile, the chassis was slightly modified and reinforced and the gearbox tunnel widened. Other changes included upgrading the half shafts and hubs, a higher rear-axle ratio, a hydraulic clutch and a cross-flow radiator with electric fan.
The meticulous Johnston ensured that the Siata could handle the extra power of the Cobra engine, later admitting that it was his 'favourite car of all time'. According to the November 1964 issue of Sports Car Graphic, the conversion was 'properly done'.
Wakeford owned the car until 1974, when it went to Ron Cameron of San Diego. Then in 1976, it passed through Bruce Sands of Los Angeles, before landing at Steve Taube Porsche in Santa Monica, California. An ad in Hemmings Motor News attracted 23-year-old architect Dan Rowen, who drove his Porsche 911T 2,700 miles from Washington D.C. and traded for the Siata-Ford. Rowen then drove the Spyder home.
In 1983, Rowen sent the Siata to Vintage Auto Restorations in Ridgefield, Connecticut, where Don Lefferts and his sons went to work. They retrimmed it, repainted it dark red and rebuilt the Borrani wheels. Mark Lefferts remem-bered Rowen as having 'a good eye for design and detail'. At every weekly visit, 'there would be a longer list of details'. When completed in 1986, Rowen drove it everywhere, including to Lime Rock that fall for the first of many successful trips to the Vintage Fall Festival. And when he vintage-raced the Siata, he drove it to the track.
Siata-Ford Rebirth
In 2008, Comer suggested his friend Ron Krolick enter the Copperstate 1000 vintage rally in Arizona. Krolick's co-driver was Rowen, with whom Comer hit it off immediately. After two years as a co-driver, Rowen enlisted Comer to prepare his Siata-Ford to drive in the 2010 rally. But before that could happen, Rowen became ill and passed away. Comer subsequently agreed to help Rowen's widow sell the Siata. As Comer remembers, 'When Dan's car showed up, it was hard, very emotional. We had talked about it coming to me for years but not like this. I talked to one potential buyer who criticized the car and I thought, "That's it, this car is not for you". I needed to give it a home. It was the right thing to do'.
Recently restored in Comer's shop, when opened, the tired original 260 retained its Shelby touches. As Comer says, 'All the trick parts are still in it. Very cool'. Referring to Johnston's conversion, he insists, 'the quality of work is phenomenal'.
Comer finds the Motto-bodied Siata strikingly beautiful and admits 'the Cobra engine and Shelby connection trump the Siata engine for me', although he has recently acquired the original 8V engine from the car. Not only can he take it on tours without worry, the acknowledged expert of all things Shelby sees it as a perfect fit in a collection that includes Cobras, a GT40 and even a Griffith 200. But mostly he sees it as a tribute to a great friend whom he remembers every time he drives the Siata with the heart of a Competition Cobra.