A trio of low mileage Italian originals starred during a £3.62m Silverstone Auctions 2-day sale during the pre-season Race Retro Show for historic motorsport enthusiasts. For among five new world record auction prices claimed by the Midlands auction firm was a Romanian entered 1991 Ferrari Testarossa with 5-piece fitted luggage and a mere 1545k on the odometer, which made a Greek bank busting £202,500 with premium, £52,500 more than the top estimate.
From the same gilt-edged source, a 1991 Alfa Romeo SZ with 808km recorded sold for £84,938, £14,938 above guide price, and a 1991 Mondial 3.2T realised a mid-estimate £59,625, strong money for the fixed head version.
How much is your car to insure? Find out in four easy steps.
Get a quote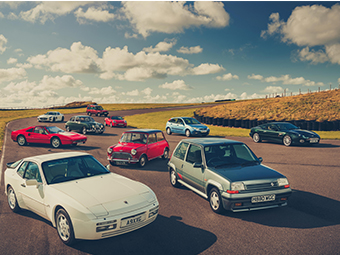 And although a front-of-rostrum-parked 1992 Lancia Delta Integrale HF Turbo failed to attract a buyer with at least £90,000 to invest, despite its factory-applied Martini paintjob and 31 delivery miles, a UK-supplied 1999 Ferrari 456M with 400 miles on the clock did very much better than expected, realising £118,125, nearly £30,000 more than top estimate. And as we are all carried along in the current Gold Rush, when new 16 years ago, this, one the last Ferraris to employ pop-up headlights, cost the one registered owner £170k!
The other record breaker on a Saturday afternoon in Warwickshire was a locally-manufactured Thruxton-spec Triumph Bonneville, one of only 52 made in 1965, which made an unprecedented £21,938.
A Danish sourced 1993 Jaguar XJ220 with 680bhp engine upgrade by Jag specialist Don Law raised applause by selling at £186,750 with premium, exceeding top estimate. A Beacham of New Zealand enhanced 1963 Mk2 3.8 Saloon with Getrag 5-speed and 1991 bills for £41,717 recouped well by selling for £55,688, more than the guide price.
Some of the Porsche prices were notably bullish, namely the £133,875 invested in a left-hand drive 1965 911 2.0 SWB, that had been spared a competition future, and a far from cosmetically exceptional 1973 911 2.4S Targa-top, which still pulled a £114,750 result. £70,875 with premium just cleared the lower estimate and bought a 1972 911 3.0 RSR Rep with a good track record and £52,875, just over the top estimate, a 1987 Type 930 911 Turbo.
Whilst being statistically depressed by a grid full of competition cars (although 13 race cars did sell on this occasion, including a 2010 Aston Martin Vantage GT2 chassis 007 for an impressive £105,750), there were buyers for nearly all the street-legals, and by the end of the second day's business, 78% of the contents of the happily still traditional catalogue had changed hands.
The prices being paid, particularly for fashionable Ferraris and appreciating Porsches, as well as AVO Ford Escorts and Mk1 and 2 Lotus Cortinas, as long as they have been authentically revived, continue to be strong. And despite the record number of sales, and more cars being auctioned than ever before, prices for most mainstream classics, even though they are in over-supply, do not appear to be softening and, as yet, there is no hint of any correction.