Motorshow fantasies? Or the vision of what's to come? In our case, it's more than a little of both! Join Paul Cowland as he takes a look at some of Subaru's previous Concept Car creations…
Although Subaru has always followed its heart when it comes to brave and innovative design, nothing quite captures the dreams and visions of its designers in the same way that concept cars do. Here, unencumbered by the pressures of accountants, production engineers and marketing teams, their thoughts and pens can run free – often with incredible results. Over the years Subaru has unveiled some simply stunning creations to the public under the guise of their show car programmes. Some encapsulate a time and place, some reflect the design language of an era, but all share a common vision: to create a car that's fun to drive, great to look at, and of course, one that makes every journey better. So, buckle up, take a seat and prepare yourself for the most unusual of brand histories.
How much is your car to insure? Find out in four easy steps.
Get a quote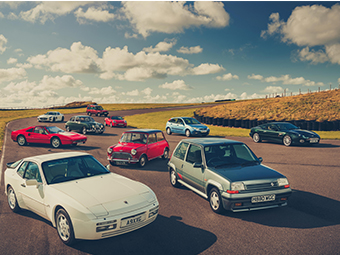 Subaru F9-X 1985
In a design period where it was fair to say that many of Subaru's design team were reaching for the rulers and set-squares, the F-9X of 1985 was the most tangential of departures. Whereas the showroom models of the time were angular and folded, in the height of the firm's 'Origami' period, this car looked like it had escaped off the set of a science fiction movie.
Packing 360 bhp and an impressive 343 Nm of torque, the F-9X boasted performance figures that still look impressive by today's standards. Its aerodynamically efficient shape was very avant-garde for the mid-'80s and pointed the way towards styling cues and ideas that would eventually make it onto production models. Note the interesting and unusual 'glass to canopy' drop glass in the side windows – a feature that would eventually make it onto the production Subaru SVX that was launched a few years later (and even that was the result of an Ital Design Concept from the year after this!)
Subaru Jo-Car 1987
If you look past the bold primary colours for a second, there's actually a very svelte sports car concept under the garish hues of the 1987 Jo-Car design. Harking back to Subaru's Kei car heritage, this playful little concept used a clever three-valve-per-cylinder 544cc engine allied to a super-smooth CVT gearbox. With a supercharger bolted on for some additional shove and the plentiful grip offered by the all-wheel-drive system, the Jo-Car looked like the perfect way to carve through country lanes on a hot summer's day.
It wasn't just loud shades and fun dynamics, however. The head-up display and on-board diagnostics screen were both well ahead of their time, and as for the super-smooth aerodynamics, well, they'd still literally cut a dash these days. Imagine this in a singular classy paint finish, and you can imagine how stunning this could have looked on the showroom floor.
Subaru Rioma 1991
This beautifully styled and perfectly proportioned Targa top roadster represented something of a radical departure for the brand back in 1991. The Legacy was still relatively new, the Impreza was still a distant dream, but the Rioma firmly heralded parent company Fuji Heavy Industries' sporting intent. The brief was to show that a sports car could not only be a lot of fun, but also safe and environmentally conscious.
Under the bonnet was a finely-tuned 2.0 engine offering superb performance, coupled with a dual range All-Wheel Drive drivetrain. Fairly standard Subaru fayre, you might think, but with the ability to run on both unleaded petrol and methanol, the Rioma hinted at Subaru's desire to create fast yet frugal cars.
Safety was superb with airbags, a Targa rollover bar and four point harnesses. Definitely a shame this one never made it past the concept stage, I think!
Subaru Amadeus 1992
Thanks to our friends at Subaru America, the 1992 Amadeus Concept built on the superb chassis of the SVX to offer a true 'shooting brake' sports wagon that balanced elegance with practicality – as well as looking about as '90s as an early box set of 'Friends'.
With 250 rampant horses under the bonnet, from the silky smooth 3.3 flat six, the Amadeus offered the ease of a five-speed automatic with a very avant garde navigation system. Thankfully, the 'glass to canopy' cockpit design remained, but now, out back, was a useful touring boot space.
The perfect Grand Tourer combined with all of that luggage capacity? You could argue that the Amadeus was the very best of both worlds and a precursor to the plethora of high-performance estates that would follow in its footsteps.
Subaru Streega 1995
I know what you're thinking already! This one looks more than a little familiar, right? If you're thinking that the Streega of 1995 bears more than a passing resemblance to the perennial Forester, then you'd be spot on – and doesn't that just show why the whole concept car exercise is so important? Because between every other fantastical creation lies something that might just make a production model with only a few tweaks. Something the Streega managed very successfully to achieve.
Subaru's thinking was simple – yet incredibly clever. Why not style a lifestyle-friendly SUV body over the superbly capable Impreza chassis? – a car already feted for its simply superb handling. That way, you'd get wonderful road manners, combined with true 'go anywhere' ability. While it seems ludicrously obvious now, back in 1995 almost all Sport Utility Vehicles were based on off-roaders, which were nothing like as much fun to pedal in a decent 'B' road. This Swiss-army knife approach to being generally brilliant at everything seemed to hit the mark with the public – and well, you know the rest!
Subaru Scrambler 2003
Subaru would revisit the idea of a stylish roadster once again in 2003. The Scrambler concept was an interesting design as it boasted a classic aesthetic, inspired by Subaru's aircraft heritage, with a central intake and wing motif being very evident in the frontal styling. The drivetrain was once again very innovative for the time, using a 2.0 flat four hybrid drivetrain that used electric motors up to 50mph before the petrol engine kicked in.
Unveiled at the Tokyo Motor Show of the same year, this 2003 study also featured self-levelling air suspension in order to adjust ride height – as well dent resistant lower panel to allow the car to shrug off car park dings.
Even though the Scrambler sadly never made it to the showrooms, much of its design language can be seen in Impreza, Legacy and Tribeca models that followed.
—
Have a google when you have the time! There have been many more crazy Fuji creations over the years. Here's hoping that Subaru's crazy streak hasn't left them just yet, and there are a few more on the horizon! What's your favourite?