A monthly round- up of Team Hagerty's classic automotive lives. This month Marcus goes on tour, Angus meets his boyhood crush,
Show News
How much is your car to insure? Find out in four easy steps.
Get a quote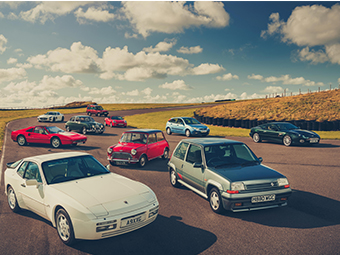 Marcus and his brother Will drove his Mini in the Retro Classic Tour run by HERO as part of the Race Retro event. They set off from Stoneleigh Park at 10.30am on Sat 24th Feb and went on a 48-mile route along some very obscure roads before arriving at the British Motor Heritage Museum, Gaydon. Along the way they travelled over the hills of Burton Dasset (a Drive It Day favourite) and across the county borders of Warwickshire, Buckinghamshire, Oxfordshire and Northamptonshire. They split the driving and navigating mid-way and on arrival at Gaydon had a most enjoyable lunch with some of the other participants. The return leg was a different 40-mile route back to Race Retro and no less enjoyable, and the mini performed admirably!
This month we've also attended the Goodwood Members' Meeting (see other stories this month) and the Affordable Classics auction from Brightwells at Bicester Heritage. We loved this no-reserve sale of some of JLR's Hull Collection, even giving a few lots guaranteed entry to this year's Festival of the Unexceptional for the new owners! Also, Angus was fortunate enough to travel to Essen for Techno Classica where he met his childhood icon- the Volvo P1800 from The Saint.
Charity News
This month we've donated £250 to the charity Circus Starr (www.circus-starr.org.uk). It's a great idea – the charity uses the money to buy circus tickets which are then given to a range of other children's charities around the country.
Fleet News
Ste, Citroen 2CV and Velosolex
When Ste told us he and his Godfather had fitted a 'bar' to the back of his Citroen 2CV, we automatically assumed he meant a tow bar. No. Ste's bar is the type that includes a wine rack, spirits shelf and glass holders. "We put it in for Drive it Day" Ste told us.
Just to confuse matters, the pair then added another bar to the back of the 2CV – this time the metal variety. This was fitted to enable his Velosolex to be mounted on car. We have no idea why he'd want to, but it gives you some insight into why we hired him.
Dan, 1982 Rover SD1 and 1978 Vauxhall Cavalier Coupe
This month Dan had more new brake pads fitted to the Rover, the Cavalier passed its MOT first time with only one advisory and he's been playing with the temperature gauge on the Vauxhall as it is reading too high. This, we think, is down to a faulty sensor which his local garage is trying to source.
Charlie, 1972 MG B
Charlie is quite an MG enthusiast. In fact, he has a record (as in a vinyl LP) of MG engine noises on his desk. He has sadly decided to part with his beloved MG B, which will be sold on Drive It Day at Bicester Heritage in April. He's changing the oil and servicing the brakes now prior to a final MOT.
John, 1967 Porsche 912
John's Porsche 912 restoration is going slowly but steadily. This month he's removed the rear lights, rubbed down the faded and discoloured lenses, and re-sprayed them with Tamiya clear model paints, with great results. He's still putting off fitting the headlining, telling everyone it is not warm enough.
Keep up to date with all Hagerty's news by subscribing to our monthly newsletter. Click the link here!