A monthly round- up of Team Hagerty's classic automotive lives. This month Stony Stratford, Bicester Sunday Scramble, HRCR Open Day, and our own fleet news.
Show News
How much is your car to insure? Find out in four easy steps.
Get a quote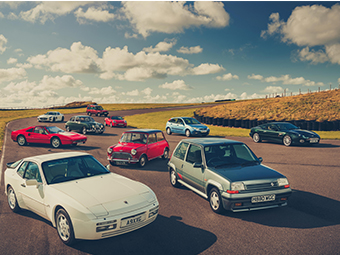 It has been a busy start to 2018 here at Hagerty. On New Year's Day, we had a great turn-out at Stony Stratford for the Vintage Stony meeting, which we sponsor. The following weekend, we ran our usual Valuation Arena at Bicester Heritage's Sunday Scramble, as usual uncovering some real gems.
Our link with the Historic Rally Car Register is as strong as ever, and we're once again sponsoring (and entering) the HRCR Clubmans Series. We really enjoyed meeting all our friends at the HRCR Open Day at the British Motor Museum at Gaydon. Our entry, this year as last, will be our Mk I Ford Escort, which is currently away receiving some pre-season TLC at Project Shop at Bicester.
Fleet News
Our own cars have also kept us busy. Here are the highlights:
Angus, 1930 Austin Seven Ulster 'Little George'
Little George the Austin Seven made it out of the garage for the first time this year just in time for the Bicester Sunday Scramble. She performed admirably, although Angus's co-driver Sue reported that the complete lack of weather protection made it a bit of an ordeal. "I've never been so cold in my life!" she told us.
Dan, 1978 Vauxhall Cavalier Coupe
Dan's Cavalier needed a bump start in the office car park when it wouldn't start, later diagnosed as a burnt out 40-year-old ignition switch. A very friendly local garage owner re-built the switch and Dan reports it's now good as new and still totally original. The following weekend, with snow on the ground, Dan decided to take it out for a spin. He said, "I've never driven it in the snow before and to be honest was very surprised at how stable it was. Driven sensibly there was no slip, it was perfectly controllable and kept up no problems with modern stuff. Not bad for a RWD live axle 70s car." Purists will be glad to hear he gave it a full clean after its outing.
Marcus, 1971 Mini and 1968 Land Rover Series IIA
Marcus had two cars at the Sunday Scramble. His Mini needed a jump start but made it fine, and his Series IIA Land Rover was already there having some work done on brakes, starter and gearbox, having been used to good effect after the snowfall in late December. Marcus is looking forward to the Retro Classic Tour, which he will be competing in.
John, 1967 Porsche 912
John's Porsche 912 is back from the paint shop and back to its original Light Ivory colour. The old fibreglass 'RSR' front bumper has been ditched in place of an original replacement which last weekend was test-fitted along with the headlamps. He fitted the rear badges to the engine deck lid too but found the rear grill fixings had all broken. Hunting for new ones should keep him busy!
Phil, 1967 Sunbeam Alpine
Phil's Sunbeam roadster has been off the road for two years and, I his words, is "just in the last stage of pain(t)." New Yokohama tyres are going on this week, plus there's a hard top refit and electrics to sort to keep him busy. He's gone with an Olde English Cream paintwork with MG Green stripes down the centre, which with the hard top will look amazing. We can't wait for the grand unveiling!
Keep up to date with all Hagerty's news by subscribing to our monthly newsletter. Click the link here!