A monthly round- up of Team Hagerty's classic automotive lives. This month Hagerty are presented with a rare trophy, John appears on TV and Phil breaks his new car.
Event News
How much is your car to insure? Find out in four easy steps.
Get a quote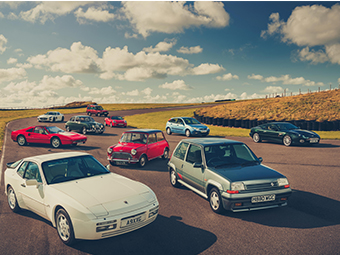 MD Angus Forsyth was a guest at the recent Veteran Car Club of Great Britain's awards dinner. He was delighted to be presented with the Chairman's Trophy in recognition of Hagerty's support for the veteran car community. The award has not been presented since 1984, and this is the first time a company has received the trophy, making it doubly special for Hagerty.
Also, as we go to press Angus has just started the HERO Scottish Malts rally – more details next month.
Finally, the 2018 Festival of the Unexceptional tickets went on sale earlier this month and are selling out fast. There are still spaces available in the concours but be very quick! The link for tickets and concours entry is here: www.unexceptionalcars.co.uk
Charity News
Eagle-eyed viewers may have spotted John Mayhead on the ITV lunchtime news next to Prince Harry. In June, John is taking part in an event for Walking With The Wounded, a charity that helps vulnerable ex-Service personnel, of which Prince Harry is patron. The event is the Walk of America, and John is walking around 250 miles over two weeks through California and Texas and may even be running across the Grand Canyon from rim to rim! More information can be found at https://wwtw.org.uk/WOA
Maintaining the military charity theme, Stonor Supercar Sunday is looking for entrants, classic and new, to support its event on 20th May in support of The Royal Navy and Royal Marines Children's Fund. Taking place at Stonor Park near Henley-on-Thames, the day should be one to remember; more information is here and entry forms here.
Fleet News
Phil, 1960 Morris Minor and 2002 MG F
Phil's Morris Minor is in for its MOT this week which, all being well, will prepare it for some summer motoring. He has also just become the proud new owner of a 2002 MG F, which he was very happy with, until the door handle broke off!
Dan, 1982 Rover SD1 and 1978 Vauxhall Cavalier Coupe
Dan drove his Rover SD1 all the way to north Wales earlier this month, for a holiday with friends in a log cabin. The car drove very well with just a squeaking brake, but then a few days later it showed its age a little by failing its MOT. It is currently having its wheel bearings, shocks, and a flexible steering coupling replaced; Dan is planning on driving the Cavalier on Drive it Day instead.
John, 1970 VW Bay Window Camper
John took his VW Type II camper to a local restoration company to have the doors welded, and received the dreaded teeth-sucking "Ooh, that'll cost you" response. He's currently looking at other alternatives – maybe a 'Jolly' version beckons? Anyone know of some wicker seats going spare?
Keep up to date with all Hagerty's news by subscribing to our monthly newsletter. Click the link here!