A regular round-up of what Team Hagerty have been up to. This autumn, it's been rallies and charity work galore!
The HERO Challenge
On 22nd September, Hagerty entered no fewer than three teams in the HERO Challenge: Angus & Sue, Marcus drove with his brother, and Tim with a friend. Angus and Sue, in 'Little George' the Austin Seven Ulster, managed a second in class* despite awful conditions, and Tim and his navigator came 7th overall in Tim's escort. Marcus had to use the Land Rover at short notice, as his Mini engine gave up a few days before the competition, but the old Landy performed very well.
How much is your car to insure? Find out in four easy steps.
Get a quote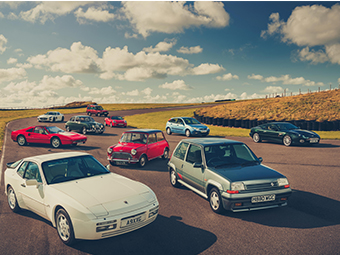 The Autumn Sun Run
Between 22nd and 26th October, Client Service Advisers Dan Gough and Ian Arthur completed the Autumn Sun Run in France in his Cavalier, achieving 2nd in class and 15th overall out of 75 cars in the event. Over 2,200 miles door-to-door, there were no problems at all with the Cavalier other than Dan frying the brake fluid a bit on a downhill twisty mountain road! A top up had it sorted but for some reason the red brake warning light remained on all the way home.
Rally of the Tests
Between 8th and 11th November, Client Service Adviser Tim Sawyer took part in the 2018 HERO RAC Rally of the Tests. From Harrogate down to Bristol, Tim's Escort performed well but on the Friday afternoon the clutch failed. With the help of a Dutch HGV, Ian from the office HERO assist and the RAC, the gearbox was dropped out in the Belfry hotel car park and a new clutch installed! Despite this hiccup he finished a creditable 37th overall.
Charity Work
During this quarter, a huge amount of diverse charity work has been completed by staff members under the Hagerty CARes programme. Different members of the team have been visiting an RSPCA shelter, RSPCA shops, Kettering Hospital and a community lunch in Buckingham, providing support and assistance where we can. We're also writing Christmas cards to hospitalised children and donating money to various causes including Movember and the community lunch. Editor John Mayhead has also been busy recording a video for Walking Home For Christmas, a joint fundraiser between Help for Heroes and Walking with the Wounded, two ex-Service charities, and his face has been popping up regularly on social media!
FBHVC Ownership Survey
The Federation of British Historical Vehicle Clubs' 2018 National Historic Vehicle Survey has just been launched. This hugely important document has been recognised as a definitive work setting out the importance of the historic vehicle movement to our national economy. As a next step the FBHVC are developing this research and delving into the ownership costs incurred by individual enthusiasts as they use, maintain, preserve and renovate their historic vehicles. It is open to all and we urge to you all to take the 12 minute long survey; link here.
*Sue has just admitted there were three cars in their class!