The Isle of Man TT races are rightly described as "The World's Greatest Motorcycle Races." The event has survived boycotts, safety campaigns, economic downturns, more than 200 crash deaths, and even two world wars. But for the first time in 105 years, the scariest thing this year was the weather. Rain caused so many postponements that the prestigious Senior TT was cancelled when time ran out.
Anybody who doesn't think that racing motorcycles on country roads between stone walls at up to 195 mph is a scary proposition has ice-water in their veins. The lap record for the 37.79-mile loop around the 14 by 32-mile island stands at 131.578 mph, and it's held by John McGuinness, a plumber in Morecambe, Lancashire, which is almost visible across the Irish Sea. He was interviewed at the TT and you might start this story by listening to his thoughts and watching a race lap from his on-bike camera. Click here for the video.
How much is your car to insure? Find out in four easy steps.
Get a quote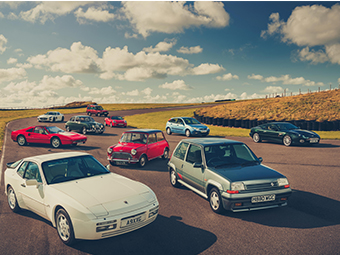 Norton brings out a new bike
There's always an air of expectation before the TT, which is held the first week in June. Norton added to the buzz by bringing a new bike, 20 years after their win with Steve Hislop in one of the most thrilling races ever. Added to that was the chance that the 100 mph lap for an electric machine might be broken at last.
Norton won the 10-lap "Twin Cylinder" class back in 1907, when Rem Fowler set the fastest lap at 42.91 mph with a race average of 36.2 mph. His Norton was powered by a Peugeot 690cc V-twin motor making just 5bhp. In the 1930s, Norton topped the results with Stanley Woods and Jimmy Gutherie, and in the 1950s Geoff Duke put the "featherbed" Manx Norton's on the podium. At the start of the 1960s, a twin-cylinder Norton was the first push-rod engine bike to lap at 100 mph. But the ascent of the Japanese meant it would be 30 years before Norton grabbed the spotlight again.
The British bike industry had collapsed by the 1980s, but a small team at Norton came up with a "588cc" rotary engine in 1988. It found favour with police forces and Norton created a race team, using old police bike engines. The rotary Norton cleaned up most UK titles, but it wasn't until TT winner Steve Hislop borrowed one for the 1992 Senior TT that it showed its real potential. In a titanic battle with Honda-mounted Carl Fogarty, who went onto become a multiple World Superbike Champion, Hislop set a new lap record of 123.5 mph, which stood for seven years. The race is considered one of the greatest ever, alongside the Hailwood-Agostini tussle of 1967.
The rotaries were banned from UK competition in 1995, but when millionaire businessman Stuart Garner bought Norton in 2008 he decided to resurrect the NRV 588 for one more attempt to win the TT in 2009. It was not successful.
This year Norton announced it had an all-new race bike built by head of design Simon Skinner, but the press pointed out that the Spondon frame (Garner owns Spondon) carried an Aprilia V-4 motor, Ohlin's forks and rear suspension and Brembo brakes. The only thing Norton could lay claim to, some said, was the bodywork. However the frame was similar to that used on the NRV and Garner pointed out that the Aprilia engine offered the best package in terms of size and power. He sees the Norton as a three-year project that is self-funding and does not take money from his core business of building road bikes.
Speaking over coffee, Garner said he was not looking for anything more than a finish in the gruelling six-lap Senior due to be run on Friday, to end the festivities. "We have no previous data to work from and we are treating this as the start of a learning curve. If we can finish, then we have achieved success. If we can make the top 20 that would be icing on the cake."
Electric bikes crack 100 mph mark on third attempt
At least the electric race took place, though most of the 40,000 visitors had come to see the Senior TT. It was the first race Wednesday, and first away was last year's winner Michael Rutter on the Portland, Ore.-based electric MotoCzysz. The company had won the event twice before, and became the first to record a 100 mph lap for an electric bike, at 104.056 –55 years after the first 100 mph lap by Bob McIntyre on a Gilera in 1957. In second place was 19 times TT winner John McGuinness on the Japanese Mugen at 102.215 mph and American Mark Miller was third on another MotoCysz. Eighteen machines had been expected to take part, but 10 started and only four finished, which suggests that electric power has a long way to go.
McGuinness wins his 18th TT race
Despite the bad weather, things looked good for the week, with Honda-mounted TT legend John McGuinness winning his 18th TT by taking victory in the Dainese Superbike race and posting the fastest lap with a speed of 130.382 mph. Overcoming a spirited challenge from Australian Cameron Donald, he claimed the top step of the podium by 14 seconds. Donald brought his Honda home as runner-up slot and scored his first 130 mph lap. New Zealand's Bruce Anstey came home third to make it a clean sweep for Honda.
Sidecar ace Molyneux gets his 15th win
Like McGuiness, sidecar ace Dave Molyneux increased his tally of wins to 15 as he made a triumphant return after a year off. The opening Sure Sidecar race followed the Superbike race and the Manxman and his new partner Patrick Farrance won by more than 20 seconds. Farrance got his first TT win, while the second place team of Ben and Tom Birchall also scored their first-ever TT podium. Conrad Harrison and Mike Aylott completed the rostrum.
Heavy rain ruined Mad Sunday, when many fans ride the course, but it was not the weather, but a fatal traffic collision that caused a two-hour delay to Monday's race schedule that was eventually run in glorious sunshine.
Honda-mounted Bruce Anstey and Cameron Donald had the crowd on their feet after race favourite Michael Dunlop retired. Anstey won the first Monster Energy Supersport race by just 0.77s from Donald to claim his 9th TT win. It was the second closest margin in history. Gary Johnson looked like he was going to be on the rostrum as well, but he ran out of fuel and pushed in to finish 28th. William Dunlop took third, and Honda had another clean sweep.
McGuinness takes win No. 19
John McGuinness may have been 4th in the Supersport race but he bounced back to score TT win No. 19 in the Royal London 360 Superstock – the first time he has won that race. Delayed until 6.30 p.m., the low sun proved a problem, but the "Morecambe Missile" led from start to finish. Again Honda-mounted and riding under the Padgetts banner, McGuinness beat Michael Dunlop by 7.8 seconds, with fellow Ulsterman Ryan Farquhar third, after an oil leak forced him to ease off. Dunlop was second, but he posted the fastest lap of the day at 129.253 mph.
Molyneux notches up 16th sidecar win
Tuesday's appalling weather continued into Wednesday, resulting in several revisions to the running order with the sidecars following the electric bikes.

Dave Molyneux responded by taking his 16th TT win in the second Sure Sidecar race and making it five double wins on his scorecard. Tim Reeves and Dan Sayle were second after Molyneux overtook them on third lap. Ben and Tom Birchall took their second podium in third place.
With all the delays it was well into the evening when the second Supersport race got under way. But despite the low sun, Suzuki-mounted Michael Dunlop made no mistakes to take his third TT victory when he won the second Monster Energy Supersport race by 13.26 seconds from Cameron Donald, once again the bridesmaid. Ryan Farquhar took third place from Anstey with 0.01 seconds, eventually deciding what at first looked like a tie.
Bad weather forces Friday slate to Saturday, then time runs out
Strong gales battered the island on Thursday and Friday, and racing was postponed to Saturday. Leaving the Senior TT until last resulted in its cancellation for the first time in 105 years, although the re-introduced Lightweight race did take place.
In the Lightweight Ryan Farquhar took his third TT win Saturday evening in a Kawasaki sweep. Farquhar beat James Hillier by 28.99 seconds, with Michael Rutter third with a lap record of 115.554 mph. More than 95 percent of the bikes were powered by Kawasaki engines.
So, at the end of the day, Norton never got a chance to run and John McGuinness missed a chance to score his 20th win and get one step closer to Joey Dunlop's record of 26. For once, however, the disappointed crowd of 40,000 could also grumble along with the unsuccessful racers "wait until next year."