Hagerty valuation experts Dave Kinney (Hagerty Price Guide), Colin Comer (author of "Shelby Cobra 50 Years") and Rob Sass discuss post-auction results from Scottsdale.
Listed below are the raw results witnessed by Hagerty during the live auction. These figures may not factor in any post-sale deals that may occur, but they do include the appropriate buyer's premiums.
How much is your car to insure? Find out in four easy steps.
Get a quote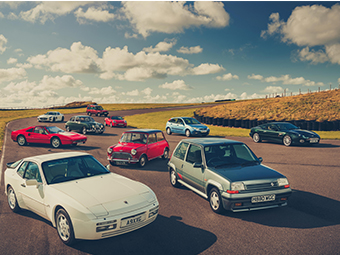 Overall from All Auction Companies

2012 Final Cumulative Total: $182M
2,143/2,527 lots sold: 85% sell-through rate
Average Sale Price: $84,958
Overall Top 10 Sales
1. 1955 Mercedes-Benz 300SL alloy Gullwing sold for $4,620,000 (Gooding)
2. 1959 Ferrari 250 GT LWB California Spyder sold for $3,905,000 (Gooding)
3. 1948 Tucker Torpedo sold for $2,915,000 (Barrett-Jackson)
4. 1947 Bentley Mark VI Franay DHC sold for $2,750,000 (Barrett-Jackson)
5. 1930 Duesenberg Model J disappearing top convertible coupe sold for $2,640,000 (Gooding)
6. 1933 Pierce-Arrow Silver Arrow sold for $2,420,000 (Barrett-Jackson)
7. 1954 Mercedes-Benz 300SL Gullwing sold for $2,200,000 (Barrett-Jackson)
8. 1929 Bentley 4.5L Dual Cowl Sports Phaeton sold for $2,145,000 (Gooding)
9. 1957 Ferrari 410 Superamerica coupe sold for $1,815,000 (RM)
10. 1954 Desoto Adventurer II coupe sold for $1,430,000 (Barrett-Jackson)
2011 Final Results
Cumulative Total: $157M
2,326/2,887 lots sold: 81%
$67,816 average sale price
Barrett-Jackson Auction Company

2012 Final Cumulative Total: $90.6M
1,291/1,294 lots sold: 99%
Average Sale Price: $70,238
Sunday Total: $5.6M
131/131 lots sold: 100% sell through rate
Average Sale Price: $70,238
Top 10 Cumulative Sales
1. 1948 Tucker Torpedo sold for $2,915,000
2. 1947 Bentley Mark VI Franay DHC sold for $2,750,000
3. 1933 Pierce-Arrow Silver Arrow sold for $2,420,000
4. 1954 Mercedes-Benz 300SL Gullwing sold for $2,200,000
5. 1954 Desoto Adventurer II coupe sold for $1,430,000
6. 1928 Daimler P.1.50 Vee Front Royal Limousine sold for $1,155,000
7. 1930 Isotta Fraschini Tipo Cabriolet sold for $1,100,000
8. 1930 Duesenberg J sold for $1,045,000
9. 1964 Ford Fairlane 500 custom 2-door hardtop sold for $1,000,000
10. 2012 Chevrolet Corvette 60th Anniversary convertible sold for $600,000
2011 Final Results
Cumulative Total: $157.7M
1,240/1,240 lots sold: 100%
Average Sale Price: $56,248
Gooding & Company

2012 Final Cumulative Total: $39.8M
116/118 lots sold: 97%
Average Sale Price: $343,396
Overall Top 10
1. 1955 Mercedes-Benz 300SL alloy Gullwing sold for $4,620,000
2. 1959 Ferrari 250 GT LWB California Spyder sold for $3,905,000
3. 1930 Duesenberg Model J disappearing top convertible coupe sold for $2,640,000
4. 1929 Bentley 4.5L Dual Cowl Sports Phaeton sold for $2,145,000
5. 1967 Ferrari 275 GTB/4 coupe sold for $1,200,000
6. 1965 Ferrari 500 Superfast coupe sold for $1,100,000
7. 1971 Lamborghini Miura P400 SV coupe sold for $1,100,000
8. 1958 BMW 507 convertible sold for $962,500
9. 1971 Maserati Ghibli 4.9 SS Spyder sold for $880,000
10. 1963 Ferrari 250 GT Lusso coupe sold for $880,000
2011 Final Results
Total: $35.0M
120/128 lots sold: 94%
Average Sale Price: $291,407
Russo and Steele

2012 Final Cumulative Total: $18.2M
401/641 lots sold: 63%
Average Sale Price: $45,438
Sunday Total: $1.2M
52/85 lots sold: 61%
Average Sale Price: $45,438
Top 10 Cumulative Sales
1. 1968 Chevrolet Corvette L88 sold for $687,500
2. 1965 Shelby GT350 R sold for $467,500
3. 1967 Ferrari 330 GTC sold for $429,000
4. 1967 Chevrolet Camaro Cherokee sold for $357,500
5. 1969 Ford Mustang Boss 429 sold for $264,000
6. 1972 Ferrari Dino 246 GTS sold for $200,200
7. 1970 Dodge Challenger Hemi R/T SE sold for $198,000
8. 1970 Chevrolet Chevelle SS 454 LS6 sold for $165,000
9. 1937 Mercedes-Benz 230 Cabriolet A sold for $159,500
10. 1970 Chevrolet Chevelle LS6 "Motion Performance" sold for $145,200
2011 Final Results
Cumulative Total: $18.8M
601/984 lots sold: 61%
Average Sale Price: $31,259
Silver Auctions

2012 Final Cumulative Total: $2.95M
175/267 lots sold: 66% sell-through rate
Average Sale Price: $16,840
Top 10 Cumulative Sales
1. 1960 Facel Vega HK500 2dr Hardtop sold for $93,960
2. 1948 Packard Super 8 convertible sold for $42,120
3. 1969 Chevrolet Camaro coupe sold for $41,580
4. 1963 Chevrolet Impala 2dr Hardtop sold for $40,500
5. 1969 Chevrolet Camaro convertible sold for $39,960
6. 1934 Ford 5-window coupe sold for $39,420
7. 1935 Ford Pickup sold for $37,260
8. 1948 Chevrolet Pickup sold for $36,990
9. 1941 Buick Roadmaster convertible sold for $36,180
10. 1937 Ford Slantback 2dr Hardtop sold for $35,640
2011 Final Results
Total: $3.4M
193/353 lots sold: 55% sell-through rate
$17,869 average sale price
RM Auctions

2012 Cumulative Total: $24.7M
120/140 lots sold: 86% sell-through rate
Average Sale Price: $205,943
Top 10 Overall Sales
1. 1957 Ferrari 410 Superamerica coupe sold for $1,815,000
2. 1959 BMW 507 convertible sold for $990,000
3. 1973 Ferrari 365 GTS/4 Daytona Spyder sold for $990,000
4. 1963 Ferrari 250 GT Lusso coupe sold for $979,000
5. 1930 Duesenberg Model J LWB Dual Cowl Phaeton sold for $880,000
6. 1966 Shelby Cobra 427 roadster sold for $880,000
7. 1991 Ferrari F40 coupe sold for $781,000
8. 1957 Mercedes-Benz 300SL roadster sold for $737,000
9. 1955 Mercedes-Benz 300SL Gullwing coupe sold for $632,500
10. 1952 Ferrari 342 America Speciale coupe sold for $632,500
2011 Final Results
Cumulative Total: $31.0M
174/182 lots sold: 96%
Average Sale Price: $178,133
Bonhams

2012 Cumulative Total: $5.7M
40/67 lots sold: 60% sell-through rate
Average Sale Price: $141,824
Overall Top 10 Sales
1. 1937 Mercedes-Benz 540KCabriolet C sold for $667,000
2. 1930 Rolls-Royce Phantom I Transformal Phaeton sold for $524,000
3. 1947 Delahaye 135M three-position DHC sold for $474,500
4. 1924 Isotta-Fraschini Tipo 8 Torpedo Phaeton sold for $447,000
5. 1966 Aston Martin DB6 Vantage Saloon sold for $298,500
6. 1931 Cord L-29 LaGrande Speedster sold for $290,800
7. 1956 AC Ace Bristol Roadster sold for $221,500
8. 1923 Duesenberg Model A touring sold for $183,000
9. 1932 Rolls-Royce Phantom II Sedanca de Ville sold for $177,500
10. 1967 Jaguar E-type 4.2L SI roadster sold for $144,500