If the results of all three Paris auction sales (RM, Bonhams and Artcurial)are anything to go by, the European classic car market has lost none of its momentum at the start of 2015. Supported by strong results at the provincial auctions at ACA King's Lynn and SWVA Poole, not only were the hammer prices up, but the all-important sale rates were also very healthy.
Star of the Retromobile Paris shows was the dusty 1961 Ferrari 250GT California with French and Hollywood movie star provenance which gave a truly stellar performance on the Artcurial auction stage. Selling to an international collector for 15.94m Euros (£12.11m with 16% buyer's premium) this was nearly £5m more than the guide price and established a new auction world record price for the Short-Wheelbase Spider with covered headlights. It also marked the highest bid ever logged by the French auction house.
How much is your car to insure? Find out in four easy steps.
Get a quote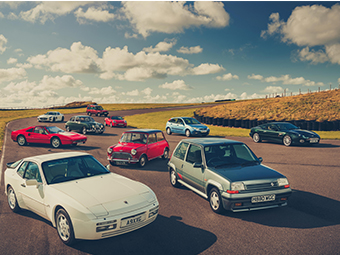 For veteran auctioneer Herve Poulain, the 100% dispersal of the Roger Baillon collection was by far the highest profile sale in his 40-year career. Most of the 59 'barn finds', collected for a motor museum project that never happened, were auctioned 'sans reserve' and were displayed in their own Retromobile hall to which up to 15,000 visitors a day made a pilgrimage.
The two-part marathon took over 11 hours to complete and was witnessed by over 3500 people in the darkened Artcurial Salon, while many more thousands more watched the online. By the time the book had been closed, 46m Euros (£34m) had been spent, a new record for a collection of automobiles sold on the Continental mainland.
The rest of the statistics from this super-sale were equally confidence-boosting. 1600 registered bidders contested 176 classics and bought 155 of them, an 88% sale rate. 85% of the buyers were classified by the Parisian firm as 'foreign' with close to 30 nationalities represented.
Apart from the record busting Baillon-sourced California, in which second owner Alain Delon gave lifts to Jane Fonda and Shirley MacLaine, there were 9 more world record auction price breakers at this sale. A 1956 Maserati A6G 2000 Gran Sport Berlinetta by Frua sold to an American collector for a global price topping 2m Euros (£1.5m) and a 1968 Bizzarrini 5300GT Strada more than doubled the pre-sale estimate to fetch a record 1.2m Euros (£925,000) from a European collector. 5 cars broke through the magic 1m Euro barrier and 10 cleared the 500,000 Euros hurdle.
Amongst other top results were a 1966 Ferrari 275GTB Berlinetta and a decaying 1949 Talbot-Lago T26 Grand Sport SWB by Saoutchik- bought by European bidders for 1.9m Euros (£1.4m) and 1.7m Euros (£1.3m)respectively. 1.4m Euros (£1m) was paid by an Asian buyer for a 1938 Mercedes-Benz 380K Cabrio A and 929,800 Euros (£689,974) was handed over by a European for a 1957 300SL Roadster with hardtop.
1962 and 1961 examples of the Maserati 3500GT Spider by Vignale also went to new Asian and European homes for 858,200 Euros (£636,880) and 834,400 Euros (£619,208). A crumbly Baillon 1948 Talbot-Lago T2 Record Saoutchik Cabrio project was bravely taken on for 745,000 Euros (£554,000) – the suggested starting price had been 120,000 Euros (91,200)!
Such was the national importance of one Baillon automobile that a very Republican 'Pre-emption' was granted to the Musee de l'Automobile de Compiegne, who were therefore unchallenged in their 54,520 Euros (£41,435) acquisition of a circa 1936 Panhard-Levassor Dynamic X76 Coupe Junior
Elsewhere during the Paris auction week there were also some very interesting cars sold. Bonhams successfully shifted 110 (77%) of the 142 cars presented in the vast Grand Palais for 29.97m (£22.2m) including premium. Astons did particularly well with a rare lhd 1965 DB5 Convertible setting a new world auction record by selling for £1,897,500 (£1,442,100) and a 1962 DB4C, also lhd, making 1,219,000 Euros (£926,440).
An Alfa Romeo 6C-1750 Grand Sport Racer, a class winner at the 1930 Brooklands Double Twelve driven by exiled Russian Imperial Guardsman Boris Ivanowski and subsequently re-bodied with by James Young for the Motor Show sold for 1,184,500 Euros (£900,220). The Amschel Rothschild-raced 1966 AC Cobra 289 MkII Roadster sold to a British bidder in the room to applause for an above estimate 937,250 Euros (£712,310) and a DAP Kart raced once by Ayrton Senna in a 1981 World Championship event in Parma fetched a whopping 57,500 Euros (£43,700).
RM's sale was held under up-market canvas in Place Vauban near the Eiffel Tower. Bidders from 34 countries competed for the 67 cars in the catalogue, buying 54 or 81% of them for 19.22m Euros (£14.61m) with premium and paying in excess of 1m Euros (£760,000) apiece for 5 of them. The average price achieved per car worked out at 333,000 Euros (£253,000).
The night's top seller was a 1963 Ferrari 250GT/L Lusso Berlinetta, which realised 1,624,000 Euros (£1,234,240). The other big number cars were a 1964 Porsche 904 Carrera GTS which sold for 1,428,000 Euros (£1,085,280) and a 1963 Mercedes-Benz 300SL Roadster for 1,232,000 Euros (£936,320). A 1990 Ferrari F40 made 1,176,000 Euros (£892,760), an early rivet-body example of an Iso Grifo A3/C Stradale from 1965 1,036,000 Euros (£787,360), a 1964 Aston Martin DB5 Fixed Head 840,000 Euros (£638,400) (way over estimate), and a 1969 Ferrari 365GTB/4 Daytona Berlinetta 705,600 Euros (£536,256).
In a slightly less salubrious King's Lynn, ACA attracted by far the largest turnout ever seen at a UK provincial sale to see an unprecedented 246 cars offered for sale.
A quartet of 'No Reserve' Capris were the most viewed and bid items with £20,370 handed over for a 1979 MkIII 3.0S, while a huge £28,350 was invested in a 1963 Scootacar. There were buyers, too, for a brace of retail-ready Ferraris with £63,000 paid for a 1991 Testarossa and £53,550 for a 1982 308GTSi Targa. After 6 hours and 55 minutes auctioning, 210 or 85% of the stock had sold for £1.77m (with 5% premium).
The day before, SWVA in Poole had achieved a 92% sale rate with 46 of the 50 cars offered selling for £276,093 including 6% premium. The highest priced seller was a Jaguar E Type 3.8 Coupe that had been supplied new in 1962 to the US, from where the Fixed Head had been repatriated and converted to right-hand drive in 1999. With essential numbers still matching, the non-runner was taken on for £50,350, over £15,000 more than the project's pre-sale estimate.
A Note on our Numbers
All prices shown are hammer price plus premium. We do not include VAT (or overseas equivalent). We believe this is the most accurate figure.