The Goodwood Revival should be on every petrolhead's bucket list. Each September since 1998, the Earl of March's Sussex estate turns into the stellar racetrack it was between 1948 and 1966.
This is flat-out circuit racing, involving the greatest assembly of rare and historic machines on the planet. A high percentage of drivers are the greatest, too. Sir Stirling Moss attends every year and 2010 saw Jochen Maas, Derek Bell, David Hobbs, Jackie Oliver, Brian Redman, Tom Kristensen, Gerhard Berger, Wayne Gardner and Martin Brundle, among others.
How much is your car to insure? Find out in four easy steps.
Get a quote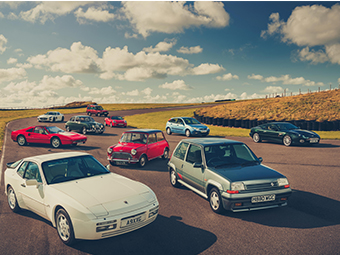 Each year Lord March honors a marque and a driver, and 2010 was the turn of BRM and John Surtees OBE, who began his auto racing career at Goodwood 50 years ago. Surtees remains the only driver to win world championships on two and four wheels. He won seven motorcycle world titles with MV Agusta before becoming a Formula One champion with Ferrari in 1964.
In September, almost every running BRM was there to celebrate the 60th anniversary of the marque's first victory – at Goodwood, of course – when Reg Parnell won both the Woodcote Cup and Goodwood Trophy races in the supercharged, 1.5-liter V12 BRM P15.
You can debate preserving BRMs, ERAs, GTOs and D-Type Jaguars or using them in anger all you want. But line them up on the grid at one of the world's most historic racetracks, in the middle of the English countryside, and you can't fail to be excited.
Here are the races you'll find at Goodwood. They each cover a spectrum of cars that actually raced in period at the track.
The Goodwood Trophy: Grand Prix and Voiturette cars from 1930-50. (Think Bugatti, ERA, Alfa Romeo and Maserati).
The Chichester Cup: Rear-engined Formula Junior cars from 1958-62 (Lotus, Cooper, Elva Emryson, Kieft, Jolus).
Barry Sheene Memorial Trophy: Two races for 350cc and 500cc motorcycles from 1951-54. (Norton Manx, BSA Gold Star, Vincent Black Shadow, Matchless G46, AJS 7R, Velocette KTT).
St. Mary's Trophy: Two races for 1950-59 family sedans (Austin A30, Morris Minor, Jaguar Mk VII, Jaguar Mk 1, Jowett Javelin, Tatra T603, Austin A95 Westminster, Ford Zephyr, Hillman Minx, Peugeot 203, Mercedes-Benz 220S, Riley One-point Five).
The Whitsun Trophy: Sports racing prototypes from 1963-66. (Ford GT 40, Lola, Brabham BT8, Ferrari GTO, Ferrari 250GT SWB, Lotus 30, McLaren ).
The Madgewick Cup: Sports racers under 2.5 litres, 1955-60 (Cooper, Lotus, Lola, Maserati, OSCA, Porsche).
The Gordon Trophy: 2.5-litre Grand Prix cars 1954-60. (Cooper, Lotus, De Tomaso, Heron, LDW, Porsche, Walker-Climax).
Freddie March Memorial Trophy: Cars in the spirit of the Goodwood Nine-Hour Race 1952-55. (Jaguar, Aston-Martin, Austin-Healey, Cooper, Frazer Nash, Ferrari-Gordini, Maserati).
Fordwater Trophy: Production-based sports cars in spirit of Goodwood Members' Meetings 1960-66. (Austin-Healey, Austin/Morris Mini and Mini Cooper, MGA, MGB, Alfa Romeo Giulietta, Triumph TR4, Ashley, Lenham).
The Richmond Trophy: Front-engine Grand Prix cars 1950-60. (Maserati 250F, Ferrari 246, Connaught, Cooper, HWM, Vanwall, BRM, Aston Martin, Lancia-Ferrari D50.)
Royal Automobile Club TT Celebration: cars in the spirit of the Tourist trophy Races 1960-64. (Ferrari GTO, Ferrari 330 LMB, Aston Martin DB4 GT, AC Cobra, Jaguar E-Type, Lister-Jaguar)
The Glover Trophy: 1.5-litre Formula 1 and Tasman cars, 1961-65: Lotus 25, BRM P261, LDS Alfa Romeo, ATS Tipo 100GP).
The Sussex Trophy: World Championship Sports Cars 1958-60. (Aston Martin, Jaguar, Ferrari, Maserati, Lister, Tojeiro).
Last year was the 70th anniversary of the Battle of Britain, and nine RAF veterans were honored, along with the memory of Billy Fiske, the first American volunteer pilot to die in WW2. In Fiske's memory, Hurricanes and Spitfires taxied past the grandstand, followed by Fiske's own Bentley and beneath a Spitfire, Hurricane and Lancaster flypast.
The airshow is a regular feature of the festival. Multiple WWII fighter aircraft put on four aerobatic shows a day with Spitfires, Hurricanes and P51 Mustangs dicing with Messerschmitt BF 109s, Grumman Bearcats and others. There's also an extensive aircraft concours d'elegance; September saw rare vintage planes like the only flying 1935 Hawker Fury fighter, a 1938 WACO YKS biplane, 1934 Fleet Air Arm Hawker Nimrod and a 1930 De Havilland Gypsy Moth, like the one Amy Johnson flew in her first female solo flight from England to Australia in 1930.
The racetrack paddock is a time warp, and period dress from 1939 to '66 is required. Goodwood was the site of RAF Westhampnett fighter base during WWII so RAF and Army uniforms are eligible. Mechanics wear white coveralls, while around them, tweed jackets, flat caps and other Allied uniforms can be seen elbow-to-elbow. Ladies' fashions stretch from WWII uniforms, 1940s Dior suits and silk stockings with seams, to 1960s Mary Quandt mini skirts. Saturday is Ladies Day with prizes for the best outfits.
The 2011 Goodwood Revival is set for September 16-18. It's not a cheap seat, with general admission for all three days costing £111 and as much as £68 for a grandstand seat on top of that. If you want to camp at the site, that will set you back £150-200 for four. The program is £13, but most definitely worth it. And don't that forget tickets must be picked up in advance. Check out the details at www.goodwood.co.uk.