For as long as there have been cars, there has been car modification. In some way, almost every classic car has been modified from original, even if it is just modern tyres or a more powerful battery. Then there are the extremes: cars with new engines dropped in, the suspension uprated or even completely new bodywork fitted.
And, to be honest, in the past many of these highly-modified cars have been regarded with some level of disdain by the purists: those who believe that classic cars should be kept as original as possible.
How much is your car to insure? Find out in four easy steps.
Get a quote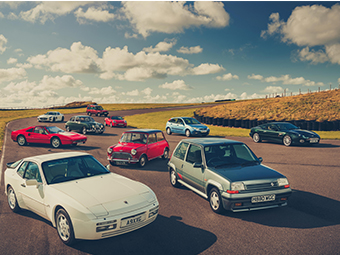 However, over the last few years, a new breed of modified classic cars has emerged and their impact on the hobby as a whole is gaining momentum. Take Singer's DLS project with Williams that we reported on in the summer. Although based on a Porsche 911 (964), the engineering, attention to detail and design developments incorporated into this 'reimagination' are extraordinary: creating 500bhp from a naturally-aspirated, air-cooled engine and delivering it in a body that is at once beautiful, practical and in keeping with its heritage.
A couple of years ago were given the worldwide exclusive on the BMW E30 M3 by Redux, and in October this year we were invited to see the finished car before it was shipped to the USA for delivery to its new owner. This is another masterpiece: although nearly every aspect of the car has been updated, from its carbon-fibre bodywork to its 2.5- litre S14 turbocharged engine, each part strongly retains the DNA of its original designer. Even its 18-inch track wheels, specially made by Cinel, draw heavily from the designs of the DTM era in which the model was so dominant. As Redux boss Simon Lord said, "I wanted to build a car that takes the E30 M3 one step further… at every stage, I considered where BMW would have gone if they had continued to develop the car past 1992 but had access to modern technology."
Others have taken classic designs and put an even stronger stamp on them. Social media was ablaze this year with pictures of Automobili Amos's work on the Lancia Delta Integrale restoration they call the 'Futurista'. This coupe – the rear doors are lost in place of huge box arches and roll cage – features a hand-built aluminium and carbon body and puts 350bhp under the bonnet, enough to embarrass any modern hot hatch.
When you speak to the creative forces behind these companies, it's clear that a sense of respect for the original designers is paramount. In the summer, I interviewed Singer's Rob Dickinson who told me, "We've worked relentlessly to present a machine that visually celebrates the past, while acknowledging the future – both inside and out."
It is this combination of cutting edge technology combined with a reverence for the original design that makes these cars so attractive and makes the term 'restomod' seem unfair on their creators. Everyone who owns a classic car knows that the technological solutions of the past don't always add to the joy of motoring, and that advances in manufacturing or design, when implemented in a tasteful way, can actually add to the experience.
Indeed, in the future it could become essential. With the UK having committed to banning new petrol and diesel cars from 2040, the widespread availability of these fuels is likely to reduce rapidly over the next decade or two. Maybe technology has the answer, but until then, those companies creating high-quality bespoke restorations will undoubtedly continue to thrive.