A personal review of the 2018 classic car year.
As in previous years, for 2018 far too much of my time was spent indulging in visiting classic car events, both in the UK and overseas, when I really should have been at home cutting the grass and grouting the bathroom! However, with the distraction (excuse!) of so many outstanding historic and classic car shows, concours and race meetings to visit throughout the year, the choice of staying at home to attend to domestic duties or venture out to admire some interesting and exciting classics was an easy one to make.
How much is your car to insure? Find out in four easy steps.
Get a quote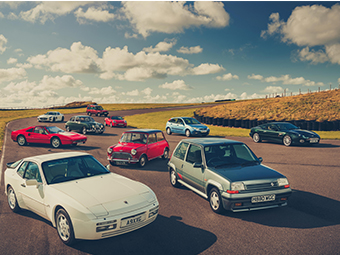 As new cars become more homogenous, anonymous and SUV-shaped, overall interest in classic cars, motorcycles and commercial vehicles 'with character' continues to grow. This is helped by an ever-expanding variety of interesting things owners can do with their classic machinery, from attending a local classic car show for charity, to driving tours throughout the world and breaking into a sweat competing or polishing at a historic motor race meeting or classic Concours d'Elegance.
A number of News Year's Day classic car meetings at Brooklands, the Ace Café, Classics on the Prom, Yeovil and so on got the 2018 season off to a wheel-spinning start, with me opting to visit the excellent Stony Stratford Classic Car Festival, held in the historic streets of this charming town near Milton Keynes.
The ever-shrinking Autosport Show at the NEC, Birmingham, a few days later was less entertaining, but my faith was soon restored by an exceptional 2018 Rétromobile, held in a snow-covered Paris in early-February. The drive to Paris through the frozen wastes of Northern France was worth it for the exquisite display of racing 1950s-'70s Abarths alone at Rétromobile, never mind the stunning Delages, Bugattis, Maseratis and countless other mouth-watering classics on show.
Due to a timing clash, frustratingly I couldn't attend Europe's other big indoor classic car show, Techno Classica in Essen, so to make amends the 2019 dates are already firmly in my diary as I plan to be there next year. More definite are my return visits to the smaller Antwerp Classic Salon and Reims Salon Champenois du Véhicule de Collection in mid-March though, as these two Continental events consistently deliver with classics rarely seen this side of the Channel, as well as some wallet-melting autojumbles, so be warned!
Goodwood always delivers, and this year's 76th Members' Meeting was no exception. Despite Artic conditions and brass monkey temperatures, Goodwood still went ahead and ran a whole weekend programme of historic racing. The once-in-a-lifetime sight of wide, loud and powerful F5000 cars running on slick tyres in the snow will remain with me forever, as will the Caracciola Sportwagenrennen pre-war sport cars race and Gerry Marshall Trophy 1970s saloons battling it out in severely slippery and challenging winter conditions.
Thankfully my return to Goodwood in July for the 25th anniversary Festival of Speed (FoS) was in considerably warmer and sunny conditions, the annual event pulling out all of the stops this year to mark a quarter-of-a-century since redefining what a celebration of motoring should be. Having a soft-spot for Citroen's 2CV, putting together a class of these for the Cartier 'Style et Luxe' concours at Goodwood to mark the iconic French model's 70th anniversary was a real highlight for me, and appreciated by the Cartier judging panel.
A mid-FoS visit to help judge at Hagerty's fifth anniversary Festival of the Unexceptional at Stowe made for a sharp but welcome down-to-earth contrast to the mind-blowing competition cars at Goodwood. There were too many great forgotten cars to take in, but I did get to closely examine the 1977 Chrysler Alpine that was being unanimously voted 'Best of Show' this year; a highly-fitting Unexceptional winner at this very enjoyable and laid-back event.
I was also asked to be a judge again at the charming Valletta Concours d'Elegance, held in the historic Maltese capital. An astonishing array of classics entered the concours, from a Mini to a Maybach, with a rare Chapron-bodied Citroen DS 'Le Paris' coupe, flown in from California specially for the event, taking the top prize.
Malta's Mediterranean sunshine followed me home for the enormous Silverstone Classic weekend, and thankfully remained here right through to September for Salon Privé at Blenheim Palace, Hampton Court's Concours of Elegance, the hectic 20th anniversary Goodwood Revival and the inaugural Hagerty Renaissance Meeting on the same weekend.
Inevitably the amazing dry spell couldn't continue indefinitely and the weather turned for The Warren, with rain lashing down for this Essex event most of the day; the first time I'd got wet at a classic show during the year!
The unseasonably warm weather returned, however, for late September's Les Grandes Heures Automobiles (LGHA) at the famous banked Montlhery circuit near Paris, encouraging a record turnout of classic car clubs to this wonderfully French event, with an equally strong attendance at the refined Zoute Grand Prix and Concours on the Northern Belgian coast, plus large AutoMedon classic show in Paris a couple of weeks later.
A thoroughly busy but enjoyable 2018 rounded-off with that perennial favourite, the huge NEC Classic Car Show in November, even larger than before with an extra exhibition hall added, with the stylish InterClassics event in Brussels also well worth a quick visit just one week later.
Sprinkled throughout 2018 were a wealth of enjoyable and engaging classic events worthy of a mention too, from Auto Italia at Brooklands to a number of well-supported local and regional shows, all creating some long-lasting memories, with interesting cars to see and even more interesting owners to chat to.
Here's looking forward to another enjoyable year of classic car motoring and events in 2019. Hopefully see you there. Have a Happy New Year!