In a worldwide exclusive interview, John Mayhead meets Redux E30 M3 Leichtbau creator Simon Lord, and discusses the Next Big Thing in classic cars.
Simon Lord's timing could not have been better. Just as the classic car world is going crazy for 1980s cars and crazy for quality, Lord and his partner Neil Yates of Rally Prep come along and provide both, in spades. Meet the Redux E30 M3 Leichtbau: a re-engineered BMW E30 M3 that has the power to weight ratio of the Porsche GT3 RS, employs bespoke mechanical components and unique body panels and looks, quite simply, stunning.
How much is your car to insure? Find out in four easy steps.
Get a quote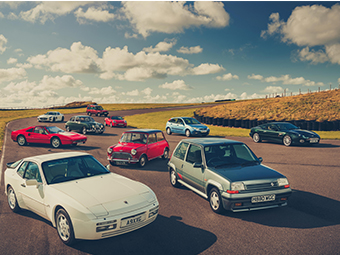 "BMW were hugely successful with the E30 M3: it won 12 touring car championships in five years," Lord tells me. "The last model was the 2.5 litre Sport Evo. We wanted to develop a car that took the E30 design one step further- where would the BMW M Division have taken the car next, given access to some of today's technology?"
"We wanted to create a lighter, higher performance E30 M3, which maintained the ethos and balance of the original 1980s DTM and BTCC legend. We took design inspiration not only from the BMW E30 M3 DTM and Touring cars, but also from earlier designs such as the 3.0 CSL 'Batmobile'. We've cherry picked features from a selection of BMW's road and race classics and integrated them into the Leichtbau. The result matches how BMW themselves described the E30 M3: a racing car, modified for the street."
But if you think this is just another Resto Mod, think again. Based on an original E30 M3 donor car, the Redux Leichtbau (meaning 'revived/lightweight') will be totally rebuilt from the chassis up, with a newly-designed carbon fibre body, bespoke interior, and mechanicals developed from DTM and contemporary race systems. Lord tells me some of his influences have been Singer, Eagle, and the café racer motorcycle scene, and these are obvious in the attention to detail shown in his build sheets (still a closely guarded secret). Even the dials will be modified, inspired by the Bamford Watch Department's treatment of Rolex watches.
Lord has put together an impressive team to bring the Leichtbau to life. Neil Yates, acknowledged as one of the UK's leading E30 race preparers, has led the mechanical development of the car. The original iconic 2.3l S14 engine has been preserved and will undergo significant internal development work. As per the Sport Evo, displacement is increased to 2.5l but with a turbocharger fitted, which will produce in the region of 300 bhp per tonne- similar power to period M3 DTM cars. His company will also produce the carbon fibre bodywork to designs created in 2D and CAD by Quarterre, run by ex- Chrysler, Nissan and Porsche Design expert Clive Hartley. Clay modelling will soon begin, supplied by Jonathan Gould at industry leaders That's It! Design.
The advisory panel is similarly impressive. Peter Mountford, of Mountford Capital and Heropreneurs has provided business mentoring, as has Martin Runnacles, ex- BMW (GB) Marketing Director. Development and testing support will be provided by a BTCC/ DTM legend- who must unfortunately remain nameless for now due to his other commitments to BMW.
Lord is committed to maintaining extreme levels of quality control, which is why there will only be 30 cars made- nine prototypes and 21 production cars. "The prototypes will all be sponsored by individual investors, who will take ownership of their cars once design, development and testing has finished on prototype #1. We'll work with these owners to create bespoke cars that exactly match their, and our, requirements. The 21 production cars will be more standardised, but still individually hand- built, and we can adapt them to client's needs as necessary."
If you would like to own one of these superb cars, you had better be quick- the order book is now open for the nine prototypes with one already reserved. Although the price has yet to be announced, the Singer 911 is a fair indicator of the investment you'd have to make. Any serious enquiries should be made to admin@reduxleichtbau.com.
We were only allowed to publish these teaser images of the car, but intend to follow the development of the Redux Leichtbau through this year and into 2016- the 30th anniversary of the original BMW E30 M3. We'll keep you posted!