Unbelievably, it's now 21 years since the Vauxhall Vectra was launched on an unsuspecting and unprepared public. The new car offered several bonus features over and above the previous Cavalier, we were told – enough to justify its swanky new name and enough to take on the exciting new Ford Mondeo.
Sadly, all we the British public could see were its shiny new door mirrors.
How much is your car to insure? Find out in four easy steps.
Get a quote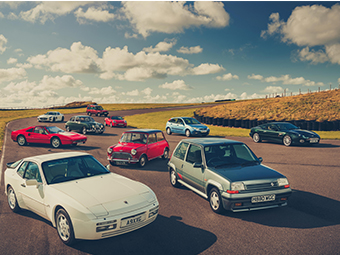 The Vectra was panned at launch by journalists who claimed it was mediocre at best and lazy at worst. It was slower and more expensive than the outgoing Cavalier, and where in the world of the user-chooser Cavalier meant something, the new name did it no favours either. It was seen as no match for Ford's game-changing Mondeo of two years before, and things came to a head when Jeremy Clarkson infamously recorded 6 minutes of television against his will, in which he tried everything he could to avoid discussing the car.
But now the Vectra's come of age, and it won't be long before immaculate preserved N platers start to make their show field debuts. As classic car fans we need to re-evaluate it and ask ourselves whether it's worthy of preservation or whether the bad reputation was entirely justified. To do this, I borrowed an average example of an early Vectra. A 1997R plate 1.8LS automatic, owned at the time by my friend Alex. A truly unexceptional car, and one which before too long will be eligible for our own Festival of the Unexceptional.
My first disappointment was when I got in and closed the door. The clang which resulted was so akin to that of a Transit that I had to get out and make sure I hadn't accidentally hopped into his neighbour's van by mistake. But no, everything was car-like. I assumed I'd dreamed it and got in again. Clang. The lack of a sunroof and the single-skinned roof panel meant that the shell behaved in the same way as that of a van – hardly fitting of a car intended to impress clientele. This never happened with the MK3 Cavalier I had for a few days last year.
It did however feel like a MK3 Cav to drive – albeit slower. I didn't find the seats especially comfortable, but I have an iffy back so this isn't surprising. The steering is uninspiring and tends toward understeer, the plastics inside are mediocre, and those stylish door mirrors only served to hide all rearward traffic from my view. Would I have chosen this had my fleet manager offered me the option in 1995? No. I'd have chosen a nice Mondeo or Peugeot 405 instead. The Vectra doesn't feel any more accomplished than its predecessor and made service jobs ten times as difficult, though to its credit it rides well on motorways.
So yes, the Vectra deserved the panning it earned when new. It isn't a bad car, but it wasn't up to the job of replacing the Cavalier let alone taking the fight to Mondeo. And yet despite this, I still think we should preserve them for future generations to enjoy.
History is littered with cars which weren't quite good enough to woo the market – the Morris Marina, the Ford Escort MK3, the Renault 20 and the Volkswagen Santana are obvious examples of unexceptional motors which never quite made the grade. But these are the cars which prompt the fondest memories in 2015 – the cars which broke down on family holidays, the cars Dad was given as company cars, maybe the first cars we drove or the cars in which we achieved the most. Despite their mediocrity, cars like this are the ones we love the most because we are better able to identify with these than with rarefied Italian exotica.
Our automotive allies during our formative years need no particular merit to be singled out for adoration – they're loved not because of what they are but because of what they represent. Take a look around the Festival of the Unexceptional and look at the cars which attract attention. From the FIAT 127 to the Austin Maestro, the Peugeot 305 to the Volvo 440, nostalgia is what drives our love of the street furniture of yesteryear.
And why should the Vectra be any different?