Dazzling photos from the Klementaski collection are richly complimented by thorough reporting, and brilliantly illuminated by first-hand, expert recollections

Real Racers: Formula One Racing in the 1950s and 1960s
A Driver's Perspective, with commentary from Sir Stirling Moss, Sir Jack Brabham, Sir Jackie Stewart, John Surtees, Sir Frank Williams
Rare and classic images from the Kementaski Collection.
Stuart Codling, Motorbooks, 208 pages, £27.50, $40, www.motorbooks.com.com
This is a fascinating look at the Grand Prix world of the 1950s and 1960s, when drivers were thought of as movie heroes and often lived up to their parts. Safety was a minor concern, so perhaps it's no surprise that so many were killed in what was at the time The Most Dangerous Game.
How much is your car to insure? Find out in four easy steps.
Get a quote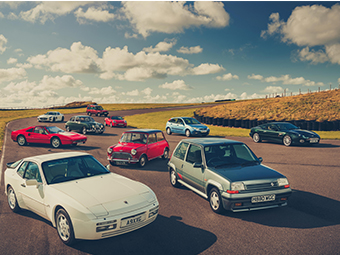 However, key survivors have contributed insightful commentary to this book and along with superb photographs from the Klementaski collection, they give a fabulous inside look at how racing was really conducted in those days.
Commentaries from Sir Stirling Moss, Sir Jack Brabham, John Surtees and Sir Jackie Stewart are complemented by quotes from late great champions like Graham Hill, Jim Clark and Phil Hill, as the stories unfold in linear time so that the reader can follow the evolution of the cars themselves, from front to rear-engine powerplants in the early 1960s.
The book opens with profiles of 39 of the major competitors, along with their race records, the number of GP races they contested and how many they won. The photographs range from the immediate post-war years when Alfa Romeo dominated racing through the rise of Ferrari and the return of Mercedes-Benz, the evolution of Lotus and BRM, the gradual decline of Maserati and Lancia and the withdrawal of Mercedes-Benz after the horrific crash at Le Mans in 1955.
The stunning photographs (50 in color and 176 black and white) come from the Louis Klementaski Collection and are often the definitive portraits of the greatest drivers of their day. Even better are the captions, crammed with information, and the amazing insights from the drivers themselves, often commenting on the pictures on the pages and remembering details about the races.
Author Stuart Codling is to be commended for the detailed reporting and superior organization that makes this perhaps the definitive, and eminently readable, work covering this flamboyant period of racing.
Provenance: ***
Stuart Codling comes by his obvious expertise honestly, having been a journalist and broadcaster for more than 10 years. He covered sports car racing in the U.S. before joining F1 Racing, the world's biggest selling Formula One magazine, in 2001. He has appeared as an F1 expert on radio and TV, writes for Autosport and Autocar and also wrote The Art of the Formula One Racecar. The Louis Klementaski Collection archives consist of more than 500,000 peerless racing images.
Fit and finish: ***
Excellent. Hard-back with semi-gloss stock, clear typography, superb photographs, thorough reporting and expert commentary. Conversational voices, and often hilarious recollections.
Drivability: ***
Utterly absorbing. The quality of the commentary and reminiscences sends the reader back and forth between the text and the photographs and the combination of the two makes for an immediate realism.