You might think the man who gave Ferrari his first Grand Prix win, humbled Nuvolari, won Le Mans twice (once near single handed) and was first to upset Alfa Romeo's seemingly invincible applecart in both its pre- and post-war heydays would be remembered as one of the gods of racing. And yet, if you mention Raymond Sommer to even reasonably well-versed motor racing cognoscenti, the best you can usually hope for is a furrowed brow and pursed lips. The name may ring a bell – some will hazard correctly that he was French and raced either side of the war – but beyond that there's usually a blank.
And yet the fact that the name of Sommer does not trip as easily off the tongue as that of Varzi, Chiron, Farina and Ascari is entirely Sommer's fault. If he'd taken even half the works drives he was offered, he'd now be remembered as one of the greatest drivers that France, or any other nation for that matter, ever produced. But such was not Sommer's way.
How much is your car to insure? Find out in four easy steps.
Get a quote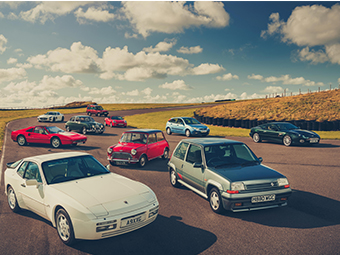 Raymond Sommer was born into a wealthy family in Paris in 1906 and with a daredevil dad who broke the Wright brothers' record for the longest sustained flight. Yet it would be 1931 before driving racing cars started to play any significant part in young Raymond's life. He'd bought a 4.7-litre Chrysler Imperial sports car the previous year and, aiming high, entered it for Le Mans. He failed to finish like all bar six other entrants.
Undeterred, Sommer realised that if he was ever to come anywhere near the podium, he needed an Alfa Romeo 8C. And not being in any sense financially stretched, he just went and bought one. At Le Mans the next year, he teamed with Luigi Chinetti – the man who'd later establish Ferrari in North America – and surveyed the opposition. There were six other Alfas, including two lightning-fast works-entered Monzas. But by half distance, attrition meant the race was between Sommer and the sole surviving works Alfa. That was the good news; the bad was that Chinetti had become unwell just three hours into the race and could drive no more.
In only his second Le Mans with just a handful of races under his belt Sommer drove solo for 21 hours and won, despite being slowly gassed by a broken exhaust. A master of understatement, he described the task as 'tiresome'. In fact, he had single-handedly defeated the greatest racing team of that era.
He did it again before the year was out at the Marseilles Grand Prix at Miramas. This victory dwarfed even that of Le Mans for while he now had his own Monza, he not only beat the brand-new works monoposto P3, the greatest race car of its era, but one driven by none other than Tazio Nuvolari, surely the greatest pre-war driver of all.
Which is why when Nuvolari's team prepared for Le Mans in 1933 and was asked to choose a partner, it was to Sommer than he turned. It was a dream team of Ickx and Bell proportion. Nuvolari set the tone by breaking the outright lap record from a standing start so Sommer countered by breaking Nuvolari's lap record to set the fastest lap of the race. It should have been a breeze, but brake problems and a leaking fuel tank still turned it into a last lap thriller with another Alfa, ironically enough driven by Chinetti. And they still won, making Sommer a back to back winner.
Elsewhere, however, the fiercely independent Sommer raced only what and where he wanted, placing himself at a perpetual disadvantage to his many less talented, works-employed rivals. Then as now, works teams kept the best for themselves, none more so than Alfa's race boss, Enzo Ferrari.
The next few seasons offered only slim pickings to Sommer despite leading Le Mans every year from 1934 to 1938. But his machinery always let him down. On the Grand Prix circuit the Mercedes and Auto Unions teams were making everyone else wonder why they turned up and Sommer, now armed with an ex-work P3, still stood no such chance. Nor would Sommer have raced for the Germans. First, he really only wanted to race for himself and second, he was no fan of the Nazis, or the race teams they funded. Eventually he signed for Ferrari in 1936 but the German opposition was simply too great and results were hard to find. When war came he passed the time working for the Resistance.
Sommer resumed racing in 1946 at a place called St Cloud with the Germans now gone, but back in his favoured privateer role in a Maserati 4CL. Yet he still managed to beat the theoretically unbeatable works Alfa 158s, bringing back memories of Miramas fourteen years; now he was the first man to beat both the P3 and 158. It would be five long years before the factory Alfa team was beaten again and, tragically, Sommer would not live to see it.
With one shining exception, 1947 was to be forgotten. On October 12th he won the Turin Grand Prix driving a Ferrari, notching up the first Grand Prix victory of what would become the greatest race team of all. Apparently, Enzo Ferrari went to Valentino Park and sought out the bench on which he had grieved for his departed brother and father back in 1918 and wept.
Sommer left Ferrari halfway through 1948 to race his own Talbot-Lago, once more sacrificing stardom so he could paddle his own canoe. But two years later in what was his final and finest feat as a racing driver, he made an impression on Enzo Ferrari that changed the course of racing history.
It happened at the 1950 Belgian Grand Prix at Spa, round four of the inaugural World Championship for what would become known as Formula 1. Here his private Talbot with its big, lazy, normally aspirated engine was far slower even than the works Talbots and a joke compared to the Alfas which had a top speed fully 30mph higher. But he was convinced that in the massive thirst of the 158's supercharged engine lay its fatal flaw.
Being Sommer he outqualified all three quicker works Talbots to claim fifth behind three Alfas and Villoresi's Ferrari. At the start, and everyone's astonishment he kept station with the Alfas and even got past Villoresi. And then, as the Alfas came in for fuel, Sommer stayed out. And led the race.
The Alfa pit realised their cars would have not only have to catch and pass Sommer but that they'd need to do it all over again after their second stop. Panic broke out, so much so that Alfa sent people to the time keepers to suggest that Sommer was, in fact, a lap down. He was nothing of the sort. Briefly, it looked like a privateer driver in a completely uncompetitive car was going to humiliate the team that had dominated racing since the cessation of war.
Who knows if Sommer would have won? Sadly Talbot let his down as it would in the remaining races of that year. His last race came in September at a little track at Cadours, near Toulouse. Driving a 1100cc Cooper, he shot off into the lead as usual. But on a quick corner something happened, some say the steering broke, and the car flipped. With zero roll-over protection and no proper helmet, he never stood a chance. He was just 44 years old.
Sommer didn't live to see that his performance at Spa prompted Ferrari to stop trying to beat Alfa with 1.5-litre supercharged engines and instead build a less thirsty, normally aspirated 4.5-litre V12. In his autobiography Enzo wrote: 'It was Raymond Sommer… who encouraged me to design the new engines.' So equipped, Froilán González won the 1951 British Grand Prix to score Ferrari's first championship win. Alfa won one more race that year, and not a single one since. Ferrari became, well, Ferrari.
Drivers are fond of explaining why bad luck alone prevented them taking their place in the pantheon of greats. Such is not the case with Sommer. He raced as a privateer entirely out of choice.
But if you want Raymond Sommer in a nutshell, let him tell you himself. One day near the end of his life in 1950 he did a one-hour production car race at Silverstone in a works Aston Martin DB2, standing in for the injured Lance Macklin. Having not hired Sommer before, team manager John Wyer asked how he'd liked to receive his pit signals. Sommer's reply was as follows: 'I don't want any signals. I always go as fast as I can, so it's no good signalling me to go faster because I can't. And it's no good signalling me to go slower because I won't.' Flat out and on his own terms: the only way he knew.