100 years after it was first discovered by hill climb racers, Kop Hill is back in the limelight, and the 2011 event was the biggest gathering yet
Kop Hill is a steep, well-surfaced road on the outskirts of Princess Risborough in Buckinghamshire today, but 100 years ago, it was the site of one of the UK's toughest hill climbs.
How much is your car to insure? Find out in four easy steps.
Get a quote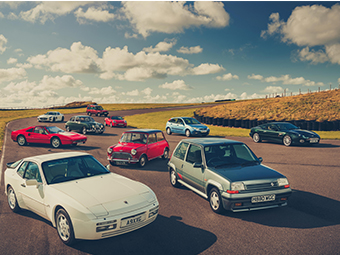 Back then, it was just a steep, hard-packed dirt road, just over ¾ mile long, and rising some 304 feet. The first hill climb attracted 60 racers in April 1910 and it quickly became popular with cars and motorcycles. Ten miles away a similar hill at Aston Clinton also attracted Lionel Martin, driving his own Bamford and Martin car – which would eventually become Aston Martin.
Due to the steepness of the 1-in-4 grade at the upper part of Kop Hill, ruts quickly developed, making it difficult for competitors but spectacular for spectators. Motorcyclists got a 50-yard flying start, which helped them get up the 1-in-8 gradient in the first half, before the 1-in-4 crest defeated many. The ruts didn't help, nor did a starting canon, which was inadvertently fired in front of a bike competitor in 1913, causing him to crash.
A look through motoring press archives throws up famous names in motorsport at that time. Malcolm Campbell in his 12hp Talbot "Blue Bird" was often among the entries, as was Raymond Mays driving a Bugatti, Henry Segrave in a 2-litre Grand Prix Sunbeam, and Archie Frazer Nash in his Kim II.
Records show that the fastest time recorded for a car was 26.8 seconds by Count Zborowski, driving a GP Ballot with an aero-engine, in 1922. In 1924 well-known motorcycle racer Freddie Dixon recorded a time of 24.8 on a 997cc Harley Davidson. A year later he cut the time to 22.8 seconds on a 736cc Douglas motorcycle, averaging 81mph. Neither of those times was ever beaten.
Period reports describe the events as well-run, but there were increasing concerns about spectator safety and a lack of crowd control. Things came to a head on 28th March 1925, when a bike crashed into the crowd of 3,000 spectators, followed shortly after by a Brescia Bugatti. Fortunately, there were no serious injuries, but as a result, the RAC decided to ban motor sport on public roads.
That was the end of the story until 1999's Risborough Festival. The Town Council and the Bean Car Club decided to stage a commemorative hill climb and it drew many famous names and vehicles. Despite the success, it was 10 years before the hill climb became an annual event. The 2009 meeting was well-supported, but the turnout for the centennial in 2010 exceeded all expectations. In all, 350 vehicles competed, 300 more were displayed in the paddock, and 8,000 spectators turned up to watch, with a substantial sum raised for local charities.
The 2011 event drew a record number of entries and took place in unseasonably warm weather. Spectators packed the paddock to study the vehicles in depth and were amazed by the technology of the 1904 Electric Waverley and the 1910 steam car driving around with a 103-year-old passenger.
A record 11,500 spectators lined the wooded hill, taking advantage of the viewing platforms. More than £40,000 was raised for local charities and modern trade stands included Aston Martin, Citroen, BMW, Ferrari, Lamborghini and Koenigsegg.
Nowadays, the hill itself is 860 metres long and well-surfaced. It starts with a gradual slope, is 1-in-6 at the half way mark and steepens to 1-in-4. The run finishes just before the summit, and vehicles return to the paddock on public roads.
The list of car and motorcycle entrants reads like an automotive encyclopedia. The oldest car was a 1903 Humber Humberette, while the oldest bike was a1913 Rudge Multi. Many made the top with ease, but some had to back down. Ironically, the Bugatti that caused the event to be banned all those years ago was back to compete.
Notable celebrities with a passion for cars had a run or two up the hill, including DJ Chris Evans in one of his 11 Ferraris. Local pop star Jay Kay ran his Dodge Charger and the unique Ferrari 330 GT Vignale Shooting Brake up the hill, to the delight of the crowd.
If you missed this year, a provisional date of 22/23 September has been set for 2012.