While many of the more valuable cars up for auction in Paris this year unfortunately failed to meet their reserve, most of the cars, trucks, and motorcycles on offer sold for roughly appropriate numbers. A few, though, skimmed below the radar—and several others defied expectations, hammering at higher prices than we estimated.
From a tidy little German hatchback to a six-figure Ferrari project car, here are six strong sales from the 2020 Paris Auctions.
How much is your car to insure? Find out in four easy steps.
Get a quote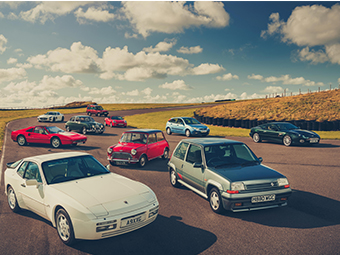 1981 Toyota Land Cruiser BJ43
Sold for €114,432 (£94,993)
Presale estimate: €45,000—€65,000
Hagerty Price Guide value: N/A
Ever since vintage Land Cruiser prices skyrocketed in the USA in 2014 and '15, every collector car auction there seemed to consign at least one shiny, over-restored FJ. Prices have retreated somewhat since their peak a few years ago, but these classic workhorses remain popular and are still a regular sight 'Stateside, but less common on this side of the Atlantic. The one sold in Paris is yet another freshly-restored showpiece, and it is a relatively rare long-wheelbase diesel-powered BJ43; nevertheless, Artcurial's €65,000 high estimate seemed reasonable. It soared well past that within the first few bids, however, and kept on going from there to past the six-figure mark. It gave us flashbacks to FJ-mania.
1983 Ferrari 126 C3
Sold for €1,438,880 (£1,194,464)
Presale estimate: €600,000–€1,000,000
HPG value: N/A
The 1980s wasn't exactly the golden age for Scuderia Ferrari in Formula One, but the '83 season was definitely a bright spot with first in the Constructors' Championship, although drivers René Arnoux and Patrick Tambay had to settle for third and fourth in the Drivers' Championship, respectively. Arnoux won three races and Tambay took first at Imola.
Late in the season, Ferrari unveiled the 126 C3, the first Ferrari Grand Prix car with a carbon-fibre shell. The one sold in Paris was the 126 C3 driven by Arnoux to second place in Austria before it was shipped off to a Ferrari importer in France. He kept it until 2001 when it went to a collector who displayed it at his museum. It will need sorting before anyone can actually drive it, but it's remarkably complete, impressively original and linked to a well-known French driver, which partly explains why it sold so high over its presale estimate.
1983 Volkswagen Golf GTI
Sold for €27,416 (£22,759)
HPG #1 (Concours) condition value: £24,300
The original Golf GTI sparked the hot hatch era, so it's only natural that pristine ones eventually become collectible. And pristine ones are rare. Since these cars were both usable every day and easy to drive quickly, a lot of them got driven into the ground years ago. The one in Paris, however, was both a relatively-rare Pirelli Edition and fully restored to like-new condition. Converted to pounds, this was right up there near our top Hagerty Price Guide value.
1973 Ferrari Dino 246 GTS
RM Sotheby's, Lot 130
Sold for €263,750 (£218,948)
HPG #4 (Good) condition value: £236,000
A Dino selling for over 200 grand isn't anything out of the ordinary. A pile of Dino parts selling for over 200 grand is something entirely different. To be fair, it's not quite a pile of parts, just a mostly-done project that needs finishing. The engine and gearbox are rebuilt, but the body needs paint, the interior needs to be done, and the final assembly needs to happen. For this price, you could buy a good Dino GT with an older restoration, and adding in what it will cost to finish this one could buy you a fresh one recently finished by somebody else. Although the Hagerty Price Guide doesn't track unfinished cars, it's still a lot more than we would have expected.
1969 Mercedes-Benz 300 SEL 'Red Pig' Replica
Sold for €432,500 (£359,033)
Presale estimate: €150,000—€200,000
HPG value: N/A
The "Red Pig," a modified 300SEL, was AMG's first race car that famously won its class at the Spa 24 Hours, but sadly it no longer exists. There are a handful of faithful recreations, including the one sold in Paris and built by a Mercedes specialist in Germany. It's a very convincing replica, and it looked like it just rolled out of the AMG factory, given the 800 km represented.
That this 6.8-litre monster Mercedes got a lot of attention isn't all that surprising, but the intensity of the bidding for it certainly was. As we always say, replicas can be a hard sell, and need to find a buyer who gets what the creator intended. In this case, two collectors just had to have it, and it sold for over twice its presale high estimate.
1952 Dyna-Veritas Cabriolet
Sold for €70,150 (£58,234)
Presale estimate: €40,000 – €60,000
HPG value: N/A
We featured this car a couple of weeks ago among the most eccentric Paris-bound cars because, well, it's pretty weird. Built on the Panhard Dyna platform, it was meant to be a volume seller for Veritas, a German marque largely focused on racing and expensive high-performance sports cars. That whole volume thing didn't quite work out, though, as fewer than 200 Dyna-Veritases were ever completed before Veritas closed its doors. RM Sotheby's claims as few as 10 of them are left. This one sold in Paris has rough older paint and lightly worn seats, but it nevertheless charmed its way into the wallets of a few bidders in Paris to a sum well over its high estimate.