Wide range of lively models with decent performance and parts availability defined affordable British sports cars throughout the 1950s, '60s and '70s
Triumph is best known for motorcycles, but started building bicycles in 1887 and offered a tri-car in 1903. Four-wheeled vehicles didn't appear until 1923, when an undistinguished 1.4-litre side valve model was listed, followed by a 1.9-litre model in 1925. The Triumph Super Seven of 1929 was meant to compete with the Austin Seven, but despite hydraulic brakes, it was handicapped by a three-speed gearbox and made little impression on the Austin market. A sporting version had a Cozette supercharger and Donald Healey enjoyed some rally success, even managing 7th overall in the 1930 Monte Carlo Rally.
How much is your car to insure? Find out in four easy steps.
Get a quote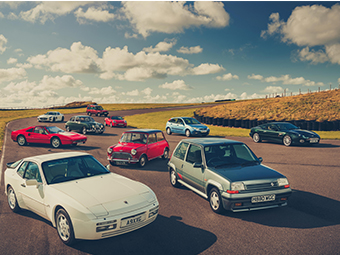 Healey moved to Invicta in 1931 and won the Monte Carlo Rally, following with second place in 1932. In 1934 he joined Triumph as Experimental Manager and modified a team of 1.2-litre Glorias for the Monte Carlo Rally, managing third place overall against much larger machinery, and winning the light car category. Six-cylinder Gloria models were quite successful in competition and Monte Carlo, Southern Cross and Vitesse models were offered. Two 8-cylinder competition Dolomites were built – none were sold – with a DOHC 8-cylinder two-litre engine, which was a shameless copy of the Alfa Romeo 8C 2300.
Healey would become Triumph's chief designer from 1936-39, during which time the Dolomite 1½- and 2-litre models were offered. The fencer's mask grilles proved controversial but the cars were quite successful in competition and body styles were fairly exotic. However, when the motorcycle business was split from the automotive division in 1937, finances became problematic and the automotive part of the company went into receivership before WWII. Triumph cars would reappear in 1945 under the control of Standard. The company would become part of British Leyland in 1961.
Pre-war Triumphs rarely come to market, though the Dolomite models have a following. However numerous post-war Triumphs survive, even to the final ignominious version of the Honda Civic sold in the UK as the Triumph Acclaim from 1981-84.
Here's a thumbnail guide to collectible Triumphs from 1945-1980. Collectability is rated from one star to four stars. Mechanical issues pale against rust concerns, unless cars are imported from the American West Coast.
Triumph 1800/2000 Roadster, 1946-49:
Standard-Triumph's first model after WWII was probably the last model built anywhere with a dickey seat. The bulbous front wings were designed by Frank Callaby, with separate horns and big headlights ("Gina Lollobrigida wearing Navajo jewellery"), while Arthur Ballard created a restrained rear. Eccentrically, front part of the boot lid hinged up as windshield for the rear passengers, who sat on small folding seats, ahead of the spare wheel. Up front was a bench seat that could seat three abreast, with a 4-speed column gearshift on the right side of the steering wheel. The top folded behind the seat. Very slow, with 0-60 mph in 34 seconds from the 65 bhp, and a 1,776-cc OHV four-cylinder engine in the first 2,501 cars built by 1948. The 68 bhp Standard Vanguard 2,088-cc unit was fitted to the last 2,000 examples and helped a little, though handicapped by a 3-speed gearbox. Most stayed in the UK and all were RHD. Collectability: **** (for eccentricity)
Triumph 1800/2000/Renown, 1946-54:
The Renown is an interesting razor-edge saloon with aluminium panels over ash construction. It has the same frame, engines and independent front suspension as the roadster, with transverse leaf at first, then coil springs, and is basically a working man's Bentley, but not fast, and rather cramped. The Limousine has a 3-inch longer wheelbase, as does the final Renown model from 1952. Essentially coach-built construction is expensive to restore, but 15,491 were built. The chunky, unibody Mayflower two-door was similarly styled and built from 1949-53. It is terribly slow, with a 38 bhp pre-war engine, and does not like corners at all. There were 35,000 saloons built, but only 11 drophead coupes, all believed extinct. Collectability: Renown: ***; Mayflower *
Triumph TR2/TR3, 1953-57:
Aimed at American market, this competed with Austin-Healey 100. The cars are light with 100 mph on tap, but come with sketchy weather equipment and a rough ride. Early cars were very strange pastel colours. But the TR2 won 1954 RAC Rally and never looked back. First series 'long door' cars were easy to hang up on kerb, so design was changed. The TR3 of 1955 had an egg-crate grille instead of inset design, and power rose to 100 bhp, with 110 mph. The TR3 featured a hardtop option from 1954, shorter doors from 1955, front disc brakes from 1956 and triple overdrive. 8,628 TR2s and 13,377 TR3s were sold, and most went to America. Collectability: TR2 ****; TR3 ***
Triumph TR3A/TR3B, 1957-62
Triumph focused still more on America with the TR3A of 1957, with its full-width grinning grille, external door handles and locking boot lid. These are often seen in the U.S. with the 'Dolce Vita' package, including chrome wire wheels and wide white-wall tires. Optional bigger engine (2,138 cc) offered from 1959 but 1,991 cc engine was still sought for 2-litre racing. Introduction of TR4 in 1961 was hedged somewhat by one-year TR3B, which had all-synchro box and larger motor, but lacked the TR4's creature comforts. Production was 58,236 for the TR3A and 3,331 for the TR3Bs. Collectability: ***
Triumph TR4/TR4A 1961-67
Giovanni Michellotti redesigned the TR4 to have a virtually straight-through fender line, wind-up windows, rack-and-pinion steering and power brakes. It was longer, lower and wider, and the "Surrey" steel top was the forerunner of the targa roof, with a fixed back window. The TR4A added wing-mounted sidelights and a complicated independent rear suspension. Though it mitigated the axle tramp of the TR4, the trade-off was uncertain handling when cornering at full power, since initial understeer could switch suddenly to oversteer, as the rear suspension compressed. 40,253 TR4s and 28,465 TR4As were built. Collectability: TR4 ****; TR4A ***
Triumph TR5 PI/TR250, 1967-68
The Triumph TR5 was the first British production car to be fitted with fuel injection, applied by Lucas to the 2.5-litre 6-cylinder engine. At the expense of being difficult to tune and maintain, it generated 150 bhp, which propelled the car to 125 mph, so bigger brakes were a plus. But the TR5 PI wouldn't pass U.S. emissions, so the garishly striped TR250 was sold there with twin Stromberg carburettors and only 104 bhp. The TR5 was 18 seconds faster to 100 mph than the TR250, but it still looked like a TR4, which would be addressed in 1969. Production totalled 2,947 TR5s and 8,484 TR250s. Collectability: TR5 ****; TR250 **
Triumph TR6, 1969-76
The last traditional Triumph TR roadster is easily the best looking thanks to a skillful redesign by Karmann of Osnabruck, who was only allowed to change the nose and tail – the doors and windshield are the same as a TR4. The TR6 has a bigger front sway bar, better seats and a superb steel hardtop option. 1969-72 cars have fuel injection and 150 bhp, which was cut to 124 bhp from 1973, while U.S. cars have a measly 104 bhp and Stromberg carburettors throughout. Gear ratios lowered in 1971, overdrive standardized in 1973 (though not in U.S.) and wire wheels were deleted in 1973. Production was 94,619 – in 22 colours. Collectability: ****
Triumph TR7/TR8 1975-81
This was launched as a coupe, as the U.S. was considering a ban on convertibles (didn't happen). Harris Mann's wedge shape was greeted with groans, and the swage line on the side made things worse. The construction quality of early Speke-built cars was questionable, and engines had the same overheating problems as the V-8 Stag. A convertible version arrived in 1979, as did a Rover V-8-powered TR8, showing what was possible all along. Later cars are much better and the V-8 is quite exciting, but most were LHD and went to the U.S. V-8 conversions are common in the UK, but examine workmanship very carefully. Production for the TR7 was 112,368; TR8 was 2,497 Collectability: TR7 *; TR8 ***
Triumph Stag 1970-77
Giovanni Michellotti had a hand in all Triumph designs from 1957-70, and the handsome Stag was much modified from the homely 1957 Zebu concept. Its immediate forerunner was the 1963 Triumph 2000 saloon, which competed with Rover's 2000, but as a four place convertible with a T-bar roof and removable hardtop, it broke new ground. The Stag was intended to have the TR5's fuel-injected 6-cylinder engine, but when that could not pass U.S. emissions, a 3-litre SOHC V-8 was developed from two 4-cylinder engines built for Saab's 99. The V-8 proved to have serious overheating and timing chain issues, and angled head studs meant that over-tightening squeezed the aluminium heads around the studs, making removal very difficult. American complaints doomed the model by 1973, but UK versions were continually improved and the 1974-77 cars are much better. Stags remain a contentious subject among collectors, with modest performance and rust issues undermining a handsome design, but the faithful are undeterred. Production: 25,939. Collectability: ***
Triumph Spitfire, 1962-80
Launched at the 1962 Earls Court Motor Show, the Spitfire was based on the Herald sedan, with a shortened backbone chassis and tilt nose. It would outlast all of its contemporaries and five models were built, trailing only the MGB in sales. Engines ranged from the original 63 bhp 1,147-cc unit, which offered 90 mph, and eventually 1,493 cc in the last 1980 models. Very low, with windup windows. Wire wheels, overdrive and hardtop were options; bumpers moved up to useful heights through the years and the swing axle rear suspension was vastly improved in 1970. Early cars are now very hard to find. Production: 314,332; Collectability: 1962-66 ****; 1967-80 ***
Triumph GT6, 1966-73
The Vitesse sedan's 1.6-litre and then 2-litre 6-cylinder engines were fitted into what is essentially a fastback Spitfire coupe, without the MGB GT's rear seat. Cramped and choppy ride, but fast. Improvements included and upgraded rear suspension in the Mk II of 1968 and a handsome Michelotti Mk III redesign in 1970. Never a big seller and the 104 bhp engine tested the driveline (and drivers) to the limit. Production: 40,926; Collectability: ***
Triumph Herald, 1959-71
The Herald was Michelotti's startling redesign of the boring Standard 10 saloon, crammed with innovations and quirks. A tilt nose provides extraordinary access, but is very fragile, and the rear swing axle suspension was not corrected until 1968. These cars are well finished, with a handsome interior. Front disc brakes were an option from 1961 as well as an upmarket 12/50 from 1963. The rare coupe disappeared in 1964, while the two-door wagon lasted until 1971. Separate chassis means the convertible was practical and popular from 1960-71. The Herald evolved into superior slant nose 13/60 in 1967-71, with 61 bhp and various upgrades. Production totals 544,210, so lots of parts around. Collectability: Herald Saloon **; Convertible ****; Estate ***; 13/60***
Triumph Vitesse 1962-71
This six-cylinder version of Triumph Herald is recognizable by slant nose, angled headlights and surprising performance. It features a stronger chassis than the Herald, and while the swing axle rear suspension can be very exciting, it was corrected in 1968. Disc brakes and a synchro four speed were added from 1966, and the engine bumped from 1.6-litres to 2-litres. The convertible version is particularly sought-after. Production: 51,212. Collectability: Saloon **; Convertible ****