Back in December, Rob Sass took a look at Porsche values. Since then, the Hagerty US team have seen 911 values, especially the 930 increase significantly on the other side of the pond. I asked Porsche specialist dealer Phil Raby for his view of what is going on here in the UK.
"There is a lot of interest in 930 prices at the moment," Phil told me. "Another magazine asked me the very same question last week. 930 values are all over the place- really good, low mileage cars with proper history are making really good money, but ropey ones are still relatively cheap. I've seen values grow, but not by a lot, and enquiries have not noticeably increased."
How much is your car to insure? Find out in four easy steps.
Get a quote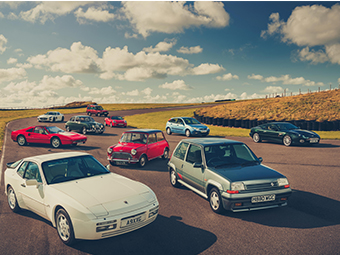 "The 3.2 Carrera is still popular, and for many people it is a good first Porsche 911 to own. They are rock-solid, and with galvanised bodies they tend not to rust. At the other end of the spectrum, everyone wants early long-bonnet (pre 1973) cars, but values are now through the roof, rust is a problem, and they are a bit quirky to drive." The Hagerty Price Guide currently has a good 3.2 Carrera coupe at just over £31,000 with the Targas and Cabriolets slightly under that figure.
"Of the later cars, the 996 Turbo has risen a lot- these were £25,000 a year ago and now they are closer to £30,000 for a good one. But they still offer great value for money, and I'd say they are the best value water-cooled Porsche 911."
"If you want aircooled, the 993 is great. They were a sorted car, and mainly bought by people who looked after them. £30,000 will still buy you a half- decent one. The 964 is also a good car, but good ones are hard to find good and prices are now close to those for 993s."
Other Porsches that have hit the headlines recently are the front-engined cars. "I've not noticed a huge increase in interest in them," says Raby. "The 928s have had a lot of press recently, but they still seem to change hands between enthusiasts. The 924 is very affordable, but off the radar to collectors. The 968 Club Sport has definitely gone up in value and seems to be in demand, but if it was RS- badged, it would be twice as much."
The Hagerty Price Guide supports Raby's experiences. Only the 924 Carrera GT has attracted serious collector interest, and prices have risen accordingly, with a good condition car now valued at close to £45,000.
So, Porsche prices seem to be creeping up with the exception of certain specific collectable cars. We haven't seen a spike in 930 values, such as experienced in the US, but we're watching the markets closely to see if that trend crosses the Atlantic as the year progresses. They certainly have the right credentials: 1980s appeal, iconic design and lots of power. Watch this space.
Phil Raby runs Philip Raby Porsche, www.philipraby.co.uk 01243 780389. He has been buying, selling and writing about Porsches for many years and previously edited Total 911 magazine.