Water-cooled Porsche models, Ford Escort Mk II, the Jaguar XJ220 and the BMW E30 Cabriolet were among the cars tipped to rise by a panel of experts at this year's Hagerty Valuation Seminar, held on the eve of the Beaulieu International Autojumble.
The panel, consisting of Rob Sass (Autoweek), Damian Jones (H&H), Dave Kinney (Octane), auction commentator Richard Hudson-Evans and Hagerty's own John Mayhead, spoke before a large audience at the this year's event, the third such annual seminar.
How much is your car to insure? Find out in four easy steps.
Get a quote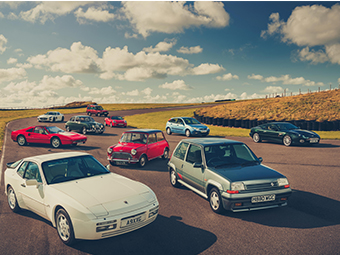 Introduced by Simon Taylor (C&SC), the panel reviewed the year, looking back at highlights that included the Baillon Collection auction, the unveiling of the 'new' Jaguar E-Type Lightweight and the recent auctions in Pebble Beach and Monterey, attended by both Sass and Kinney. Each expert was then asked for their buy, sell and hold recommendations.
In general the panel agreed that the classic car market had continued to strengthen over the last year, but signs were evident of price increases slowing at the top levels. Hudson-Evans warned of the number of speculators treating classic cars as a commodity, something that de-stabilised the market in the early 1990s, but most of the panel agreed that a market correction (or slowing) was more likely than a crash.
Asked for their 'buy' recommendations, 1980s and 1990s classics featured heavily. Sass, Kinney and Mayhead all identified water-cooled Porsches, both front-engined Porsche 944 and 968, and rear-engined Porsche 911 (996) as having potential for price increases. Jones identified the Jaguar XJ220, noting one sold at Monterey for a shade over £300,000 whereas its contemporary competitor the McLaren F1 made an astonishing £8.8m- now the most expensive British car ever sold at a public auction. Hudson-Evans suggested a low-mileage Honda S2000 was a good potential investment for an emerging classic, and for those of more traditional tastes he identified 2-door Ford Escort Mk with manual transmissions. Other 'bargain' cars mentioned included the Lamborghini Diablo, Mitsubishi Evo and BMW E30 Cabriolet, especially the 325i.
For their 'sell' cars, the panel agreed that post- war British saloon cars were having a hard time at the moment, with Sass identifying non-sporting Rootes cars as lacking context for many of today's buyers, and Mayhead stating that the Hagerty Price Guide had seen the Jaguar 240 and 340 remain almost static. There was some discussion whether the less well-regarded Jaguar E-Type models should be held or sold, especially the S2 and S3 FHC 2+2 models. Kinney stated that the Ferrari 250 GTE was achieving "remarkable" prices at the moment; his advice was to cash-in now.
The 'hold' list was full of cars that until a few years ago were generally not highly regarded: the Aston Martin Lagonda, Lamborghini Espada, Jensen Interceptor, Rolls-Royce Phantom II Continental and the Ford Capri Mk I and Mk II, 3-litre models.
If you would like to track the values of these or other classic cars, you can do so with the Hagerty Valuation Guide, our online classic car price guide.