Tour Britannia – that unique mix of races, special tests and regularities for all-comers – moved north this year on September 7-9 and centred on Chester, where crews returned every night. First stop was for special tests on the defunct Aintree circuit, where Stirling Moss won the 1961 Gold Cup in the brilliant 4wd Ferguson P99. But before the racers hit the tracks, regularity runners had their chance too, their first lap times being the target to hit for the next three: it's harder than it looks…
Sean Lockyear and Ian Reed in their Porsche 911 3.0RSR led after Aintree, the first of four circuits visited over three days, and after the Tour's regular stop for two races at Oulton Park – one wet, one drier. The next day tracked over the mountains of north Wales in bright sunshine, a titillating bonus being the little-known circuit at Anglesey, used for Fifth Gear filming, with its fabulous backdrop of the Menai Strait.
How much is your car to insure? Find out in four easy steps.
Get a quote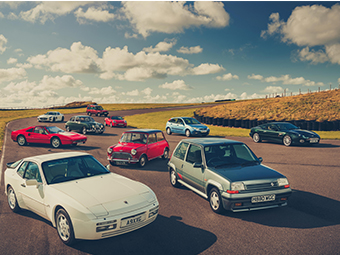 Several cars fell foul of the noise meter, including the Camaro of Stuart Scott/Steven Wood, who benefited from being pulled out of the first race at Oulton and sent out in the second, drier heat. "Bit of a noise issue, but we got to race after asking if the meter had been calibrated…" By the end of day two, Lockyear and Reed had pulled out their lead over the Shelby Mustang of Robert Hartley and Rupert Clevely to more than a minute.
After the return to Chester via several tests on private roads, the scenic highlight of the Tour was the unforgettable loop of the Great Orme's Head in Llandudno. This narrow, twisty but well surfaced private road was closed to the general public, allowing competitors the luxury of two clear runs each over this small mountain, eventual winner Lockyear all but grazing the stonework in the Porsche. Tests in the grounds of Eaton Hall were by permission of the Duke of Westminster before going on to old favourites Swynnerton and a final race on the third day at Mallory Park, where Scott delighted in drifting the big Camaro out of the tight hairpin every lap.
In a field that included everything from Bob and Ann Linwood's Citroen SM to John Ruston's Talbot 105 (and a Lancia 037 as course car), as ever, Porsche 911s took the top honours in both categories, with Lockyear/Reed winning in Competition and Howard Warren/Guy Woodcock taking Regularity. Tour Britannia Targa, a new event-within-an event for 2010, was won by Jeremy Bailey/Philip Dolby in their Aston Martin Rally GT, and a popular award went to Michael Bell/James Paterson who won the Index of Performance in the Competition Category in their MGB-powered Gilbern GT 1800. Second in the Index classification went to the Ford Escort of Chris Clark/Alasdair McCaig with the Healey 100 of Mike Thorne/John Todd taking third.
Lockyear said: "This was the car I had on this event two years ago – a good car for the stages but not quite so agile on the circuits. There was no way that I was going to stop Ian Flux from winning at Mallory Park." This winning car was sold during the event to Mike Smith, whose Escort retired at Chester, and straight after the event was sent to Reims where its new owner planned to race the next weekend.
Organiser Alec Poole said: "The Regularity section had its best entry to date in 2010 and we are looking to make it even more attractive for competitors in 2011 by incorporating new features – we believe that it is fast becoming the standard to which similar events must be compared."
Tour Britannia 2011 is earlier next year, running from June 17-19, centred in South Wales and the West Country, finishing at Silverstone. Check out www.tourbritannia.com for more details and photos of the 2010 event.