Pomeroy Trophy Competition was designed to determine the best all-round touring car through a series of calculations and measurements that no-one understands

The Pomeroy Trophy is a terrifically British institution. A motley crew descends upon Silverstone once a year in diverse machinery to open the racing season and, mostly, have a laugh.
Vintage Sports-Car Club members all, they are here to take part in a series of tests to discover the best all-round touring car, according to a complicated formula inspired by Laurence Pomeroy Jr, son of the designer of the Vauxhall 30-98 but actually devised by Harry Bowler.
How much is your car to insure? Find out in four easy steps.
Get a quote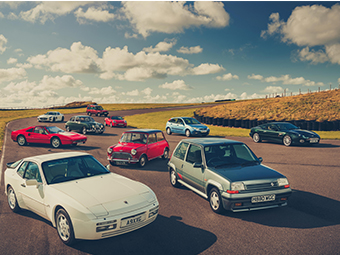 Vintage cars are pre-1930, but for this one event, members can run what they like provided it wears a tax disc and arrives under its own steam. Cars aren't meant to arrive on trailer, though plenty leave on them, and these days there's a filter point at a secret location (OK, it's nearby Towcester Racecourse) to make sure cars at least drive part of the way there.
The hopeful hardware runs from the Edwardians, the 1911 SCAT racer of Andrew Howe-Davies and a 1918 Vauxhall A/D-type special piloted by club PR lady Gillian Carr, to a year-old Audi R8 run by Justin Maeers, who's more usually Frazer Nash or TR3 mounted. Last year's winner Patrick Blakeney-Edwards has eschewed his Nash saloon for a 1951 Targa Florio.
Test A is a slalom, B is braking (the one everybody dreads), C and D are 250m acceleration and flying 250m times. And E is the 40-minute High Speed Trial (the one everyone looks forward to). Your handicap depends on age of car, engine size, (minimum 1949cc unless pre-war when it's 1495), number and type of brakes, and length L from centre of brake pedal pad to rear axle line, all of which are fed into a formula which nobody understands, which gives you the number of laps to complete. You lose 10 points for every lap you don't manage.
So, as each test is worth a possible 100 points except for the braking test which is worth 50 (unless you stop outside the garage in which case you've blown it and get zero) it is theoretically possible for the winning car to score 450, though it's never been done. This year, Gillian, helped by age and length of machinery and only rear-wheel brakes, has to complete 18 laps within her 40 minutes in Test E: Justin in his modern supercar has to do 37. The rules suit Frazer Nashes, and this year there are 17 entered.
And they're off! In three batches due to the size of the field — more than 100 cars for this 60th anniversary event, the first time it's been open to public spectators — and an attempt to limit the closing speed between the fastest and the slowest. Traditionally the Pom starts in rain, sleet or snow, but this year it was unseasonably mild.
Open cars have to complete Test A with hood erected, which leads to all sorts of canvas and string concoctions – Dougal Cawley, having blown up his Ferrari Daytona replica earlier in the week, arrived in his regular race car, Piglet, a Frazer Nash now sporting Model B Ford power, with the skimpiest bikini top; Gill just has to take the 10-point penalty on the chin as there is no way of attaching a top to the exposed Edwardian racer.
Bravest entry was probably Hamburg-based Rudolf Ernst, who fielded an enormous 1926 Rolls-Royce Phantom, which smoked its way around the track in fine style without a hope of winning. Who says the Germans have no sense of humour?
The attrition rate was climbing: By the lunchtime break, James Hunt had already destroyed the diff in his supercharged BMW 2002, and rushed off home to get a replacement: 'It's finally come undone, after 40 years of gentle shopping,' quipped dad Alastair, who in the meantime was attempting to reassemble the wreckage, just in case.
Cars lapped all afternoon: nobody was sure who was leading until the results were collated later, but you could tell who was quickest by the number of times they lapped their field. Mike Smith in his full-on Ford Escort rally car was searingly fast, drifting though every corner, but a couple of front-engined Porsches are deceptively rapid too. Your correspondent, sweating his way around in his Mk1 Escort, found out several years ago that any attempt at strategy and lap times is pointless — you just have to go hell for leather from flag drop, encountering groups of traffic as you go.
After what seemed an age, it was all over. Perhaps what's nicest about the Pom, apart from the sheer friendliness and camaraderie, is that there's no awards ceremony; those lucky enough to have won tinware — nine first-class awards, 13 seconds and 11 thirds — would receive it in the post later.
The results emailed two days later (click here for the full list) showed that Smith has indeed won the Pomeroy Trophy for 2012, with 436.2 points; Gillian took the Pomeroy Edwardian Trophy in the winning Edwardian or two-wheel-braked car. Previous winner Dudley Sterry took the Densham Trophy, for the best performance by a pre-war VSCC-eligible car, and top Nash was Andrew Hall in the Frazer Nash saloon that won last year. Rudolf came a magnificent last having completed only seven laps of Test E, with 71.2 points. (Editor's note: Paul Hardiman collected a second place trophy. I didn't think he'd mentioned it, so I have.)
There's nothing quite like the Pom. More at www.vscc.co.uk.