What was your first car?
Morris 8 Two Seat Tourer
How much is your car to insure? Find out in four easy steps.
Get a quote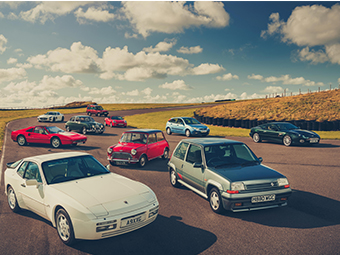 Tell us about your love of classic cars.
My father owned a garage with a Morris franchise in Sussex and I was brought up with cars from the 1950s. Dad usually had something that would now be called classic – he had a Vauxhall 30/98, Rolls-Royce 20/25, Bentley Mk VI and Rover 105 and many more. He also had some old 1930s Austin's (12 and 18) as taxis and I leant to drive on these. Some were born with a silver spoon in their mouth; I was born with a chrome vanadium spanner in my hand.
Which classic car do you currently own?
Jaguar XK120 DHC 1953 + various motorcycles
What do you love about your classic car?
They are great to look at, fun to drive and easy to work on. Not only that there is the camaraderie that goes with having such a car and people smile and wave when they see you. It is also quicker and cheaper to get most parts for an old Jaguar than with a modern car. The bonus of course is that it is an appreciating asset.
What is your dream car?
Bugatti Type 35
Why did you choose Hagerty to insure your car?
I got to know Angus and the team when they set up in Silverstone where I live.
Are you a member of a car club?
If you would like to feature your classic car please complete our Q & A form