Rob Sass came to the automotive journalism field in a roundabout manner – when he found that his old car affliction interfered with the billable hours required by his legal profession. He's been with Hagerty for two years as the senior manager for Media Services, but his love for the hobby pre-dates the job by decades. Here he talks about his '65 E-Type.
Car: 1965 Jaguar E-type Coupe
How much is your car to insure? Find out in four easy steps.
Get a quote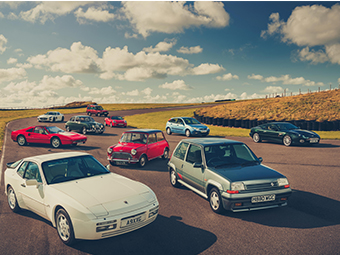 Background: I've been around cars all of my life. My dad's a car guy and my collection of Road & Track magazines goes back to 1972, when I was eight years old.
Why a 1965 Jaguar E-type? My dad had one that he bought new when I was a kid. I've always thought they're one of the most beautiful and exciting cars on the planet. Although most people talk about the looks, they actually drive pretty well, too. Nice ride, excellent steering and decent brakes. The later ones have a really slick all-synchro four-speed gearbox. 265 hp is plenty of power in a light package. It pretty much draws a crowd anywhere. Prices for all but the best show cars have recently become quite reasonable. To get any more performance or eyeball in a European sports car, you have to step up to a Ferrari or Aston Martin for quite a bit more money.
Repairs and Modifications (planned or completed): A GM alternator, a modern fuel pump and an aluminum radiator with a huge puller fan pretty much solved the E-type's notorious electrical and overheating problems. I've put a lot of miles on it and it's really been quite reliable and comfortable on long trips. And it gets about 24 mpg on the highway, too.
Hobby activities (clubs, events etc.) The JCNA (Jaguar Club of North America) is an excellent club with great publications and lots of support. I highly recommend joining it.
Interesting Stories: The car was sold new to a US Air Force officer stationed in Germany. He later took it to California. The glovebox still has '60s vintage maps of Germany and California in it.
Favorite Drive: Any of the winding roads in and around Grand Traverse and Leelanau counties in northern Lower Michigan.
Best and Worst Moment: I broke the electric fan switch after the Bloomington Gold show in Illinois. The Hagerty crew was tired and cranky and I had to run to an auto parts store for a new switch. I also did a somewhat lame smoky burnout leaving a toll booth in Illinois on the same trip on the way back to Traverse City.
The best moment has to be my first drive after it was delivered.