Hagerty International Managing Director Angus Forsyth has known since he was six years old that he would own a Jensen; the only questions were which and when.
Employee: Angus Forsyth
How much is your car to insure? Find out in four easy steps.
Get a quote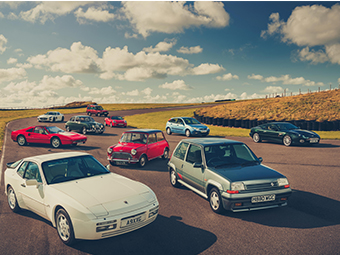 Title: Managing Director at Hagerty International Limited
Years at Hagerty: Seven
Car: 1967 Jensen Interceptor Mk1
Background: When sent away to boarding school at the age of six, my parents, who were living in Africa at the time, sent a small package to school for my arrival. I remember lying in bed in my dormitory (aptly named "Rabbits"), being scared, apprehensive and feeling pretty lonely among 100 strangers. I opened the package and it was a model car: A Corgi Jensen FF.
Why this car? Some 42 years later, that image had never ever left my head, and I knew one day I would own one. Three weeks ago, I bumped into a chap who was a bit of an authority on Jensen's, and he advised me what to get: A Mk1. Low and behold, I punched it in to the Internet the next day and one came up immediately. I sent an email to the owner asking if it was still for sale and he responded that not only was it for sale, he knew me! I called him and it turned out he is a collector whom I had met several times before. When I asked where he lived, he replied, "You probably don't want to know the answer to that." It turned out that he lived 15 minutes away from the office, so I cordially replied, "I shall see you in 15 minutes." I went there, saw the car, and bought it on the spot. What a machine!
Repairs and modifications (planned or completed):The car has had quite an extensive amount of work carried out on it previously, and at this stage all seems to be fine. It will go for a full service and a very thorough check over.
Hobby activities (clubs, events, etc.): Having literally only just taken delivery of the car, I have not really had a chance to do much with it. Hagerty are hosting their first "Cars and Coffee" morning this Sunday, so the Interceptor will be making an appearance. I have joined the Jensen Owners Club and they are a very friendly bunch of people with a wealth of knowledge. Ironically they are planning a tour to the United States in 2014, and guess who is assisting with all the transit coverage for them? It could only be Hagerty International.