We'd laugh if it weren't so distressing. Charging electric cars when out and about is now more expensive than fuelling a petrol equivalent. Or at least, that's what the RAC reckons.
Most 'car enthusiasts' saw this coming. Yet successive governments have shown they know next to nothing about motoring and motorists. Actually, that's not true – they know how to take our money and laugh all the way to the bank.
It's not that long ago that Britain's drivers were being led by Labour's dangled carrot of lower tax for diesel cars, as they tried to get more of us out of petrol-burning motors and into diesel models, citing lower CO2 emissions.
How much is your car to insure? Find out in four easy steps.
Get a quote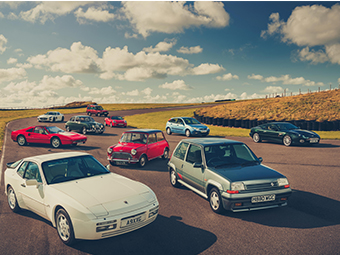 Nobody listened to those cautioning that the emissions from diesel-burning vehicles were particularly nasty, doing no good at all for those breathing them in.
Around the same time that Tony Blair came to power, Euro NCAP was getting into its stride. Cars needed to be safer, it said. Few would have disagreed at the time. But today? Few would argue they're dramatically safer – yet the ongoing need for myriad costly active driving aids to score marketing-worthy Euro NCAP test results means affordable cars are as good as a thing of the past.
That's not the only thing putting the knife into affordable cars, though. Emissions legislation calls for all manner of costly engineering solutions to ensure cars are compliant, further eradicating whatever precious margin was left in a small, inexpensive car.
Then came the switch to electric cars. Get on with it, Johnson's government told car makers, in November, 2020: you've got until 2030 to comply. (Less than two years later, they ended the plug-in grant for new electric cars.)
Trouble is – conveniently ignoring their well-to-wheels emissions for a moment and the sourcing of precious metals for batteries, in the future – electric cars are expensive.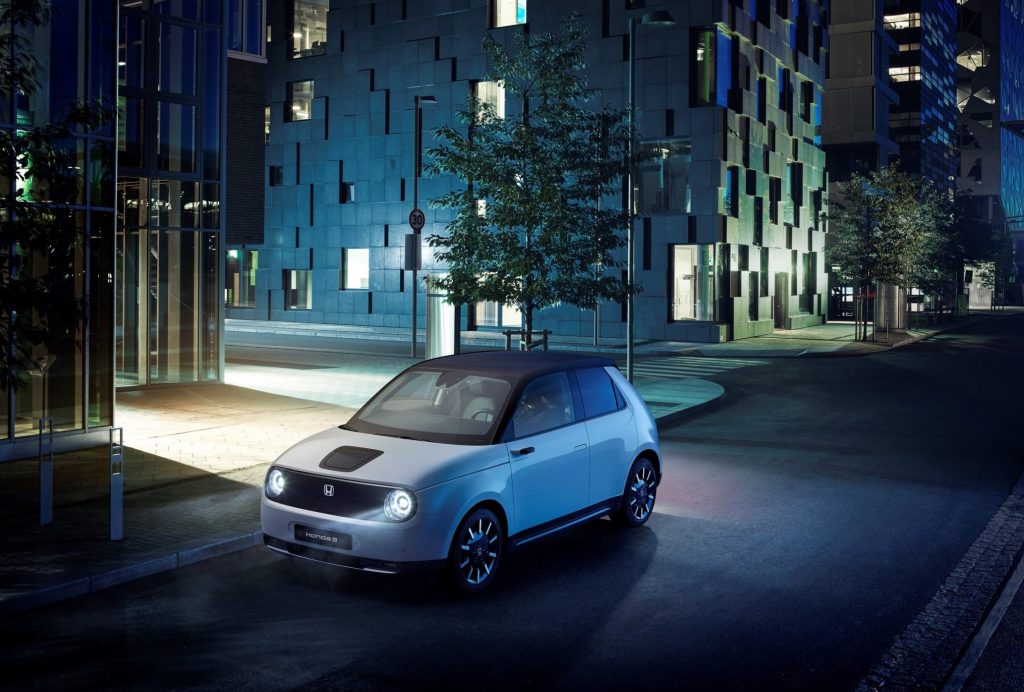 Take one of the smallest, vaguely practical new electric cars you can buy today, the Honda E. It costs £37,000. An electric Vauxhall Corsa is £32,000. But finance, the car companies will retort. But debt, most working families will reply, with more than a hint of exasperation.
We're also continually reminded that charging at home is affordable. But conveniently, the cost of having an electric car charging point installed – the best part of £1000, before the installation grant – is glossed over. (I speak from bitter experience.)
And now comes today's RAC report on the cost of using a public rapid charger. For those who have steered clear of the electric car thing, a rapid charger (in this instance, at least) is classed as one capable of delivering more than 100kW of juice, which is what you hope to find when out and about and in need of a quick pitstop to see you on your way again. (These are a crucial part of the emerging infrastructure, which must operate reliably, be priced competitively and not leave you waiting in lengthy queues if electric cars are to be as versatile as the petrol or diesel motors they're to replace._
Using a rapid charger, the average price paid by Britain's drivers is said to be 74.79p per kilowatt hour. That is an increase of 47 per cent from the May, 2022 average of 50.97p.
Drivers relying on these chargers pay an average of £38.29 today for an 80 per cent charge, £20.42 more than those charging at home.
It's equivalent to 20 pence per mile for the cost of electricity, says the RAC. A petrol car that achieves 40 miles to the gallon would cost 17 pence per mile, a diesel doing the same economy 20 pence per mile.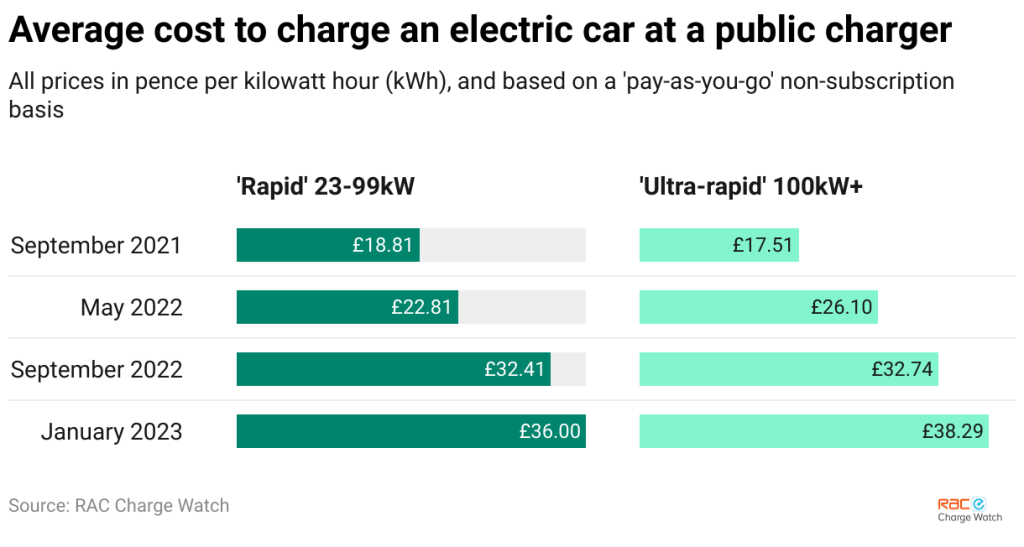 Let that sink it. Electric cars were promised to be cheaper to run, but that hasn't materialised. And the Energy Savings Trust anticipates high energy prices into 2024. It could be longer, given global events.
The RAC says the government should cut VAT on electricity bought at public charging stations, from 20 per cent to 5 per cent, the same as we pay on our domestic energy rate. It would be a welcome contribution during a cost of living crisis.
Unfortunately, it's the tip of the iceberg. Maddening queues at public charging points – even when they're all working – are a thing now, because the uptake of electric cars is outpacing the infrastructure. The government has pledged to install 100 public chargers a month across the UK, yet only 16 were switched on in December, while the weighting towards London and the south is stark if you live elsewhere in the country.
Meanwhile, car makers are changing their business models. They know the days of huge-selling, affordable cars are coming to an end, so by and large their efforts are focussed on shifting (or returning) upmarket, where you make fewer, more expensive cars with healthy margins baked in from the beginning.
A headline from America's influential political news site, The Hill, says it all: 'New cars are for richer people: How the auto industry capitalized on pandemic'. The problem for car makers is the same problem facing many other industries: the global supply chain pinch-point for the chips that power everything from our phones to cars, PlayStations to Patriot missiles.
In the US, since the start of the pandemic, new car prices has risen by 20 per cent, outpacing even inflation at 12 per cent. The leaders of GM and Ford, historically builders of cars for the people, say that trend is here to stay: the days of pile 'em high and sell 'em cheap are behind us.
So you know what to do. Either put your hand in your pocket, buy an expensive electric car and face the prospect that it could cost more to run than a petrol car, maybe even a frugal diesel too, or join one of the many making do, and making their old car last longer.
Check out the Hagerty Media homepage for daily news, features, interviews and buying guides, or better still, bookmark it.