Pity poor Alpine. Rumours started in France's Les Echos financial daily paper and Le Canard Enchaine political weekly suggest that Renault is gearing up for hard-hitting cuts, and Alpine could be one of the casualties, just three years after the brand was relaunched with the A110 sports car. As ever with these things, you never know whether the 'rumours' are the PR machine at work. Shortly after they surfaced, Renault was in ongoing negotiations with the French government to secure €5bn worth of state aid.
Before going any further, and pondering what it is about Alpine that fails to translate on this side of the channel and other parts of Europe, I should admit a certain bias; I am one of the few individuals that owns a modern-day Alpine A110. And I like it. A lot.
How much is your car to insure? Find out in four easy steps.
Get a quote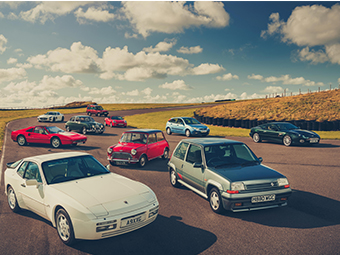 If the French sports car company were a racing driver – with founder Jean Rédélé, it as good as was a racing driver in its formative years – it would have had a promising start to its career, hit the big time with a works drive and no worries about sponsorship, before falling out of favour with a team boss, finding itself sidelined and having to do whatever it took to earn any drive it could.
Models like the A310 proved badly timed, launching in 1971 just before the fuel crisis got into its stride. The rorty little Renault 5 Alpine – sold here as the Gordini – was the original hot hatch when it went on sale in '76 but Alpine failed to keep the 50,000 drivers that bought one within the family. Nobody stepped up to an A310. Perhaps, had the pretty GTA arrived sooner, things would have been different. And hands up who remembers reading road test reviews of the A610? Magazines like Performance Car were gushing, but Britain's drivers weren't convinced.
Are things any different today? What would a gathering of every owner of the new Alpine A110 look like in the UK? It'd be less National Exhibition Centre, more room above a pub. We're a select group. Or maybe just a small one. Alpine chooses not to broadcast the total number of A110s its handful of dealerships has shifted since the car was introduced in 2017, but the figure is said to be no higher than 500.
As with the A610, that's despite gushing reviews raining down upon the A110 from the British motoring media as though the great five-star sluice gate in the sky had been opened, a torrent of superlatives tumbling down. I don't recall any other sports car being met with such an effusive response, and yet so few of this so-called modern classic have been sold here. It's a troubling notion that motoring journalists perhaps aren't the thought leaders we thought we were. Please let there be some other explanation.
In February, only 61 A110s were sold in Europe
While the A110 struggles to find keepers in the UK, it's been performing well elsewhere. In 2019, Alpine reported European sales of 4,376 units (with more than two-thirds sold in France).
Propped up by its popularity in its home market, the A110 compared favourably to its most immediate competitor, the Porsche 718 Cayman and Boxster duo. Because the German company only publishes the combined sales for the pair – 7,292 were sold in Europe last year – you should divide that figure by two to appreciate that Alpine likely outperformed Porsche in the market for a two seat, fixed head sports car.
The excitement appears to have been short lived. In February, it's been reported that only 61 A110s were sold across Europe (although global pandemics tend not to result in a voracious appetite for daft sports cars). Against that backdrop, Renault is reportedly ready to put Alpine back into retirement. What a shame if this free-thinking sports car company were to be euthanised so soon after being resuscitated.
How do we explain the A110's slow UK sales? I think plenty of sports car buyers in the £50,000+ price bracket look at the engine's power figure of 249bhp and scoff. Never mind that at just 1100kg, the Alpine actually has a better power-to-weight ratio than the entry-level Cayman (226bhp/tonne versus 220).
I don't suppose the misconception that the A110 is for masochistic petrolheads alone has much helped its cause either. Onlookers tend to think it'll be uncomfortable and demanding to live with, but in my experience the A110 is remarkably easy-going.
Or maybe we British are simply too snobbish. How likely is an A110 to impress neighbours when they don't even know what an Alpine is? And what of the brand experience, something that car enthusiasts may consider superficial but which seems to count for so much in this age? When I collected my car at the end of 2019, it was from Alpine Centre Manchester. Although if I'm being honest, I actually collected it from a Renault dealership that had one small corner set aside for Alpine sales. To get to the dedicated area of the showroom, I had to walk past ranks of Renault Kadjars and Capturs. If I'd spent my money on a 718 instead, I would have brushed past 911s and could have thought to myself, "One day, if I work hard enough, that could be the next Porsche I'm going to own".
I do know this: it isn't the driving experience that's stifling A110 sales over here. I've lost every shred of impartiality that I might once have had, of course, but for me the Alpine is one of the most rewarding cars on sale today, regardless of price. I only hope more British buyers will have the chance to come to realise it.
Dan Prosser is a motoring journalist and founding partner of DriveNation