Hagerty's 2012 Drive it Day was a resounding success, raising £2,100 for select charities such as HOPE Against Cancer and The Marshall's Trust.
Participants' spirits were not dampened by a somewhat threatening sky on the morning of Sunday, April 22, as they gathered at the historic Silverstone Racing Club among some 100 other guests and a variety of classic motor vehicles. After a chance to peruse the other cars, the group set off on the 82-mile route to Donington Museum where they were granted exclusive access to the world famous Grand Prix Collection.
How much is your car to insure? Find out in four easy steps.
Get a quote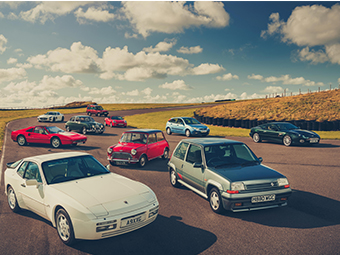 The route, designed by Dermot Bambridge, followed country lanes through peaceful villages, passing several points of interest along the way, including The Althorpe Estate, Naseby Civil War Battle Site and the Sir Frank Whittle Memorial at Lutterworth — because sometimes both car and driver need a little rest! The clusters of classics wound their way along the route and quite often got lost along the way (or perhaps that was just the Hagerty crew). The country roads provided a pleasant setting for the chugging, rattling and wheezing entrants to potter along at their own speeds.
In true sporting fashion, the day eventually brightened up, allowing for some roofs to come down. Everyone made it to Donington in one piece and in time to explore the museum.
Hagerty would like to thank all who donated money, time and effort to this year's Drive It Day celebration and look forward to holding the event again next year.