October has been a very interesting month for those watching the classic car market. After a few brutal auction sales in September, all the indications suggested that buyers remained unwilling to part with their cash for anything other than exceptional cars. As we reported last month, continued economic uncertainty was causing UK buyers to be cautious.
H&H Duxford
How much is your car to insure? Find out in four easy steps.
Get a quote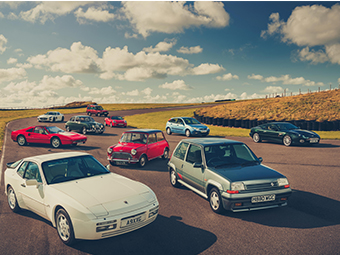 But then came H&H's autumn sale at Duxford on 16th October. With a slightly smaller offering that their last sale at this venue with 98 cars reaching the auction floor, H&H offered their usual mix of popular traditional classic cars with a few interesting newer models thrown in.
The Hagerty team members who attended the auction reported that they noticed a change in atmosphere from other recent auctions: one said the sale room was 'buzzing' in a way they hadn't experienced for a while. Once the auction started this quickly translated into sales and by the end of the day, H&H had managed to achieve a sell-through rate of just under 70% with over 1/3 of lots reaching close to or above high estimate. Given the recent state of the market, these are very good figures.
A few lots performed extremely well. A 2004 Bentley Arnage T Mulliner sold for £38,250, well over its £30,000 top estimate. A superb example of this top-of-the-range Bentley, nonetheless this was an unexpectedly high value. Similarly, a 1951 Jaguar XK120 Roadster sold for £75,375, well over its £65,000 top estimate although the Hagerty Price Guide suggests this was a conservative prediction.
One car that smashed its pre-sale estimate was a 1991 Audi Quattro that achieved £84,375 against a predicted £65,000 to £75,000. This was more understandable: one of the most desirable 20v Quattros, it was a single-owner car with 32,000 warranted miles on the odometer and a full service history. Without a sticker out of place and combining metallic white paint with silver-grey leather seats, it rightly reached right at the top of the Hagerty Price Guide values.
No-sales included a trio of very low mileage 1980s Ferraris: a 308 GTS QV, a Mondial cabriolet and a 1989 328 GTS with an astonishing 455km from new. These models all rocketed in value over the 2016-2018 boom, and the sheer quantity in the market means they're now a hard sell, even when they press all the buttons. We've recently had to adjust their Hagerty Price Guide values downwards, and this sale shows why.
RM Sotheby's London
RM Sotheby's London sale at its new Olympia venue was a different kettle of fish. Where H&H focuses on the mid-range British market, RM's clientele tend to be more international in nature and the cars more valuable. In today's climate of economic uncertainty, both are big challenges, and in many ways, so it proved.
Of the 84 car lots offered in the catalogue, 28 were shown as still for sale as we went to press, representing a 66.6% sell-through rate (once confirmed). The venue felt more crowded than the old Battersea location and the bidding tended to maintain a healthy pace. Some notable lots did very well: a remarkably original 1969 Lamborghini P400S boasting single family ownership since 1974 exceeded its pre-sale estimate of £800,000 to £1m, selling for £1.25m, despite having lived untouched in a shed for the past five years after its owner died.
The Youngtimer Collection cars also mostly performed well, with six of the eight AMG Mercedes-Benz models on offer finding buyers, including a 2009 SL65 AMG Black Series that achieved an over-estimate £224,250. Newer Bentley models also performed very well, with all four Youngtimer examples selling, including a 1998 Turbo RT Mulliner LWB that exceeded its top estimate, returning £88,550. Both of these reflect recent trends seen in the Hagerty Price Guide, seeing more modern AMG Mercedes and Bentleys increasing in value.
However, a number of the big-ticket cars failed to sell. Both a 2003 Ferrari Enzo with 'fastidious' service history and under 15,000 Km from new and a 1968 Aston Martin DB6 Volante failed to reach their reserves, the latter part of a trend that saw eight of the ten Aston Martins offered still seeking a new home the day following the sale. Aston Martin models were some of the biggest risers of the last few years, and it seems that the market's appetite for the marque may have slipped somewhat.
The other notable trend was the number of competition car no-sales. RM's commissioning of the Autobau Collection meant that the sale included some exceptional racing cars, but a number, including the headline ex- Alesi/Berger 1994 Ferrari 412 T1, a Maserati MC12 GT1, a Jaguar XJR 11, a Porsche 962C and others all failed to reach reserves. These high-value misses – all worth around the £1m mark apiece – will have hurt RM, but at another venue (maybe across the Atlantic) they may find more interest.
All in all, it could have been worse for RM. I feel for the team: the date and location, just a week before the scheduled Brexit date, could not have presented more of a challenge, and they did what they could to make the sale as successful as possible.