Enjoying a drink in the late evening heat in Valletta, Malta, last weekend, I heard the sad news of the passing of Britain's greatest and most charismatic test driver and some-time racing driver, Norman Dewis OBE. The former racer and Jaguar chief test driver died peacefully at his home in Church Stretton on Saturday 8th June at the age of 98. A glass was suitable raised.
I first met Norman around 15 years ago as part of my motorsport duties at Goodwood and was very privileged to have got to know him and his contagious and mischievous personality very well over the subsequent years. We enjoyed many a late-night drink and hilarious tale with him at Goodwood into the wee small hours, when we both should have been long tucked up in our beds.
How much is your car to insure? Find out in four easy steps.
Get a quote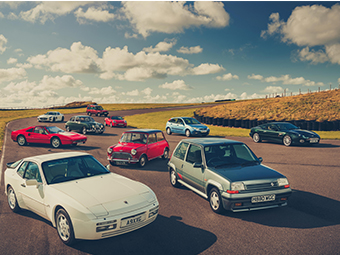 Even at the impressive age of 98, the last time I saw Norman a few months ago he was still very much the raconteur. Chatty and jokey, he was enjoying a good natter and reminiscing about his life-long exploits with enthusiasm and razor-sharp clarity, as if it had all happened just a few weeks ago.
Norman was a small and humble man with a pleasing Brummy accent and distinctive dress sense (his leather cowboy boots being a must) who appeared to live without fear. Ahead of becoming Britain's best-known new vehicle test driver, he served as a high-risk RAF air gunner in the Second World War.
His wartime experience helped fuel Norman's natural sense of excitement and risk. He loved life and lived it to the full, usually at high speed, whether it was racing for Jaguar in the gruelling Le Mans 24 hour race or setting a production car world speed record of 172.4 mph in the claustrophobically tight cockpit of a modified Jaguar XK120 on the long Jabbeke dual carriageway in Belgium.
After brief stints from a very early age with Humber and Armstrong Siddeley, Norman joined Jaguar Cars in Coventry, where he was responsible for the development of every new Jaguar car for 33 years, from the XK140 of 1954 to the XJ40 saloon which remained in production until 1994. He also helped to develop Jaguar's legendary C- and D-Type racing cars that cleaned up at Le Mans during the 1950s, and co-driving a C-Type with Stirling Moss in the 1952 Mille Miglia he pioneered the use of automotive disc brakes.
In 1955, Norman drove a Jaguar D-Type in the famous Goodwood Nine-Hour race, taking fifth place with fellow driver Bob Berry. He then played a major role in overseeing the development of the possibly the most famous British production sports car, the Jaguar E-Type of 1961.
In January 1971 Norman was driving the only Jaguar XJ13 mid-engined prototype around the MIRA (Motor Industry Research Association) test track near Nuneaton when the tyre failed at high speed. The car hurtled into the safety fence at 135mph, rolled several times and landed on its wheels. Norman was not strapped into the XJ13, and emerged from the wreckage battered and bruised, but with no broken bones, and far more importantly, alive!
Norman's passion for Jaguar cars was as strong and infectious as his passion for life, with over a million Jaguar test miles under his belt at an average speed of 100 mph. That's quite a record, and Norman was appropriately was appointed an OBE in 2015. He will be sorely missed. RIP Norman, in the fast lane…
To read more about Norman Dewis's exploits at Jabbeke in the 1950s, visit this link: Jabbeke Speed Trials.