I had just arrived in the paddock on day two of the 2018 Goodwood Revival when my phone buzzed. It was a message on the Hagerty Whatsapp group sharing the sad news that Barrie 'Whizzo' Williams had passed away. It was a real shock; Whizzo was one of those people that you just expected to go on forever. When I'd last met him a few months ago at Bicester, we'd had a long chat about his Lancia Fulvia and although he'd recently retired from racing he was still the same big character as ever. Indeed, it was this approachable attitude that endeared him to so many: Whizzo was always happy to talk about his cars and his racing. I remember at one Festival of the Unexceptional he was literally the last person to leave as he'd been chatting all day with fans.
It is as an exceptional racer that Whizzo will be most fondly remembered. Motoring was in his blood: his father Tony was a TT rider and later ran a kart team. Barrie's first race was at Rufforth in North Yorkshire on Easter Sunday, 1960 in a 1,000cc Morris Minor but it was unpaid and in the early years of that decade he worked as a lorry driver to pay for his racing. Ordering a new Austin Mini Cooper S was a big call, but it allowed him to take home his first cheque from motorsport: a famous win at the 1964 International Welsh Rally. This brought him to the attention of the motoring press; Andy Marriott from Autosport asked 'Who is this Welsh Whizz-Kid?" As Williams was at pains to point out, his hometown was Bromyard, Herefordshire (not Wales) but he was happy to take on the nickname, which quickly morphed into Whizzo. It now feels strange to call him anything else.
How much is your car to insure? Find out in four easy steps.
Get a quote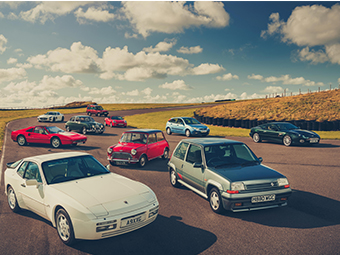 More rallying and club racing followed. As Whizzo said, "I didn't want to be a Kenny Bräck and win Indianapolis, or Mario Andretti… I just wanted to be a racer." And race he did; he was famously associated with the Jaguar Egal, a Semi-lightweight Jaguar E-Type owned by Rob Beck. A crash had cracked the original block so Beck asked Worcestershire-preparer Geoff 'Scruffy' Richardson to find an alternative. He suggested a seven-litre Ford Galaxie V8 which Beck had imported for a powerboat. The result was one of the noisiest and most brutal club racers of the time, a car that spun its wheels in every gear, but which Whizzo tamed. "Once at Castle Combe I bet Ron Fry that I could beat his Ferrari 250LM from the start to Quarry," Whizzo remembered. "Unfortunately, the Egal's bellhousing shattered, dumping oil everywhere and the Ferrari spun off into the bank. Ron wasn't amused when I asked for my half a crown!"
Single seaters then beckoned. A two-year stint in Formula Three ended when his team mate and friend Chris Lambert was killed in a Formula Two race at Zandvoort in 1968, edged off the road by Clay Regazzoni which also ended the life of a spectator. Whizzo decided he was better suited to other forms of racing: Production Saloons, BTCC, and stints competing in the World Sportscars Series and World Endurance Championship followed; he raced where he could find it, on two wheels as well as four, racing, rallies or hillclimbs. His last major win was in 1998, triumphant in the 4 Heurs Du Castellet at Paul Ricard in a Porsche 911 GT2, and the same year the newly- founded Goodwood Revival gave Whizzo a new lease of life in historic racing. He took a win on his first outing, in the TT Celebration, and returned each year to add to his successes on the track he loved. It was ironic that news of his death reached Goodwood during the Revival, but so like him that the chat at the circuit was, even in death, still all about him. Whizzo saw motoring as a team sport – he was president of the British Motorsport Marshals Club – and once said he had more friends who were mechanics than any other profession. It was this approachability, combined with a superb ability as a racer, that made him unique and so fondly remembered by so many.
Let's leave the final words from the man himself, in our video we shot a few years ago, talking about his wonderful Mini Cooper S and his early racing life. We'll miss you Whizzo, and our thoughts are with Kathy.