Drivers in London are gearing up for an expansion to the city's Ultra Low Emissions Zone, or ULEZ, on October 25, but for some classic car owners the process for investigating their cars' eligibility has only caused confusion.
Earlier this month Hagerty reported on the impact the expanded ULEZ will have for London's classic car drivers, detailing why the zone is expanding, how it will affect car culture, and which vehicles will be exempt from the £12.50 daily charge within the ULEZ.
How much is your car to insure? Find out in four easy steps.
Get a quote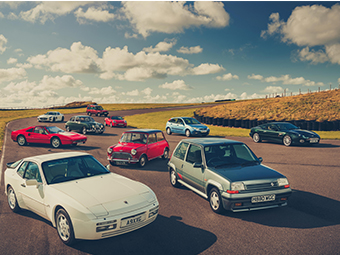 Drive a non-compliant car into the expanded ULEZ area just one a week and owners will be hit with a bill of £650 a year – more than many drivers' insurance and road tax combined. At five days a week the penalty rises to £3250 a year.
Classic car owners contacted Hagerty to raise concerns that their seemingly eligible classics – pre-1981 vehicles already registered with the DVLA as a historic vehicle, exempting them from road tax and therefore old enough to qualify for ULEZ exemption – were coming up on Transport for London (TfL)'s ULEZ website as attracting the daily charge.
James Owen, who owns two classics already exempt from VED and MoT requirements, plus a classic younger than 40 years old, discovered that the TfL website told him he would have to pay for all three after he submitted the vehicles' details.
Brian Hilton encountered the same issue with his 55-year old Lancia Fulvia Berlina, and Edward Hosford was another whose cars were apparently subject to the charge when entering their details on the TfL website – including one as early as 1927.
"This is ludicrous," said Terry Ingles, whose 1960 MGA also came up as being ineligible. "Why do I have to prove the registration status twice over to satisfy TfL, when the DVLA is satisfied as to its status?"
Meanwhile, Roger Grix said he believes that all vehicles currently registered within the post-October ULEZ area should be exempt from the charge: "Charges should only be applied to any non-compliant vehicles within the ULEZ if they are registered after the commencement date."
Donald Cameron told Hagerty he had written to his local MP, Felicity Buchan, highlighting the inequality in the boroughs of Kensington and neighbouring Chelsea and how many drivers will be unable to afford the ULEZ charge or the cost of changing to a car that meets emissions targets for the expanded ULEZ area.
Hagerty submitted the details of several recently-featured classics, including Steve Soper's Lotus Elan from a recent auction, and discovered that they too showed up a £12.50 charge when entered on the ULEZ checking website.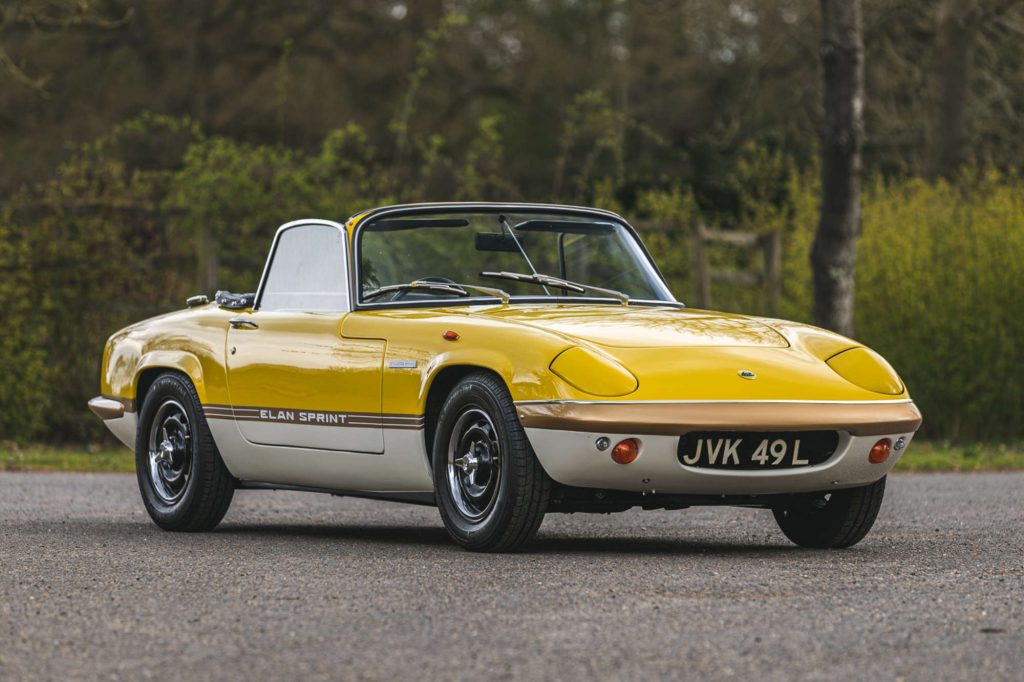 The expansion has already caused consternation for classic car owners all around the city, whose cars aren't typically used for commuting – and therefore contribute minimally to pollution or congestion – but have now been made considerably more expensive to run on the days they are driven.
The ULEZ is designed primarily to cut toxic combustion emissions from the city's streets, plus a reduction in the greenhouse gas CO2. A report commissioned by City Hall predicts that the ULEZ expansion could reduce the number of people suffering chronic diseases like asthma by as many as 300,000 by 2050.
Hagerty asked Transport for London why so many classic car owners' vehicles were not showing as exempt. The organisation put it down to a confusingly-designed website, and told Hagerty that design improvements would be made to remove any confusion from the process, but was unable to provide a timeframe in which such changes would be made.
Currently, motorists who have been misled by TfL's website can confirm their car's exemption on TfL's system by clicking on the "Pay charges" button further down the car checker page.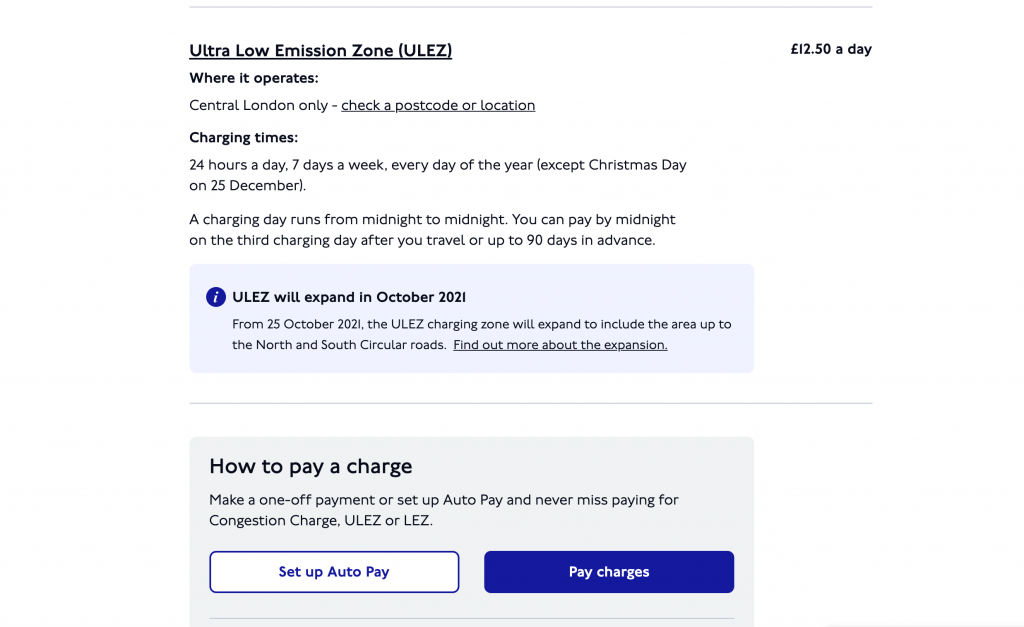 This launches a new window. Scroll to the bottom of that page and click the "Pay" button, at which point you'll be asked to enter and confirm your car's registration details. This goes through to another page that then gives you the option of paying for Congestion Charge or ULEZ – and if your vehicle is exempt, it will be marked as such, with no charge next to the check box on the page.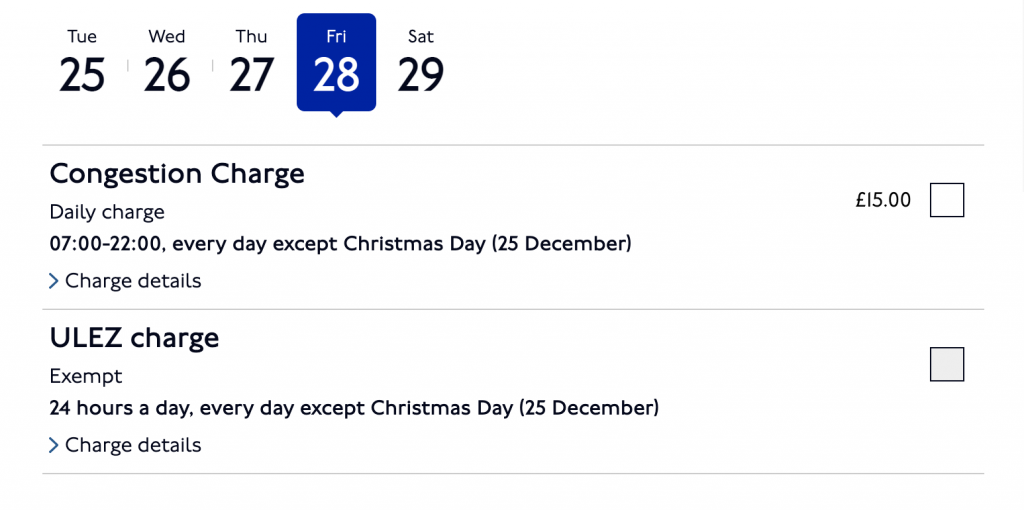 Drivers will, of course, still need to use the website to pay for the Congestion Charge, which applies between 7am and 10pm in central London. But provided any car meets the criteria for exemption when the expanded zone arrives in October, TfL says motorists shouldn't be getting a penalty notice through their letterbox.
Also read
What the Ultra Low Emissions Zone means for London's classic car owners
Everything you need to know about using E10 fuel with your classic car
Something old, something new. How scrappage harmed the classic car community