In the eyes of motorsport fans, there can be no tougher race than the 24 Hours Nürburgring. Which makes the passing of Sabine Schmitz, the only female winner of the gruelling event, especially poignant. The motor racing community has lost one of the greatest drivers of the modern era, an unsung hero who mixed it with men and showed them the way to the chequered flag.
Schmitz died at the age of 51, after revealing last year that she was battling a rare form of cancer which, in her words, returned "with full force" last July after it was first diagnosed and treated in 2017.
How much is your car to insure? Find out in four easy steps.
Get a quote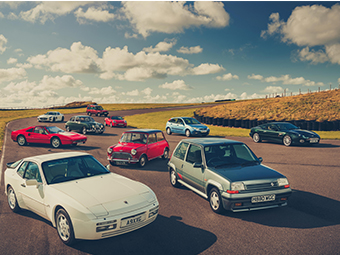 Away from the race track, Schmitz became an unlikely household name in Britain after making her first memorable guest appearance on BBC Top Gear, in 2004. She instructed Jeremy Clarkson as he drove a Jaguar S-Type R around the Nürburgring circuit, and quipped she could beat his time driving a Ford Transit van. Sure enough, she went on to accept the challenge – falling short by a mere nine seconds, despite her diesel van boasting a fraction of the power of Clarkson's supercharged V8 Jaguar.
Clarkson paid tribute to Schmitz, saying: "Terrible news about Sabine Schmitz. Such a sunny person and so full of beans."
He feelings were echoed by Richard Hammond, who wrote: "Very sad to hear of the passing of Sabine Schmitz, a proper driving legend who'll be sadly missed by many. The Ring has lost its Queen. RIP"
Adenau-born Schmitz grew up in the village of Nurburg, where her family ran a modest hotel. There she would mix with the great and the good from motor racing, and by the age of 13 Schmitz says she made up her mind to become a racing driver.
She would need to wait to be 18, when she could hold a driving license, to drive around the Nürburgring circuit, but by the time she reached 17 the urge was too great to resist and she 'borrowed' her mother's BMW and, without her permission, drove it to the circuit for her first experience of the so-called Green Hell.
As she recounts: "The guy on the track… he said, 'Oh Sabine, you are already 18? You've got your driving license?' I said, 'Oh, yes! Bye bye.' Vroom! And then I would go on the track."
Schmitz took her first victory at the 24 Hours of Nürburgring in 1996 with Johannes Scheid and Hans Widmann, driving a BMW M3. She won again the following year with Scheid, Hans-Jürgen Tiemann and Peter Zakowski.
In years gone by, Schmitz drove for BMW's Ring Taxi service, which offered paying passengers a high-speed lap of the 12.9 mile circuit in one of a fleet of BMW M5s. Nearly all passengers would hope to secure a place in Schmitz's car, leading her to establish her own Ring Taxi service and earning her the nickname, "Queen of the Nürburgring."
She would return to Top Gear as a presenter in 2016, as part of the short-lived lineup that was led by Chris Evans.
The FIA's Women in Motorsport commission said it was "Such sad news about Sabine Schmitz, Queen of the Nürburgring. Our sincere condolences to all her family and friends."
After withdrawing from a race last July, Schmitz shared news of her health with fans.
"Dear friends of professional motor sport. Many of you have probably wondered why I was on the list of participants on our Porsche in the NSL and then didn't drive after all. I would like to provide enlightenment here, I think I owe it to my/our fans! Since the end of 2017, I have been fighting an extremely persistent cancer that has not been eliminated with the resources so far. It got a little better – but now it's come back with full force.
"Now I have to draw all the strength and nerve to master the next powerful therapies … hoping something [good] will happen. So I say goodbye 'probably' for the first time this season. In addition, I would like to thank everyone for their help and support in my everyday life, and encouragement in writing!"
Fans are now calling for a corner of the Nordschleife to be named in memory of one of its most-loved figures. At the time of writing, nearly 28,000 people had signed a petition started by Dale Lomas. Those that wish to sign it can visit the petition by clicking here.