Paperwork and some photographs can help tell the story of a restored car, but as far as documented history goes then you'll struggle to do better than a car featured in a TV restoration show. That's exactly what a Citroën DS coming up for auction has to offer – as it recently starred in the latest series of Salvage Hunters: Classic Cars.
Listed with a guide price of £24,000-£28,000, through Car & Classic, the car is a 1972 DS 21 model and proves that on the right car, brown paintwork need not be limited to the 1970s BL colour palette. Citroën's "Brun Scarabee" is a gloriously deep metallic shade and undoubtedly benefits from being layered over such a stunning shape in the first place.
How much is your car to insure? Find out in four easy steps.
Get a quote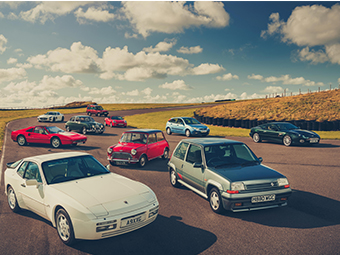 The caramel-coloured interior offsets it perfectly, but as you might imagine, the car didn't exactly arrive from France in this condition. Said to have been imported from France in 1994, by the time DS specialist, DS Workshop took custody the car was looking a little rough around the edges.
That's where Salvage Hunters comes in. Hosts Paul Cowland and Drew Pritchard took the car to be thoroughly fettled by DS Workshop, and the results are undoubtedly impressive. DS Workshop repainted and retrimmed the exterior and interior, brought the hydropneumatic suspension and brakes up to full health, and fully serviced the 2.1-litre four-cylinder.
Watch the show or read through the listing and you'll see that little was left untouched. Given the underside has also been rustproofed, it's unlikely to turn from Brun Scarabee to "oxide de fer" any time soon. The Hagerty Price Guide lists an 'excellent' #2 DS 21 as being worth an average of £20,000, while concours #1 examples fetch nearly £30,000, while the Pallas trim level – which this car has been retrospectively upgraded to – is worth between £27,000 and £39,000.
The listing notes that there's not a lot of paperwork with the car, but it's hard to argue with the end product. For some the appeal of owning a TV star (and one fully overhauled by a marque specialist) will outweigh a few sheets of paper anyway. If the car sells for its guide price it'll be bang on the Hagerty Price Guide value for a Citroen DS in "excellent" condition, which currently sits at £27,200.