Auctions set to coincide with the end of the Formula 1 season in Las Vegas and Abu Dhabi are full of quirky and exotic automobiles which have travelled many more miles in containers than they ever have on the road.
Transporting these rare machines to the deserts of Nevada and the United Arab Emirates, sellers are hoping to cash in, when, in some cases at least, buyers have deserted them before.
How much is your car to insure? Find out in four easy steps.
Get a quote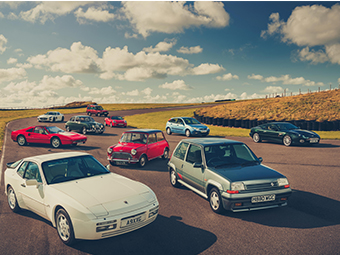 That seems to be the story with the 1996 Bugatti EB110 (top) offered by RM Sotheby's in Vegas. One of just 30 Super Sports built, the car failed to sell at the auction house's London sale in November 2022 where it was estimated to go for $3-$3.7 million (£2.4-£3m). One year on bidding is expected to reach between $2.5-$3.25 million (£2-£2.6m).
The seller of  a 2005 Mercedes-Benz CLK DTM AMG Coupe bought at Bonhams in Monaco last year is hoping for a more effective flip, meanwhile. Bought for $431,000 (around £350,000) in May 2022, the 5.4-litre 582-hp V8-powered beast is fully federalised for the United States, yet has only been driven 168 miles. The seller could double their money if it reaches the $700,000-$900,000 (£569,000-£731,700) estimate.
A 2012 Lexus LFA with the Nürburgring Package hasn't had to go as great a distance, having been sold new in Illinois. It's one of seven LFAs that were delivered to the U.S.A. in Orange over black Alcantara. It only has 143 miles on the clock so its 4.8-litre 562-hp V10 has probably never been stretched to its 9,000-rpm redline. In the decade that it's been stored, however, its value has rocketed with bidding anticipated to get to $1.8-$2.4 million (£1.5-£1.95m).
The most well-travelled of the lot(s) appears to be a 1988 Porsche 959 Komfort. The car was sold new to Italy to a Porsche executive, then transported to the U.S.A. In 2015 Copley Motor Cars of Needham, Massachusetts commissioned a massive $120,000 service, and then it sold to an Australian owner who spent a further $19,000 on servicing in 2022. It's now back in the U.S.A for sale, and although it's covered almost 15,000 road miles, the car has done many more than that on ships and planes. It's offered without reserve with an estimate of $1.65-$1.85 million (£1.3-£1.5m).
RM Sotheby's Las Vegas auction takes place on 17 November and you can check out all the lots here.
Just over a week later in Abu Dhabi Bonhams has a selection of rare road and race cars for sale at its On the Grid auction. Among the more unusual automobiles to go under the hammer will be a 1995 De Tomaso Guarà Barchetta. One of just ten made with a BMW M60 V8 engine this lightweight concept car for the road has actually been used as intended, with 6200 km (3850 miles) on the clock. It's expected to sell for $180,000-$220,000 (£146,300-£178,900).
In a similar vein is the 1988 Italdesign Aztec Barchetta also offered. It's powered by a 20-valve, five-cylinder Audi turbo engine and its carbon and kevlar bodywork, designed by Giorgetto Giugiaro, is draped over a steel ladder chassis. It's covered a few more miles than the Barchetta but is estimated to achieve a similar price.
The 2022 McLaren Elva is a modern interpretation of the same theme. The car offered was previously owned by double F1 World Champion Fernando Alonso, so this added provenance means it could sell for $2.5-$3 million (£2-£2.4m).
Moving on to actual race cars someone could snap up the 2006 McLaren-Mercedes MP4/21 driven by Kimi Raikkonen for eight races. Fully restored by McLaren the hammer is expected to go down at $2.5-$3.5 million (£2-£2.8m). Bidding for another F1 car could reach three times that price. That's because the 1978 Lotus-Cosworth Ford Type 79 John Player Special is quite possibly the most distinctive Grand Prix machine ever made. This example is chassis number 79/4 and is the only-surviving JPS Lotus driven by Mario Andretti.
You can keep an eye on the auction on 25 November and view all the lots here.